By Sarah Barker
Terrariums are a fun and easy way to engage with the environment. It only takes one afternoon to gather your materials and scavenge for tiny creatures to include in your mini ecosystem! Terrariums are small indoor gardens that can be made from any kind of clear glass container with or without a lid. Most people use mason jars or bell jars for their terrariums, and if you would like to add some small bugs, we recommend choosing a jar with a lid so your little friends don't run away! However, you can make one with just plants if you are a beginner or only have an open glass container handy.
Terrariums can be put together with only a few materials, most of which can be sourced from your backyard! Besides your glass jar, you'll need some rocks to anchor the plant roots and provide a system to retain water, moss and/or other small plants, locally sourced soil, and plastic wrap. First, you will need to grab some stones ranging in size from small pebbles and gravel to larger rocks, depending on the size of your chosen container. Rocks from streams or on the banks of a pond are preferred because they come pre-loaded with nutrients from microalgae and fungi that can help your ecosystem to thrive. However, any rocks you can find around outside will work.
Next, you will want to look for clumps of moss from which to take a few pieces. When harvesting moss, it is best to pick from the middle of the colony as opposed to the edges so that the moss can grow back more quickly. To gather your moss, you can use a small spatula to slide underneath the rhizomes of the moss — their equivalent of roots — to keep the clumps from falling apart and to allow them to establish faster once placed in your terrarium. Only take a few pieces from any one colony and harvest sparingly, as moss is slow to grow!
If you want to include other small plants, choose little ferns, groundcover like clover or ground ivy, or even little wildflowers. During July, many wildflowers are in full bloom, making it the ideal time to find some lovely plants for your terrarium. However, moss should be the main member of your indoor plant community and you should try to pick plants that are found growing in the shade or partial sun, as these plants are more likely to do well in your terrarium. This is where an enclosed container can be especially helpful; the lid helps to keep moisture trapped in the system, and as sunlight heats up the inside of the jar, water condenses at the top of the jar. Once it cools, the water drips back down into the rocks and soil, keeping the moss and plants hydrated without any additional input.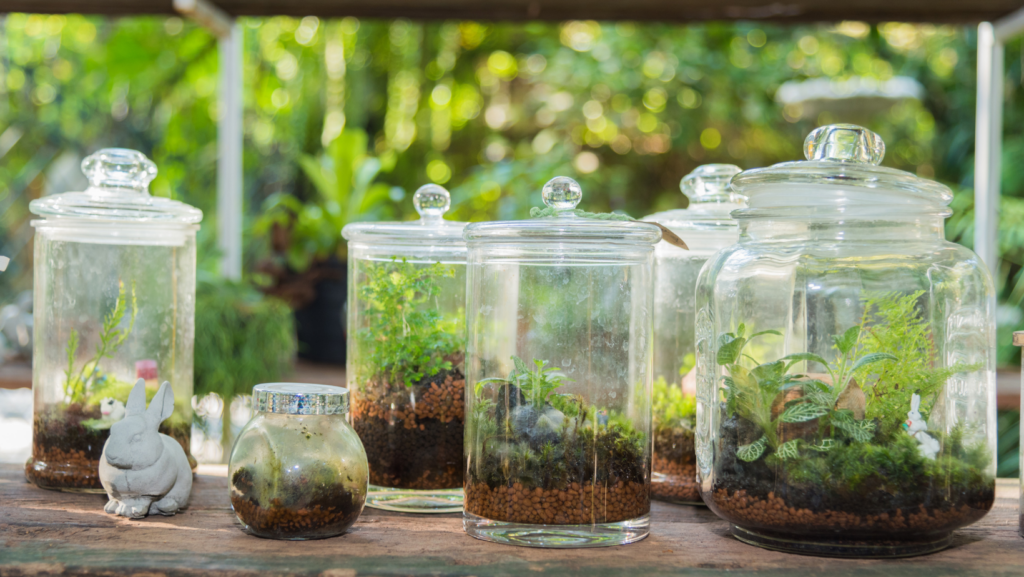 If you want to include a couple of bugs, look for small crawling critters found around moss patches or under rocks like roly-polys (aka pill bugs) or arthropods like springtails. If you are a more advanced terrarium keeper, millipedes are also a great option, though they are much larger and require a bit more care than their smaller counterparts. The reason for choosing these kinds of bugs is that they are all wonderful housekeepers! They are decomposers that are great at preventing algae and mold from building up inside your ecosystem by eating it all up. If you have a smaller terrarium, you may only want to grab a couple of roly-polys to make sure there is enough food for everyone.
To transport any chosen creatures, place them in a small, clean plastic container. Poke some holes in the lid to allow some air for your bugs to breathe and place a bit of dirt inside with a couple of pebbles and sticks for them to hang out on.
Once you've collected all of your materials, the first thing you should do when you get home is rinse off all of your moss and other plants, taking time to make sure any other insects you haven't chosen to include are removed and placed back outside. You should also inspect the pebbles, gravel, and larger rocks you've collected and rinse away any clumps of dirt. At this point, you should also clean your glass container and remove any stickers or adhesive on the glass so that sunlight can reach the plants.
After cleaning your inclusions, the first step of assembly is to place your wet stones into the bottom of your jar; this layer will provide drainage for the soil and retain water to be cycled back into the ecosystem when heated up under sunlight. Next, cut out a piece of plastic wrap roughly the size and shape of your glass jar with some small holes poked in it. This layer prevents the soil from falling in between your pebbles, which can cause mold growth and prevent proper drainage. You could also add in activated charcoal or sphagnum moss in between the rock and soil layers to prevent mold buildup, keep your terrarium clean, and help it to last longer, but this is completely optional! These materials can be purchased online, at a pet shop, or in a garden store.
After positioning the plastic wrap, place the soil on top, though not too densely packed. Next, you can put in the moss and plants, and taking care to gently press them into the soil, you can create small depressions with your fingers for any plants with roots that need to be covered. You can also place a couple larger rocks in this layer and add moss to the top of them. At this point, you could add in any decorative elements you may have around the house like seashells, pieces of wood, figurines, etc. Get creative!
A small open terrarium (Credit: Brandi D. Addison, source here)
After adding in any decorative items, you can put in any bugs that you may have collected while you were outside. Make sure the rocks and soil are moist, and screw on your lid if you have one, and then, voila! Your terrarium is ready to go. Pop the jar on a partially shady table or desk that gets some natural light, but not direct sunlight, as moss tends to do better in shadier spots.
Now sit back to watch your terrarium grow and change, modeling a miniature temperate ecosystem right in your own home. These ecosystems require only a little occasional upkeep. If you put a lid on your terrarium, you will not need to water it because the water will naturally cycle through the system. However, if your terrarium is open, you should make sure the soil is moist with occasional watering. You should also be sure the clean the inside and outside of the glass whenever it gets cloudy to allow sunlight to reach the plants. Every once and a while, smell the air in your terrarium. If it smells earthy that means it is healthy; however, if it smells bad that means that the soil is probably harboring some mold and should be replaced.