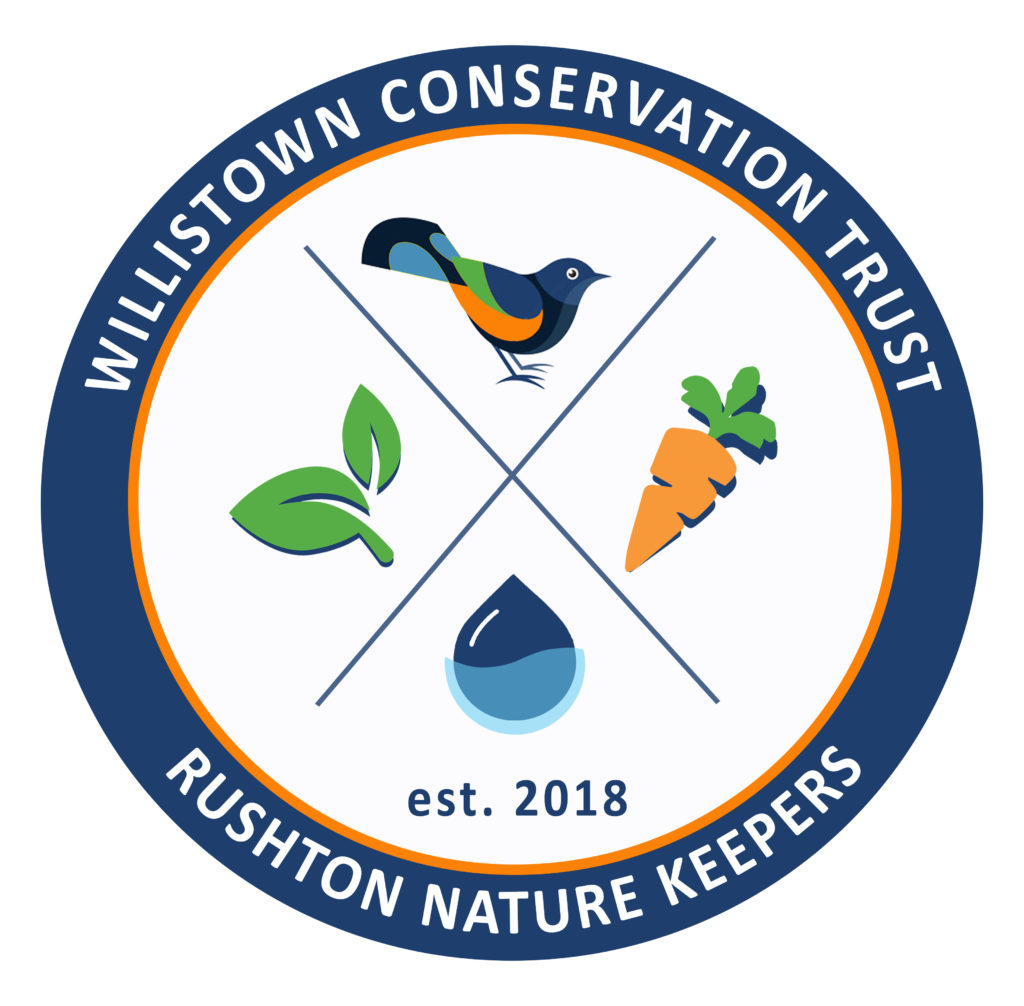 RUSHTON NATURE KEEPERS
Inspiring tomorrow's conservationists
Rushton Nature Keepers (RNK) provides youth (ages 7-12) with abundant opportunities to develop a meaningful relationship with nature, keeping in mind that it is these precious experiences that will fuel a lifelong desire to safeguard the environment. Therefore, RNK is focused on shaping and empowering these future conservationists while nurturing a spirit of discovery and wonder. Rushton Nature Keepers offers an array of monthly events covering four themes including: birds and wildlife, sustainable farming, watersheds, and healthy habitat.
The RNK Mission is to cultivate the foundation for a lifetime of caring about and protecting nature.
Our Objectives for Your Child:
- Create a conservation ethic by showing the importance of   preserving open space.
- Connect personally to nature to foster a lifelong respect of the natural world.
- Nurture a spirit of discovery and wonder.
- Refine birding abilities and cultivate a wholesome lifelong hobby.
- Develop observation skills and understanding of science beyond the classroom.
- Recognize the connection of wildlife, sustainable farming, and watersheds.
- Understand how people can help create and preserve healthy habitat.
- Appreciate the origins of the food we eat, the rewards that come from a season on the farm, and how nature and agriculture can flourish side by side.
- Demonstrate the positive role humans can play in the natural world.
- Foster an awareness of how everyday personal choices can help the planet.
RNK Membership is $50/family for the year and includes all children in the family. Non-members pay on a per-program basis ($10 per child). Membership includes free registration to any program on Signup Genius, a t-shirt per child, and a nature journal per child. All programs are appropriate for kids ages 7-12*, but some are adaptable for younger or older kids as well; email Blake Goll (bhg@wctrust.org) if you are concerned about the age appropriateness of a program. For more information on registration, membership, and programs please visit the Signup Genius page.

*Please note that there are some family events on the schedule that kids of all ages including teens will be invited to attend including the Songbird Banding Open Houses (April 28 and September 15), the Warbler Walk at Ridley (April 29), and the Family Moth Party (June 15).
A Rushton Junior Naturalist Badge will be awarded to Rushton Nature Keepers who attend a total of two bird programs, two farm programs, two water programs, and one habitat program in one calendar year (for a total of seven programs). The RNK events will each be marked with icons to distinguish the different program areas on the 2018 RNK Events Schedule (PDF).  They will also be invited to attend the Rushton Junior Naturalist Celebration in November during which prizes will be awarded. Each program will allow time for reflection in a nature journal in which children will receive attendance stamps to document their progression.
Logistics
Sign-up:  All sign-ups and membership payments occur through our Signup Genius site. Only list your children's names on Signup Genius even if you plan to attend (with the exception of the membership slot) so we can get an accurate attendance estimate for each program.
You will receive an e-newsletter each month with information about upcoming events and summaries of last month's events. Please double check whether you are signed up for events on Signup Genius. Space is limited, so if you can no longer attend, kindly remove your children's name from Signup Genius or let us know so that others may take their place.
Cancellations: Reminders, special instructions or cancellations due to weather will come from Blake Goll (bhg@wctrust.org).
Other Payments: All payments other than membership (i.e., individual program costs of $10/child for non-members or additional program costs) may be presented as cash or check in person or mailed to Willistown Conservation Trust (925 Providence Rd., Newtown Square, PA 19073).
Drop-off:  Parents may choose to attend programs with their children or drop-off based on their individual needs. If intending to drop- off, please inform Blake Goll (bhg@wctrust.org).
For more information, please contact Blake Goll at 610-353-2562, ext.20 or bhg@wctrust.org.
---

A CLOSER LOOK
The Rushton Nature Keepers Conservation Strategy
While each of the four themes of Rushton Nature Keepers is an important part of what we do here at Willistown Conservation Trust, the connection to land stewardship and land protection is the universal thread.
1. Birds and wildlife connect people across continents with their remarkable migrations and motivate people to protect habitat. Our Rushton Woods Preserve is a hub of bird conservation, boasting the region's premier bird banding station that attracts leaders in ornithology and inspires visitors to care about their avian neighbors.

2. Sustainable Agriculture is critical to feeding the world's rising population. Rushton Farm's organic practices promote healthy soils and minimize impact on the surrounding ecosystem. Rushton produces as much food per acre as conventional farms that use chemicals. Rushton Farm is seen as a leading model of farming methods that create, and enhance habitat for native wildlife and pollinators while growing food for the community.

3. Watersheds are vital to all life and must be safeguarded through land conservation and sound environmental practices. Our partnership with the Academy of Natural Sciences of Drexel University provides us with the tools we need to monitor nearby watersheds, including Ridley, Crum, and Darby Creeks. Healthy waterways start with healthy landscapes, and we study how the way we change the land impacts the health of our streams.

4. Healthy Habitat begins in your own backyard. The Trust has undertaken a number of small-scale habitat restoration projects that serve as demonstrations for landowners interested in supporting healthy habitats. For example, native wildflower meadows have been established to support native pollinators, stream sides have been planted with native trees for erosion control, and native shrub habitats have been planted to support migratory birds.

---

OPPORTUNITES FOR TEENS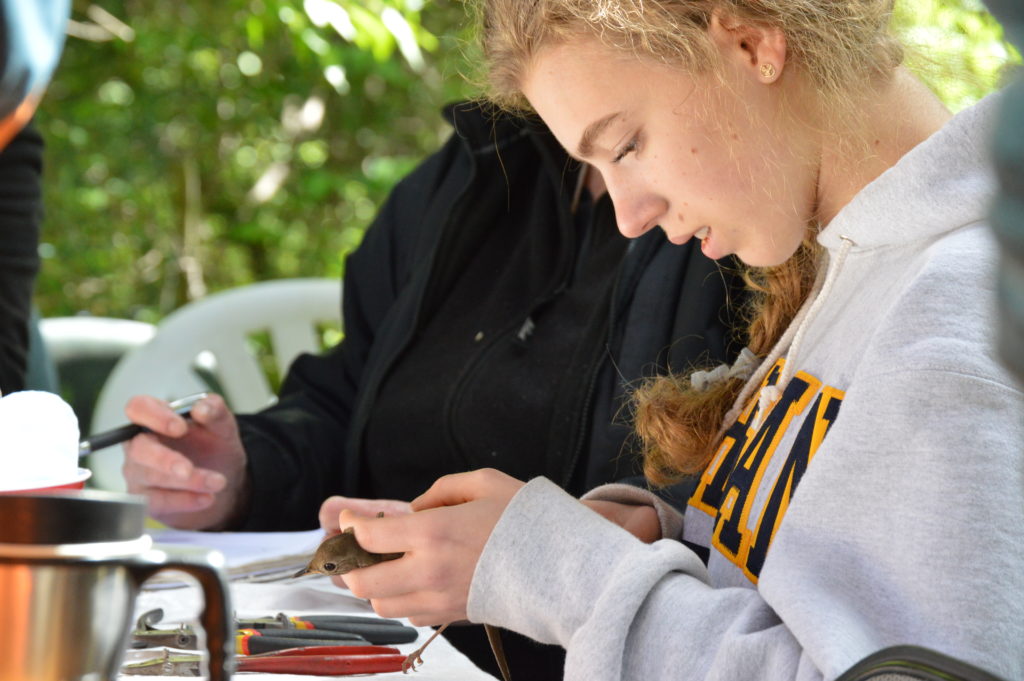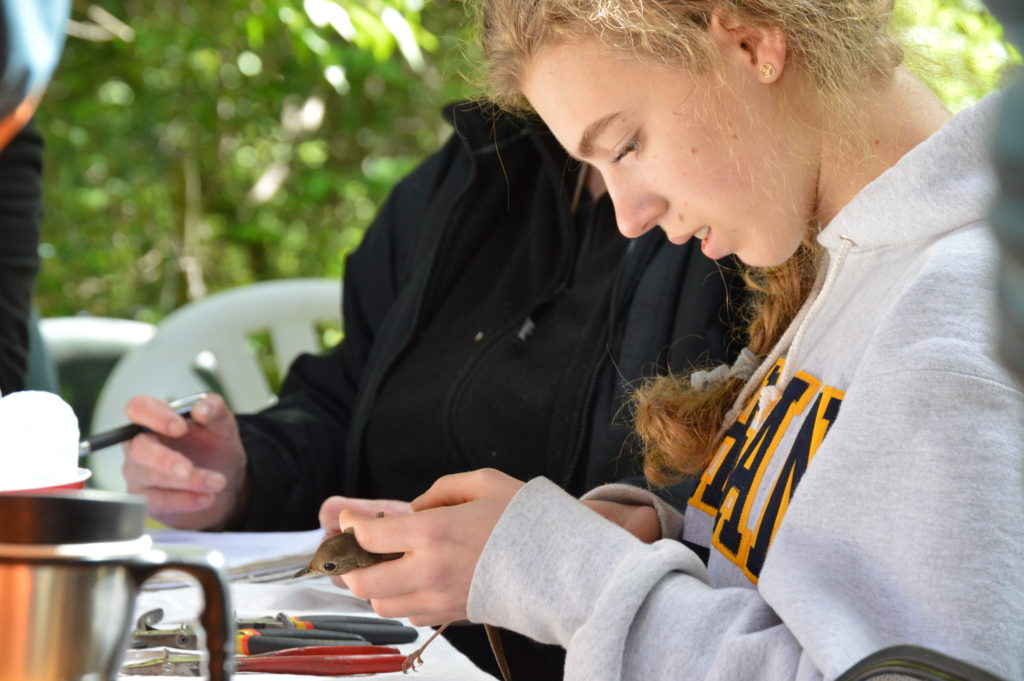 Looking to stay involved beyond RNK?
Conservation opportunities exist on a case-by-case basis for children over 12 years old. These include: service at the farm; helping at the bird banding station; participating in bird counts, stream cleanups, and watershed study activities; internships; or other projects agreed upon with Willistown Conservation Trust staff. For more information, contact Blake Goll (bhg@wctrust.org).

Photo: Eva Dillon-Rutledge (age 16) began as a Jr. Birding Club member 6 years ago and now volunteers at the bird banding station. She has also volunteered for our Bird Box Program, participated in NJ Audubon's World Series of Birding and recently attended PA's Wildlife Leadership Academy.