Rushton Nature Keepers is on hold due to COVID-19.  We hope to resume the program in 2021.  In the meantime, please check our Events Calendar for upcoming kid-friendly events or join our email list.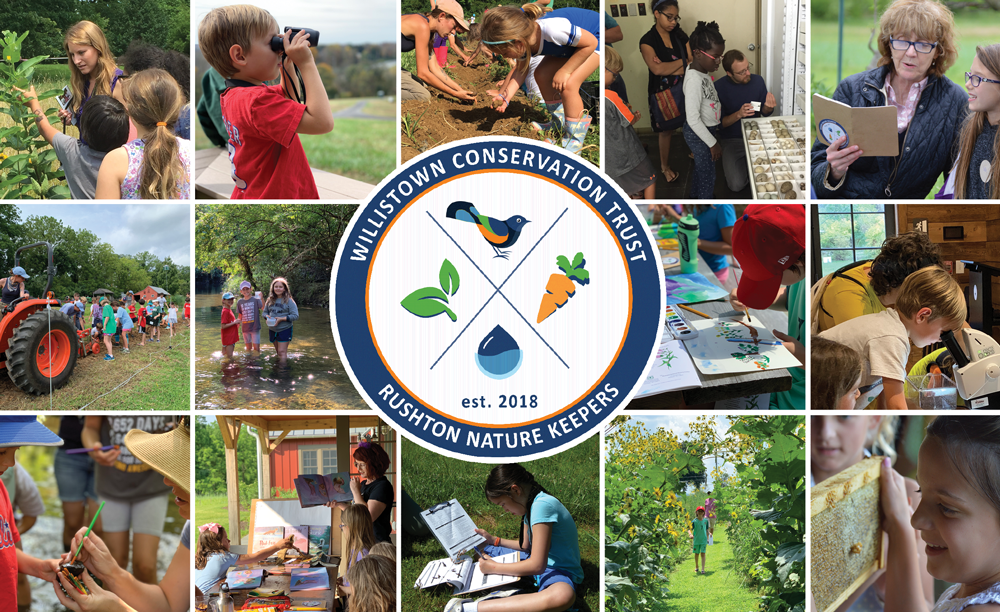 RUSHTON NATURE KEEPERS
Inspiring tomorrow's conservationists
Download our new Rushton Nature Keepers 2020 Events Brochure (PDF).
Rushton Nature Keepers (RNK) provides youth (ages 7-11) with unique opportunities to develop a meaningful relationship with nature, which will fuel a lifelong desire to protect the environment. RNK is focused on shaping and empowering these future conservationists while nurturing a spirit of discovery and wonder. We offer monthly programs covering four conservation themes: birds and wildlife, regenerative farming, watersheds, and healthy habitat.
Our Objectives for Your Child:
Create a conservation ethic by showing the importance of preserving open space.
Connect personally to nature and foster a lifelong respect of the natural world.
Nurture a spirit of discovery and wonder.
Refine birding abilities and cultivate a wholesome lifelong hobby.
Develop observation skills and understanding of science beyond the classroom.
Recognize the connection of wildlife, farming, and watersheds.
Understand how people can help create and preserve healthy habitat.
Appreciate the origins of the food we eat and how nature and agriculture can flourish together.
Demonstrate the positive role humans can play in the natural world.
Foster an awareness of how everyday personal choices can help the planet.
RNK Membership is $150 for the first child and $100 for each additional sibling. Membership allows you to register for any 2020 program via the Eventbrite online portal (some programs have limited capacity). Membership includes a t-shirt, reusable water bottle, and nature journal per child. Parents are always welcome to attend programs. Waivers will be offered on a case-by-case basis as we do not wish to exclude anyone based on financial need. Otherwise, membership is required to attend events.*
*Please note there are some family events on the schedule that siblings of all ages and friends will be invited to attend without a membership including the Songbird Banding Open Houses (May 2 and September 19) and the Summer Moth Party (June 26).
A Rushton Junior Naturalist Certificate will be awarded to Rushton Nature Keepers who attend at least two programs within each of the four themes (for a total of 8 programs). They will be invited to attend the Rushton Junior Naturalist Celebration in November during which prizes will be awarded. Each program will allow time for reflection in a nature journal in which children will receive attendance stamps to document their progress. Each event is designated with icons as covering one or more of the four themes listed above (see Program Guide - PDF).
For more information, please contact Blake Goll at 610-353-2562, ext.20 or bhg@wctrust.org.
---
Photography policy: Attendance at Willistown Conservation Trust programs and events constitutes consent to be photographed for use in print and electronic media. Images will not be identified using full names without written approval from the individual. Please notify Trust staff if you would prefer that your or your child's photo not be used.
---
OPPORTUNITIES FOR TEENS

Looking to stay involved beyond RNK?
Opportunities may exist on a case-by-case basis for children ages 13 and up to get involved. These include service at the farm, working at the bird banding station, helping with watershed study activities, participating in bird counts and stream cleanups, internships or other projects agreed upon with Willistown Conservation Trust staff. To arrange, contact Blake Goll (bhg@wctrust.org).
Photo: Eva Dillon-Rutledge began as a Jr. Birding Club member years ago and then volunteered at the bird banding station. She has also volunteered for our Bird Box Program, participated in NJ Audubon's World Series of Birding and recently attended PA's Wildlife Leadership Academy.