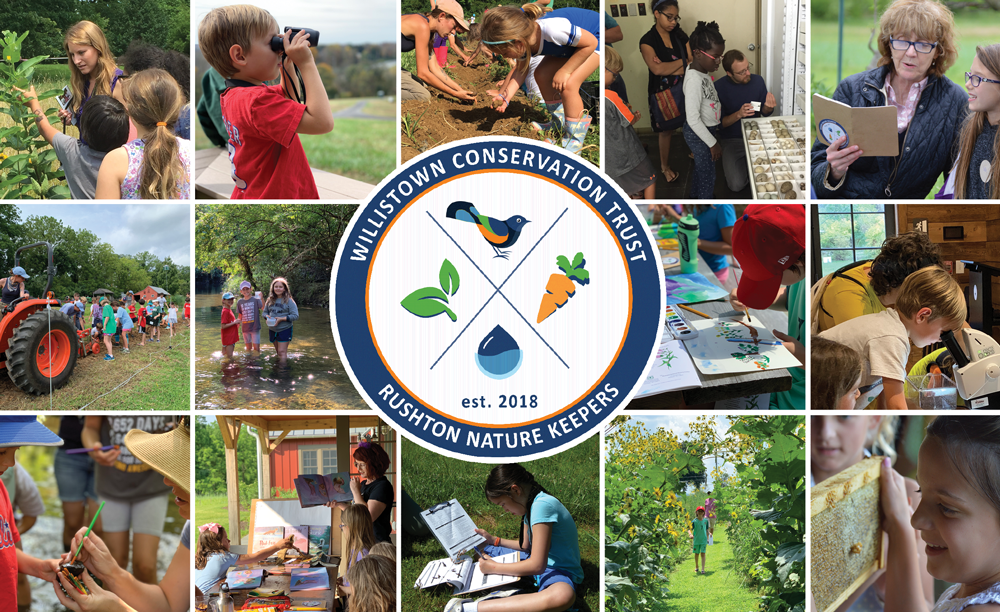 Welcome to Rushton Nature Keepers (RNK)! We take a multi-disciplinary approach to environmental education. Our mission is to inspire a lifetime of caring about and protecting nature by first building a strong holistic foundation spanning four major conservation themes: birds and wildlife, regenerative farming, watersheds, and healthy habitat.
We believe these are the key focus areas that have the biggest impact on land conservation and earth stewardship. The more programs your child attends the more comprehensive their understanding of conservation will be. In turn, they'll develop a connection to nature that fosters mental and physical health, improved creativity and memory, elevated mood, and increased empathy for others.
RUSHTON NATURE KEEPERS RESOURCES
RNK 2022 EVENTS
Tuesday, June 21 | Discover Wild Rushton
Wednesday, June 22 | Into the Forest
Thursday, June 23 | Farming with Nature and Honeybees
Friday, June 24 | Fireflies, Moths and Your Yard in the Dark
Tuesday, June 28 | "The Secret Life of the Sea Otter" Book Signing and art workshop
Wednesday, June 29 | Leaf Pack Exploration
Thursday, June 30 | Stream Walk
Thursday, July 28 | Wildflowers and Watercolor Workshop
Thursday, August 18 | Summer Harvest
Saturday, September 17 | Fall Songbird Banding
Friday, September 30 | Hunters of the Sky
Thursday, October 27 | Monster Night and Autumn Hayrides
Friday, November 4 | Northern Saw-Whet Owl Banding
Friday, November 18 | Rushton Junior Naturalist Celebration
RUSHTON NATURE KEEPERS
Inspiring tomorrow's conservationists
Rushton Nature Keepers (RNK) provides youth (ages 8-11) with unique opportunities to develop a meaningful relationship with nature, which will fuel a lifelong desire to protect the environment. RNK is focused on shaping and empowering these future conservationists while nurturing a spirit of discovery and wonder. We offer regular programs covering four conservation themes including: birds and wildlife, regenerative farming, watersheds, and healthy habitat.
Our Objectives for Your Child:
Create a conservation ethic by showing the importance of preserving open space.

Connect personally to nature and foster lifelong respect for the natural world.

Nurture a spirit of discovery and wonder.

Develop observation skills and understanding of science beyond the classroom.

Recognize the connection of wildlife, farming, and watersheds.

Understand how people can help create and preserve healthy habitats.

Appreciate the origins of the food we eat and how nature and agriculture can flourish together.

Demonstrate the positive role humans can play in the natural world.

Foster an awareness of how everyday personal choices can help the planet.
RNK Membership is $150 for the first child and $100 for each additional sibling. Membership includes a t-shirt, reusable water bottle, nature journal, mask, and tote per child. Programs are drop-off only unless otherwise noted. Waivers will be offered on a case-by-case basis (no questions asked), as we do not wish to exclude anyone based on financial need. Otherwise, membership is required to attend most events*.
A Rushton Junior Naturalist Certificate will be awarded to Rushton Nature Keepers who attended events within each of the four themes for a total of at least 8 by year-end. They will be invited to attend the Rushton Junior Naturalist Celebration in November during which prizes will be awarded. Each program will allow time for reflection in a nature journal in which children will receive attendance stamps to document their progress. Each event is designated with icons covering one or more of the four themes.
*Please note that other relevant WCT family programs or volunteer events may pop up during the year that can count towards the Rushton Junior Naturalist certificate. Members will be notified as opportunities arise.
For more information, please contact Blake Goll at 610-353-2562, ext. 109, or bhg@wctrust.org.

OPPORTUNITIES FOR TEENS

Looking to stay involved beyond RNK?
Opportunities exist on a case-by-case basis for children 12 and up to get involved.  These include service at the farm, working at the bird banding station, helping with watershed study activities, participating in bird counts and stream cleanups, internships, or other projects agreed upon with Willistown Conservation Trust staff.  To arrange, contact Blake Goll (bhg@wctrust.org).
Photo: Eva Dillon-Rutledge began as a Jr. Birding Club member years ago and then volunteered at the bird banding station. She has also volunteered for our Bird Box Program, participated in NJ Audubon's World Series of Birding and recently attended PA's Wildlife Leadership Academy.



Photography policy: Attendance at Willistown Conservation Trust programs and events constitutes consent to be photographed for use in print and electronic media. Images will not be identified using full names without written approval from the individual. Please notify Trust staff if you would prefer that your or your child's photo not be used.