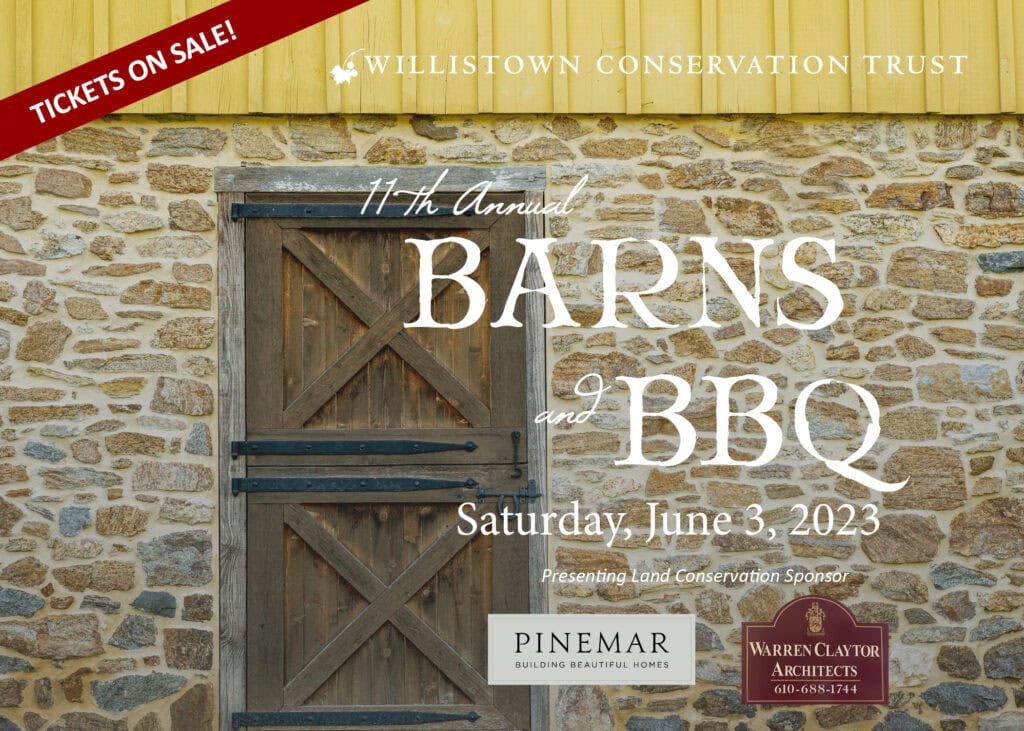 BARNS & BBQ | SATURDAY, JUNE 3, 2023
MORNING BARN TOUR | 9 am - 1 pm | PACKET PICKUP | 9 - 11 am
EVENING BARN TOUR AND BBQ DINNER | Starting at 2 pm
We are excited to welcome you back to WCT's most anticipated event of the year: Barns & BBQ! Join us for an exclusive look at a variety of barns in the bucolic Chester County countryside.
Two self-guided barn tour opportunities allow access to beautiful barns and stunning farms. Guests can choose either a morning tour-only ticket or an evening tour ticket that concludes at one of Willistown's premier properties, where we will enjoy a cocktail reception, bountiful barbecue provided by Birchtree Catering, live music, and an auction that features a range of unique experiences.
BARNS & BBQ TICKETS AND PATRON LEVELS
MORNING TOUR TICKETS - $50
EVENING BARN TOUR AND BBQ DINNER TICKETS - $300
PATRONS
Weathervane - $5,000
8 tickets for tour and BBQ ($3,400 is tax-deductible)
Hay Loft - $2,500
4 tickets for tour and BBQ ($1,700 is tax-deductible)
Barn Door - $1,000
2 tickets for tour and BBQ ($600 is tax-deductible)
Individual Ticket - $300
1 ticket for tour and BBQ ($100 is tax-deductible)
Forget-me-Not - I/we are unable to attend but would like to make a tax-deductible gift
2023 BARNS & BBQ PATRONS
WEATHERVANE
Ms. Caroline A. Moran
HAY LOFT

Mr. & Mrs. Bryan Colket
Jane North
BARN DOOR

Dr. & Mrs. Robert R. Corrato
Dick & Nancy Eales
Mr. & Mrs. Stephen J. Eldredge
Mr. & Mrs. Luke Etherington
Beth & David Hucker
Lindsay & Ted Leisenring
Mr. & Mrs. Jonathan McEvoy
Mr. & Mrs. John Rhoads
Mr. & Mrs. James L. Van Alen II
Mr. & Mrs. Jeffrey Westphal
2023 BARNS & BBQ CO-CHAIRS
Kate & Luke Etherington
Caroline Moran
Tracy & Joe Przybylowski
Tara & Jeff Shanahan
2023 BARNS & BBQ COMMITTEE

Erich Barchi & Rachel Coxe Shoemaker
Joanne Berwind
Sonia & Morgan Churchman
Donna & Robert Corrato
Benjamin & Kate Etherington
Stephanie Fuller
Kimberley & Russ Galligher
Kat & Steve Gord
Joy & John Grady
Shaina & Nat Hamilton
Molly Love & Adrian Castelli
Leanne & Rob McMenamin
Jennifer & Christopher Moller
Janice & Britt Murdoch
Leigh & Steve Oblack
Holly & John Stoviak
Jackie & Jerry Sweeney
Bonnie & Jim Van Alen
Penny & Tom Watkins
Beth & Nelson Wicas
Devin Wilkins & Kyle Wichser
Effie Wister
PHOTOGRAPHY POLICY:
Attendance throughout the programs and events with Willistown Conservation Trust gives consent to be photographed for use in print and electronic media. Please notify Willistown Conservation Trust staff if you would prefer that your photo not be used for various multimedia or publications. Contact land@wctrust.org.