By Mike Cranney, Preserve and Facilities Manager
For over 13 years, Willistown Conservation Trust's (WCT) Bird Conservation program has been researching migratory and breeding bird populations at Rushton Woods Preserve. A trained team of staff and volunteers utilize mist nets placed strategically throughout the Preserve's hedgerows to monitor species, collect data, and band individual birds so they can be tracked throughout North and South America. This research has helped contribute to the understanding of what birds need to survive, while highlighting the importance of places like Rushton Woods Preserve for migrating species to use as respite where they can rest and refuel during their long journeys every spring and fall.
Simply preserving open space, however, is not sufficient for their survival; birds require certain types of plants for adequate food and shelter. They are especially attracted to what is known as "scrub-shrub" habitat, which consists of robust thickets of shrubs and small trees that provide essential cover from both predators and the elements. This habitat is also an important source of food, but sadly our ecosystems have become overrun with non-native, invasive plants whose fruit do not have the nutritional value that birds need.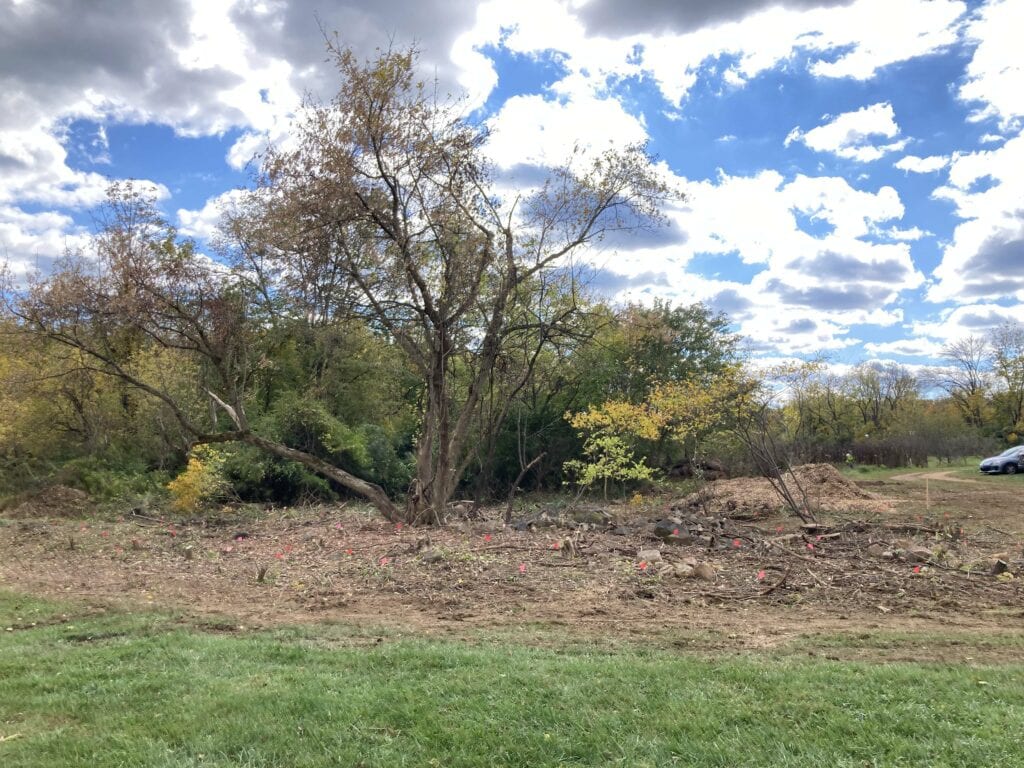 For example, one of the most common shrubs in the modern landscape is the Amur honeysuckle (Lonicera maackii), whose abundant berries are regularly eaten by fruit-loving bird species. However, these berries contain more sugar than fat, and therefore do not provide the fuel necessary to sustain migration. Birds depend on the insects and fruit found upon the native plants that have evolved in the landscape alongside them. In order to fully support bird populations, both the habitat structure and species composition need to be considered.
Unfortunately, the hedgerows at Rushton Woods Preserve have become heavily invaded by non-native species over the years. Both breeding and migrating birds still flock there, but they are not getting the nourishment that they need. A recent study conducted by a University of Pennsylvania graduate student found that birds stopping at the Preserve during migration were not gaining any fat, likely due to that fact that they were primarily eating fruit from Amur honeysuckle shrubs. The structure of the habitat is beneficial, but the plant species encompassing it are not.
Now, thanks to a generous grant from the Pennsylvania Society for Ornithology (PSO), WCT has begun the process of restoring the expansive hedgerow to native scrub-shrub habitat. In the fall of 2022, a roughly 5,000 square ft. area of invasive thicket was removed and replanted with over 150 native shrubs and trees representing 25 different species. Bird friendly varieties such as viburnums and chokeberries were emphasized and placed closely together to ensure that they grow into dense habitat. Moving forward, the goal is to repeat this process in a different section of the hedgerow each year until it is entirely restored with beneficial native plants. By working through piece by piece, the overall structure of the habitat can be maintained for the birds while the new plants mature.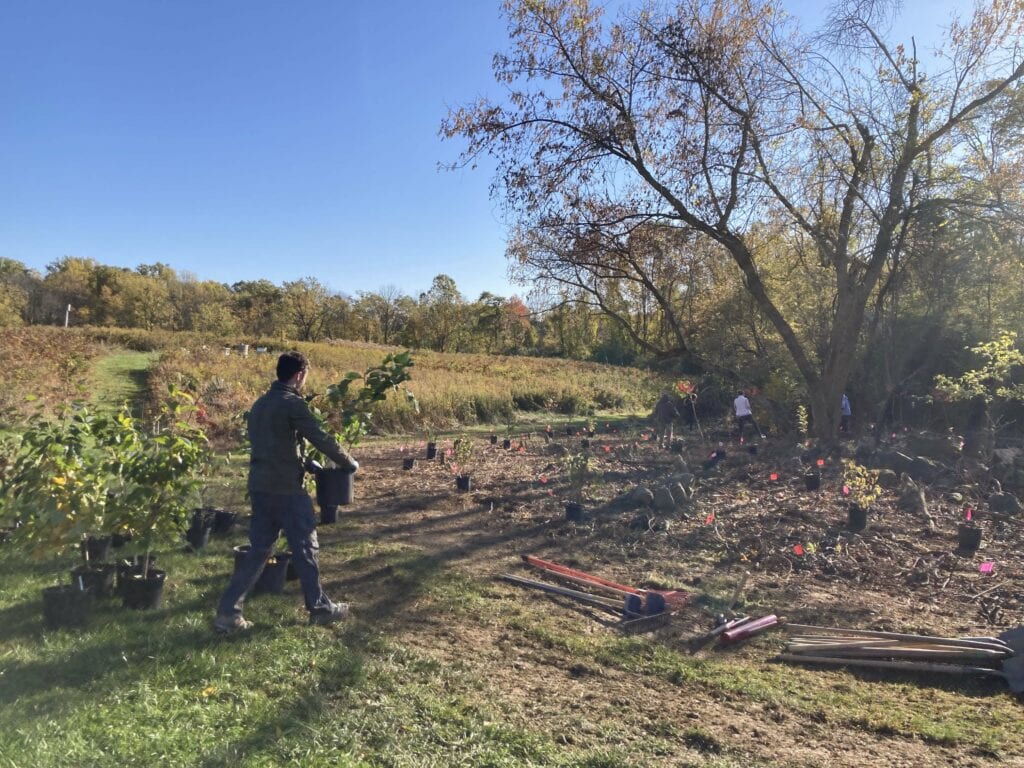 The existing groups within the organization uniquely position WCT to make the best of this restoration project. The Land Stewardship team will handle the management of the planting site, while the Bird Conservation program's ongoing research will be an excellent way to monitor the effect the improvements have on breeding and migratory birds. Additionally, the organization's outreach and education departments will be able to capitalize on this endeavor as an opportunity for landowners to learn about the ecological value of habitat that is too often considered merely an eyesore. Above all, projects such as these are made possible through partnerships with groups like Pennsylvania Society for Ornithology that care about the environment and dedicate themselves to conservation.
To learn more about how you can plant native, stay tuned for this year's Habitat at Home programming with our Stewardship Team!