This recipe comes from What's Gaby Cooking.
Cover photo by Jennifer Mathes
You all loved our Vegetarian Chili from Market in the Meadow, so we had to share!
A special thanks to our dedicated volunteers who harvested, chopped, and cooked this delicious meal at the Rushton Conservation Center. Most of the ingredients came right from Rushton Farm.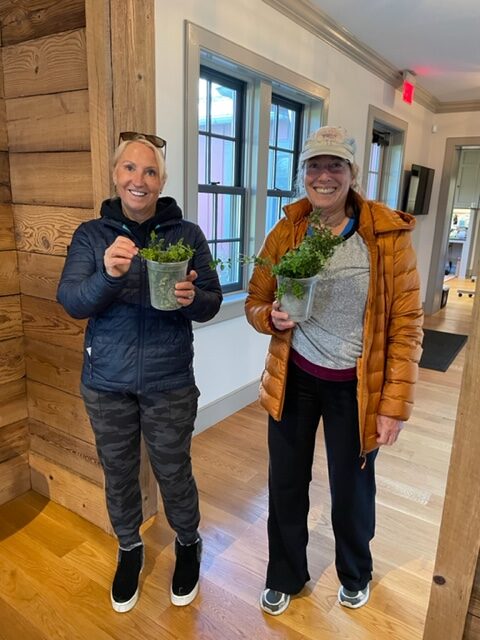 INGREDIENTS
1 tablespoon olive oil, plus 2 extra teaspoons
1 large sweet potato, peeled and diced
1 large red onion, diced
4 cloves garlic, roughly chopped
2 tablespoons chili powder
1/2 teaspoon ground chipotle pepper
1/2 teaspoon ground cumin
1/4 teaspoon kosher salt
3 1/2 cups vegetable stock
1 15-ounce cans black beans, rinsed and drained
1 14.5-ounce can fire roasted diced tomatoes
1/2 cup dried quinoa
4 teaspoons lime juice
serving suggestions: avocado, cilantro, crema, grated cheese
DIRECTIONS
Heat a large heavy bottom pot with the oil over medium high heat.
Add the sweet potato and onion and cook for about 5 minutes, until the onion is softened. Add the garlic, chili powder, chipotle, cumin, and salt and stir to combine.
Add the stock, tomatoes, black beans, and quinoa and bring the mixture to a boil. Stir to incorporate.
Cover the pot and reduce the heat to maintain a gentle simmer.
Cook for 30-40 minutes until the quinoa is fully cooked and the sweet potatoes are soft.
Add the lime juice and remove the pot from the heat. Season with salt as needed.
Garnish with avocado, cilantro, crema, or cheese before serving.
Serves 4 people.
This recipe comes from What's Gaby Cooking.