In honor of Women's History Month, we are going to hear from the women farmers — previous staff, interns, and co-ops — who have worked at Rushton Farm! Be sure to join us on March 23 for our Women in Agriculture virtual event to learn from women leaders (like Molly Clark below!) in the agricultural industry. To read more about the Future of Sustainable Farming, click here.
Introduction from Molly Clark, Rushton Farm Production Manager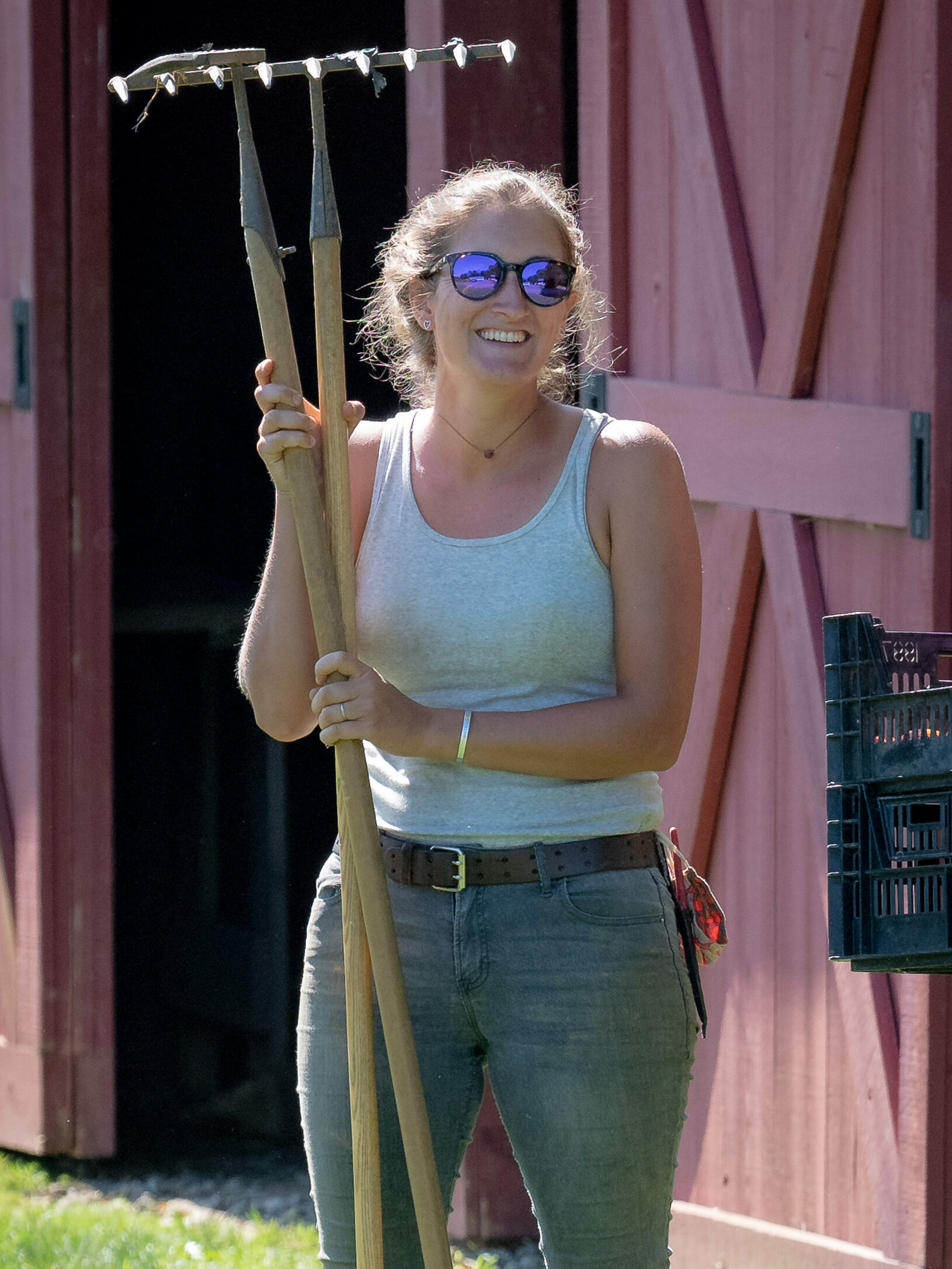 I started at Rushton Farm as an intern in 2016 after developing an immense interest in the intersection of agriculture and the environment. In my previous jobs in watershed protection/ restoration non-profit organizations, I interviewed large-scale commodity farmers about their practices and read a lot about the impacts of our increasingly industrialized and chemical-intensive food system. I decided I wanted to get hands-on experience in small-scale, sustainable agriculture. Turns out, once I started I couldn't stop! I love the work. Every spring I can't wait to start up seeding in the greenhouse. I love working hard and outside, every day. I love learning the cycles of a farm season and developing a better awareness of natural patterns and developing stronger observational skills. The sense of accomplishment and fulfillment that comes from producing food for 120 CSA families is remarkable. I am passionate about encouraging people to truly appreciate food, and I think it's critical to have a better understanding of the resources it takes to grow food. The more the public knows, the more likely it is that they will invest in agriculture that is more diverse, socially just, and sustainable.
I could go on and on about my own experiences but you don't need to take my word for it! I asked the women I have worked with over my 6+ years at Rushton how they became interested in farm work, what challenges women farmers face, what they love most about the work and what strengths women bring to the field. I have summarized their insightful responses below.
Chelsea Sue Allen, Farm Production Manager until 2020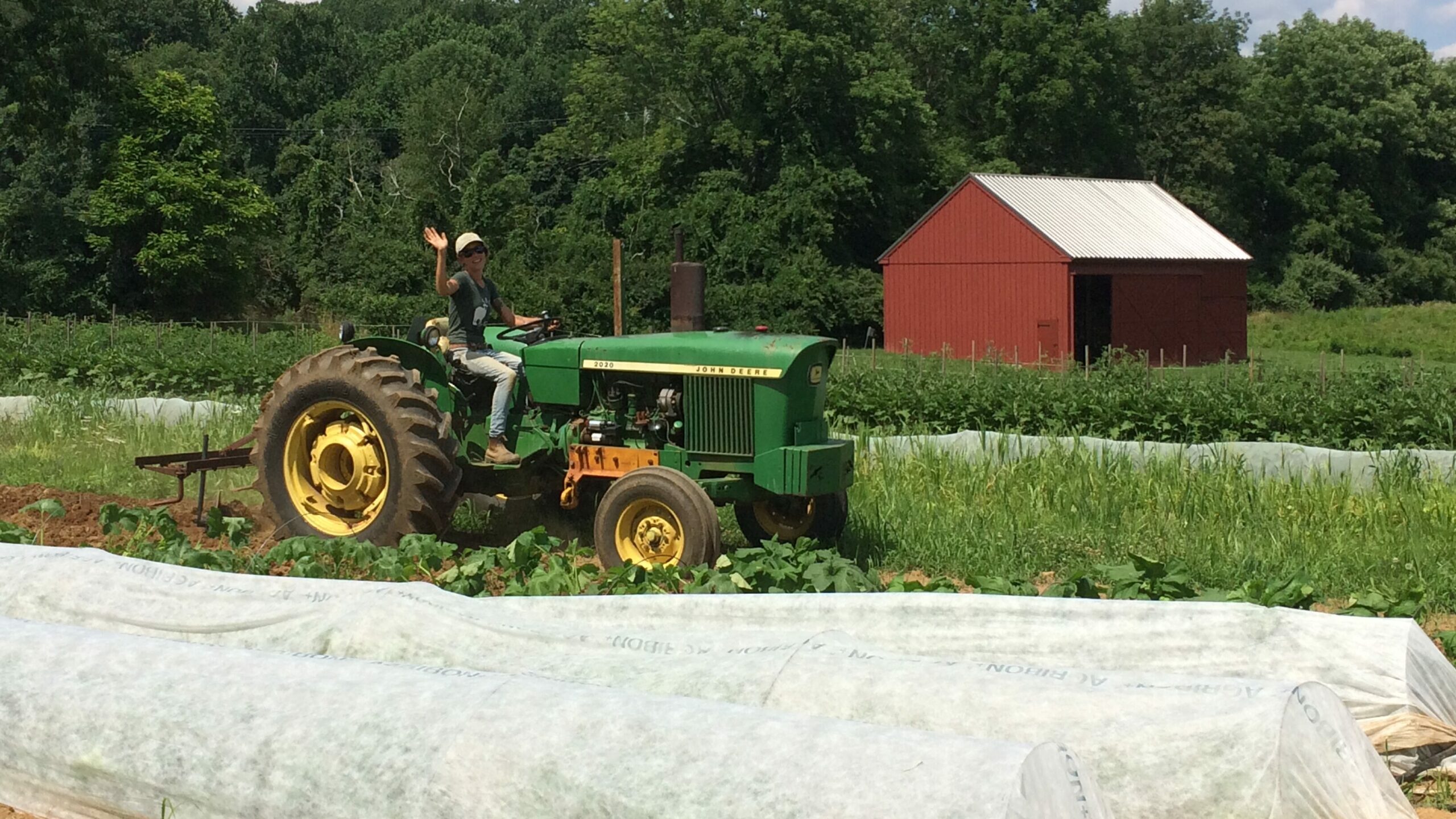 My Uncle Michael, who is a musician I've always admired, started getting involved in farming in the Philadelphia area when I was in college. Inspired by his journey, farming piqued my interest as something I might also find gratifying, not only as fulfilling day-to-day work, but as another type of creative process. There also seemed to be a growing momentum in the world of small-scale diversified farming when I decided to find my first farm job. Learning about what it took to grow chemical-free food and flowers on a "human scale" felt really important to me. It still is! Starting out, farm intern/apprentice/crew positions usually don't pay a whole lot. I was living with my parents' in my first years of farming, so I could afford a small paycheck. Not everyone has that privilege. My own abilities were doubted (at first) due to my small size and quiet disposition. But I stuck with it as I came to realize that farming is not contingent on brute strength!
I love the cycles associated with farming. I love that it makes me tune into my natural environment and ecosystem and weather patterns. I love the beginnings and I love the endings. I love returning year after year to create it all again; growing food and flowers and herbs that not only nourish me but also the ecosystem that they grow from. I have also met the most awesome people and some of my best friends through farming!
I have received incredible support from fellow women farmers and dear lord you need support when you're farming! I think women can help to make farming a more sustainable form of work, in terms of personal health, wellbeing, and compensation. Our human farming practices need to adapt to better support *all* people, as well as this blue-green planet that makes it all possible.      
What's my favorite thing to grow? I love growing calendula! It is such a bright, beautiful flower, and it's also an amazing medicinal plant. I love that the seeds are like little curved sea horses! And how when you infuse the blossoms in oil, the oil turns as orange as the flowers.
Caitlin Welsh, Rushton Farm Crew Extraordinaire 2017-2021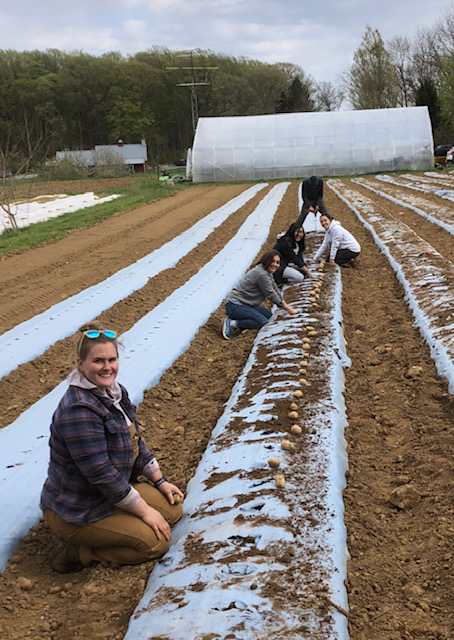 I was my mom's helper every spring when she worked in her flower gardens. She had a lovely garden full of typical suburban plants like roses, peonies, hydrangeas, hostas, and assorted annuals, but I was always more interested in things that were a little more exciting. I always asked to grow fruits or vegetables of some kind, and of course it was never anything practical in terms of space or care; I wanted things like pumpkins or watermelons which is asking a lot in a fraction of a quarter acre. Even though she said no (I could barely focus enough to complete a single day's worth of weeding flower beds), her general love and appreciation for the work rubbed off on me. Ever since, I've tried to care for and tend whatever land I have access to. It was meeting Chelsea Allen and Molly Clark and seeing what they accomplished in a season that motivated me to take the opportunity and learn from and support their efforts!
The sense of community, primarily among those I work with closely, but also for the people that our work provides for, is one of the things I appreciate the most about my time at the farm. Additionally, the endless opportunities to learn, make mistakes, and improve as a farmer. Developing a better understanding of natural cycles and human systems and how they impact the land has made me more aware of my own patterns and habits, and helps me be a better being on earth. Also, the food is nice.
I think many farmers have a heightened sense of empathy and responsibility for their work, but I think the degree to which those qualities are expressed between men and women varies greatly. Observing the women I have worked with, their sense of responsibility often extends beyond care and concern for the land and its production to include the people they work with and groups they serve. From fostering an environment people can learn in, to developing personal relationships, it makes happier workers who are not just dedicated to their work, but to the team, which in turn makes the whole operation more successful.
There are few jobs I have enjoyed more for their capacity to make me feel fulfilled both in terms of what I am able to accomplish day to day, but also the manner in which the work is done. Farming can be tiring and disappointing, but the women I have worked with are able to face it with a sense of humor and deep joy that makes it all manageable. People who help you celebrate the success and also extend grace to feel the misery of a mid-July winter squash planting marathon in Pennsylvania are a rare gift, indeed.
What's my favorite part? As painful as the overall process can be — from seeding hundreds of cells and transplanting hundreds of starts, to spreading bales of allergy-triggering straw and monitoring and (sometimes unsuccessfully) controlling voracious pests — watermelon and squash littering the aisles in late summer and early fall is a delightful sight. And the FLOWERS! There's nothing like an absolute riot of color to brighten the toughest day. Lastly, once you've conditioned your back and shoulders for it, raking out beds is monumentally satisfying. If you've ever fussed over making your own bed perfectly, then you get it.
Maddison Lin, 2021 Rushton Farm Intern
Studying Environmental Policy and East Asian Studies at Colby College (with the hope of using both to address environmental issues in China)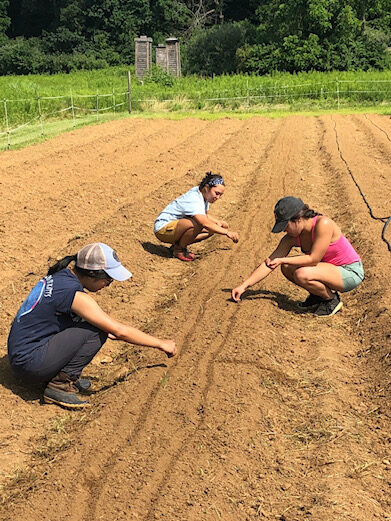 I've always been exposed to farming, thanks to my dad owning a farm in Florida when I was young. However, it wasn't until I took AP Environmental Science in high school that I really started becoming interested in sustainable agriculture. I liked learning about producing food sustainably and working with the environment to do so. Visiting Rushton Farm for a field trip further inspired me, and I ended up doing an independent study on the subject my senior year.
I think one of the obstacles women and beginning farmers face is getting started in an environment that feels comfortable. I feel like agriculture is usually seen as male-dominated field, which can make it intimidating for some people to get involved.
I've always liked animals, nature, and ecology so it was really nice to see how the farm worked in tandem with the environment at Rushton. Getting to spend so many days outside was good for my health, both mentally and physically (even if it did get super hot some of the days!). The work is really fulfilling. It doesn't really hit you at first, but we don't usually think about how our food is actually grown. Getting to see the process from planting to harvesting was incredible, and it really opened my eyes to all the labor that goes into putting food on the table.
It was really great working with other women at the farm! The environment was always so welcoming, and I always felt comfortable enough to carry out all my tasks and ask for help when needed. It was also nice, especially since I usually perceived farming to be so male-dominated (at my dad's old farm, I can't remember a single female farmer).
Women can definitely have an impactful role in the alternative agriculture movement. One of the biggest advantages is simply bringing different perspectives and experiences to the table. It's no doubt that women have fundamentally different experiences than men, and it is exactly these differences that can make the community of growers stronger and more empathetic. Diversity is necessary for any environment, and having more women in agriculture can help us take a step forward in making a more open environment for everyone involved.
What's my favorite part? I loved processing and cleaning vegetables (it was often very refreshing on hot days!). I also liked pea picking!
Noa Dijstelbloem, 2021 Rushton Farm Intern
Studying Agricultural Sciences with an intended concentration in Global Health at Cornell University
I've always been interested in nature and the environment. I was always fascinated by the ways in which different species interacted with each other to maintain ecological balance. Growing up, I came from a family of foodies; we loved to cook, eat, try new cuisines and watch Food Network together. I even thought I would be a food critic or a chef. It wasn't until taking AP Environmental Science that I really discovered the connection between food, nature, and sustainability. After learning about the issues with current agricultural practices and going on a field trip to Ruston Farm, I was in awe. The field of sustainable agriculture and agroecology perfectly combined my two interests in nature and food, and I knew from that point on that I wanted to pursue a career in this field.
I think it is a challenge getting people to want to pursue farming as a career. For girls and women specifically, we aren't raised to see farm work as a potential option for our futures. In most advertisements, movies, and images we see of farms, the farmers are typically older, white men. I can imagine it is difficult for women to picture themselves doing farmwork because they don't see themselves represented in the agriculture sector. As more women enter agriculture-related jobs, it will inspire other young women to want to enter the field as well.
I love being outside, being physically active, and connecting with nature while farming. I love meeting new people and being able to connect with fellow farmers, CSA members, and other individuals about similar interests in food, sustainability, and nature.
I feel so fortunate that I've found a course of study that I'm truly passionate about, and I've loved every single course I've taken so far at Cornell. The classes I've taken my first year include: Plant Science and Systems, Sustainable Agriculture, Sustainable Food and Companion Animal Systems, Dairy Cattle Principles, and Ecology and the Environment. I've become involved in agriculture-related extracurriculars; I'm on the governing body for our student run organic farm, Dilmun Hill, I'm a part of the Resilient Environment Agriculture Laboratory (a project team under the umbrella organization Cornell University Sustainable Design), and we're working on developing aquaponic systems for local Ithaca farmers. I've also been fortunate enough to secure a research position on campus working for Dr. Toni DiTommasso in his weed ecology lab.
I've met so many inspiring women who are also pursuing careers in sustainable agriculture, global development, and agribusiness. Nearly half of the students in my major are women, which is incredible. The female faculty I've met in the College of Agriculture and Life Sciences are also inspiring!
I was so inspired that all of the interns hired by the farm over the summer were women. Each one of them was strong, independent, down to earth, and inspiring; it was wonderful being surrounded by other women who shared my passion for sustainable agriculture.
What's my favorite part? My favorite thing to grow is definitely beets! I enjoy the entire process – thinning them in the greenhouse (or under the shade of the trees), planting them in the field, and especially harvesting them! Pulling them out of the ground is super satisfying, and bunching them and washing them is very "zen." Also, my new fun fact that I always tell people now is that I once picked a 2.2-pound beet!
Amanda Dunbar, 2021 Agroecological Project Coordinator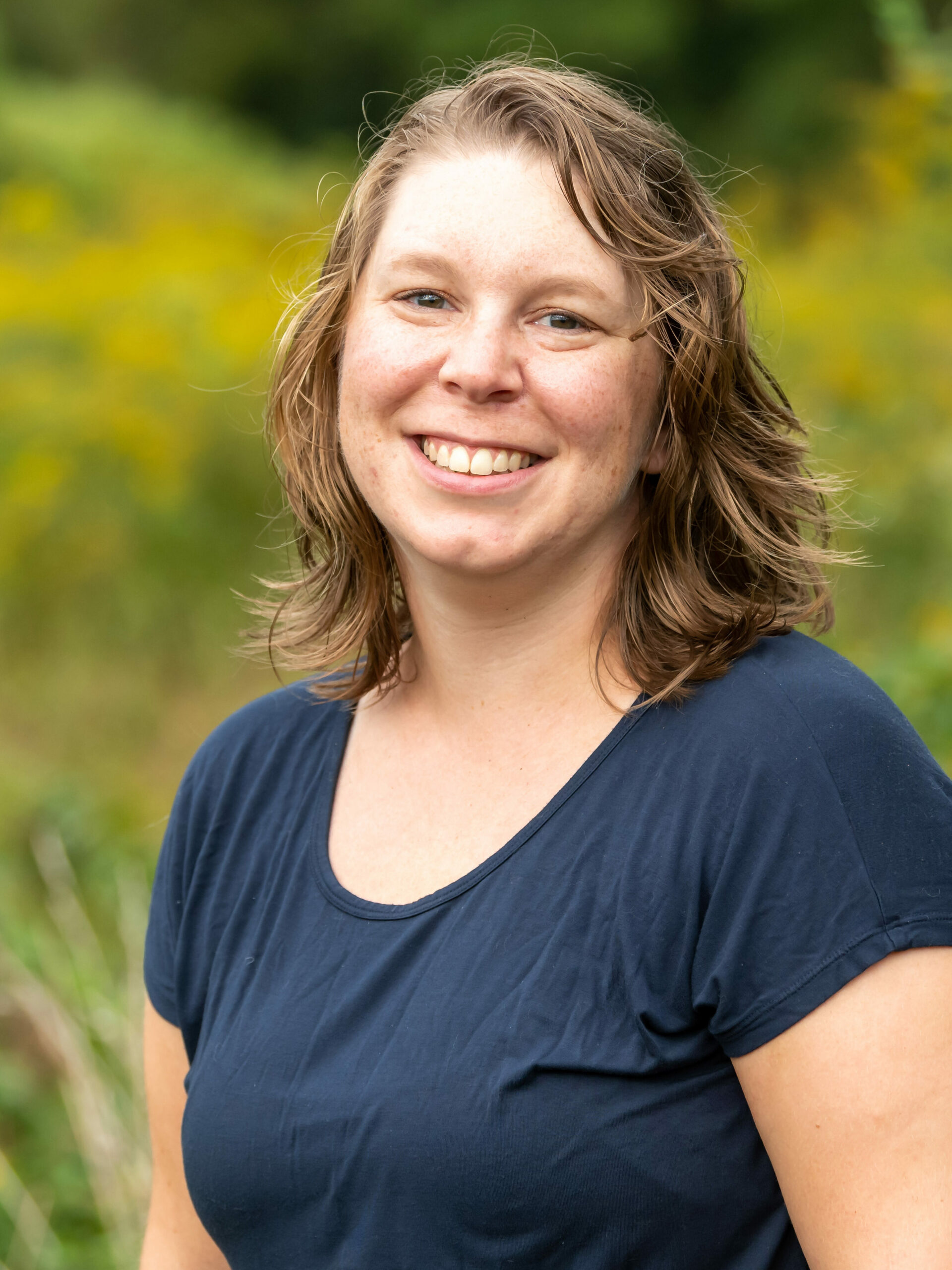 My educational background is in wildlife conservation and management, but all of my work experience has considered or been impacted by agricultural land and practices. I am very interested in the interactions between agriculture and local wildlife. Frequently, the focus can be on the negatives between wildlife and agriculture, but there are benefits too!
I enjoy being outside every day and getting to see the gradual changes in the crops as they grow throughout the season, and what changes occur in the landscape as we move through the season. I'm inspired by the fact that, particularly at Rushton Farm, we are working with nature as much as possible and that we get to see the joy and appreciation for the delicious crops on members' faces on pickup days. I felt working with other women on the farm resulted in an additional support network. The ability to tell a fellow farmer "I'm not at 100% today, but I will do my best" without getting questioned or judged in return fosters a mutually supportive and positive work environment.
What's my favorite part? My favorite thing to grow is okra; it has gorgeous flowers and it's fun to harvest. I enjoy harvesting and processing crops on pickup days! You get to see how big each planting grew, select the produce that is ready, and shine everything up to look its best. I particularly enjoy the almost meditative repetition of trimming, peeling, washing and bundling leeks and scallions!