Cover Photo by Jennifer Mathes
In 2018 Willistown Conservation Trust embarked upon an ambitious $2 million fundraising campaign. Named the "Campaign for Rushton Woods," the effort came on the heels of the construction of the Rushton Conversation Center (RCC), located on the grounds of the Rushton Woods Preserve. 
The Campaign supported a vision to enhance the Rushton Woods Preserve, featuring the stunning new RCC as its heart, as a hub of conservation activity for WCT. Specifically, the campaign was designed to raise funds to renovate the White Farm House on the property, establish an environmental master plan for the Preserve, improve circulation and recreational enjoyment of the Preserve, and provide much needed operating support for the vibrant programs based from Rushton Woods: Watershed Protection, the Community Farm, Bird Conservation, and Land Stewardship activities.
We are thrilled to report that the WCT community of generous funders and donors came together and, as of December 31, 2022, successfully completed the Campaign.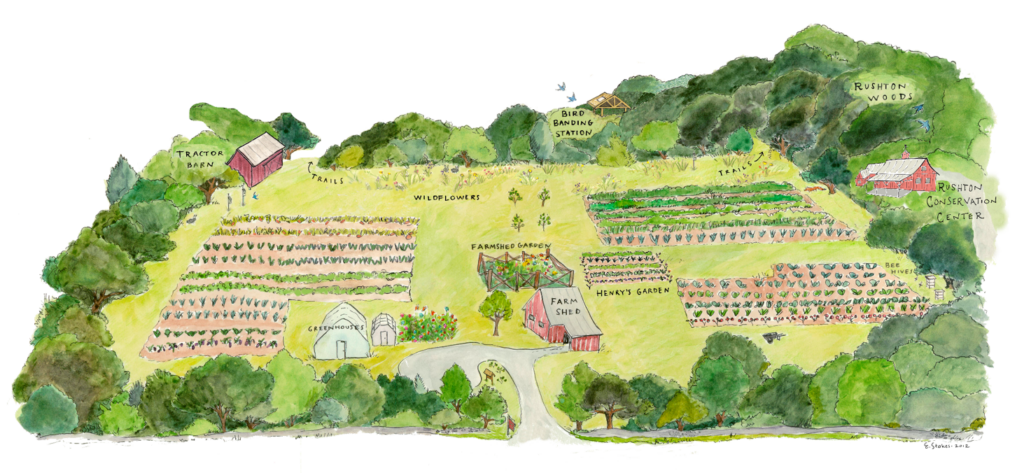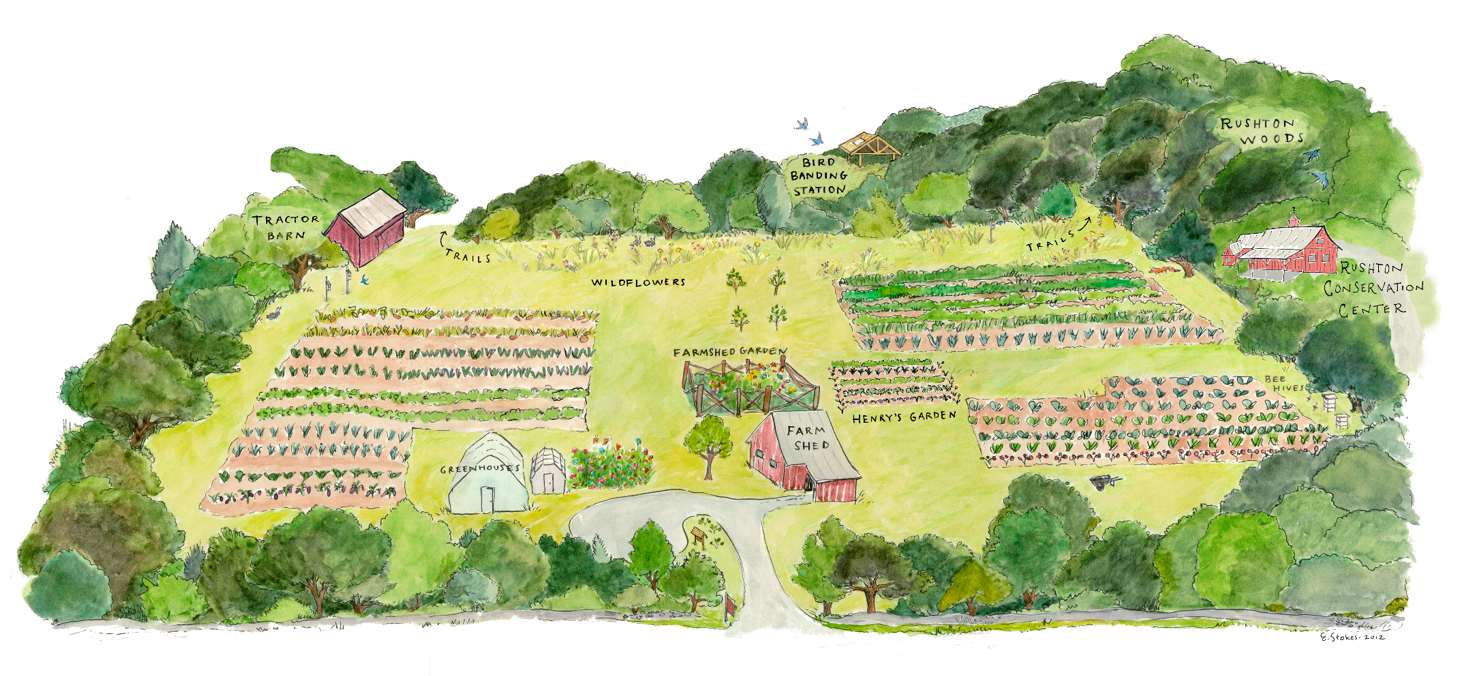 Many results made possible by the Campaign can already be seen by the community. The White Farm House which sits just west of the RCC has been attractively rehabbed and expanded. It now boasts a guest room which has provided overnight accommodations to visiting conservationists and scientists. Ornithologists from Tadoussac Bird Observatory in Canada recently commented, "Such a wonderful place with such wonderful people! We had an amazing time at WCT and we learned a lot from all of you," upon conclusion of their stay. A first floor conference room and bird book library now serve as a small group meeting space for organizational meetings, as well as a place for farm staff to cool off over lunch on hot summer days.
The Master Plan for Rushton Woods was also completed with Campaign funding, and it outlined a framework to address identified environmental and recreational improvements needed in the Preserve. As a result of the Master Plan, several projects have already begun, including the first step in restoring the hedgerows in the center of the Preserve. The first 100 feet of invasive species were removed by Land Studies Inc., and replanted by Preserve and Facilities Manager Mike Cranney with the help of volunteers. The project was funded with a grant from Pennsylvania Society for Ornithology.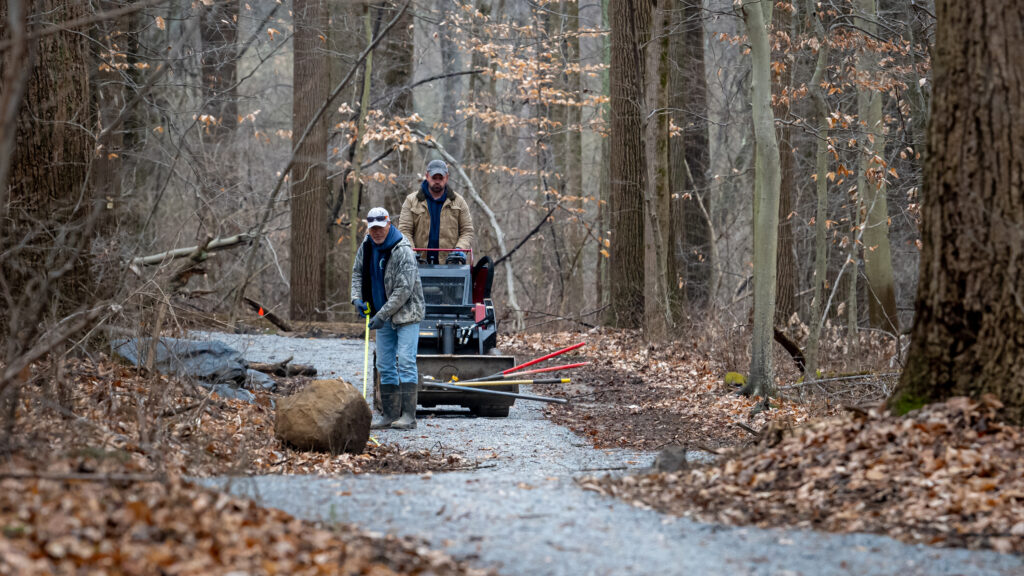 A new visible result is the just-completed equestrian/pedestrian trail through the woods, constructed by Green Roots Landscaping. This beautiful and functional path will be enjoyed by hikers and horses alike as they wind their way through the woods on sure and dry footing. Further enhancements planned in the coming year include an ADA accessible trail connecting the Rushton Farm shed to the RCC with a section of hedgerow restoration along Delchester Road as well as a bioretention basin, which will address stormwater, improve stream health by reducing erosion, provide habitat, and be accessible to all with an additional ADA trail loop.
Campaign funds will also support WCT operating activities and programs. Rising costs and growth of our departments require constant funding, and our ability to keep the departments running relies upon the generosity of a community who understands the importance of open space and conserved land and its positive impact on wildlife preservation and a healthy environment.
The Board and staff of WCT would like to acknowledge and thank all those who came together in this effort. There were approximately 71 donors, made up of individuals, foundations, and governmental organizations. Additionally, the work at this Preserve wouldn't be possible without our dedicated volunteers and Land Stewardship Team. We will continue to provide updates to the community, as work is completed at Rushton. The entire community is welcome and encouraged to visit the Preserve to enjoy a solitary winter hike or a lively, warm weather picnic at one of our Community Super Series events. There is something for everyone at Rushton Woods Preserve!
A big thanks to everyone who contributed to this Campaign:
Anonymous (2)
1976 Foundation
Mr. Timothy B. Barnard and Ms. Meredyth Patterson
Lisa Hatcher and Charlie Bernard
Michael and Linda Burg
Mr. Adrian A. Castelli and Ms. Molly G. Love
Chester County Preservation Program
The Colket Foundation
Mr. and Mrs. John F. Cozzi
Department of Conservation and Natural Resources
Department of Environmental Protection: Growing Greener
Diamond Ice Foundation
Anthony and Linda DiValerio
Ray Dombroski and Colleen DeMorat
Dick and Nancy Eales
Mr. and Mrs. Christopher B. Ebmeyer
Kate and Ben Etherington
First Cornerstone Foundation
Mr. and Mrs. John Fry
Jim and Dina Gibson
Steve and Christina Graham
Julie S. and K. David Graham
Mrs. Perry C. Gresh
Dr. Janet F. Haas and Mr. John Otto Haas
Mr. and Mrs. Nathaniel P. Hamilton Jr.
Meg and Chris Hardesty
Alice and Peter Hausmann
Lynn Hitschler
Mr. and Mrs. Thomas W. Hofmann
Mr. and Mrs. Bill T. Howard
Elayne Howard
Beth and David Hucker
Mr. and Mrs. Scott Johnson
Mrs. Barbara M. Jordan
Michelle Kichline
Mr. George F. Krall Jr.
Ms. Lisa Krall
Mr. and Mrs. Joseph Layden, Jr.
Mr. and Mrs. Mark T. Ledger
Lindsay and Ted Leisenring
Michael McGraw
McLean Contributionship
Mr. and Mrs. Robert S. McMenamin
Dr. F. Arthur McMorris and Dr. Joanna Balcarek McMorris
Mr. and Mrs. Peter Morse
Donna and Bill Oliver
Otto Haas Charitable Trust
Heidi S. Phelan
Marshall-Reynolds Foundation
Quaker City Foundation
Lang and Marilyn Smith
Mr. and Mrs. Steven L. Spinner
Veritable, LP
Mr. and Mrs. Michael A. Stolper
John F. and Holly H. Stoviak
Jennifer H. Gorman-Strawbridge
Mr. and Mrs. Peter S. Strawbridge
Jeanne and Doug Swope
Mr. Matt E. Taylor and Ms. Francie Ingersoll
The Darling Fund of the Philadelphia Foundation
The RJM Foundation
Bob and Carolyn Turner
UNFI Foundation
Mr. and Mrs. James L. Van Alen II
Mr. and Mrs. James L. Van Alen, Jr.
Mr. and Mrs. Alexander S. Van Alen
Mr. and Mrs. Rob B. Van Alen
Mr. and Mrs. Richard Warden
The Honorable Thomas D. Watkins and Mrs. Penelope Watkins
Ms. Lida A. Wright
Alex and Janine Zozaya