TAKING A CLOSER LOOK AT THE PAST, PRESENT AND FUTURE OF LAND CONSERVATION IN THE WILLISTOWN COUNTRYSIDE
The Biden administration recently declared a national goal to conserve at least 30% of U.S. lands and freshwater, and another 30% of U.S. ocean areas by 2030. This initiative, referred to as 30×30, proposes an America the Beautiful campaign, described by the administration as a "ten-year, locally led campaign to conserve and restore the lands and waters upon which we all depend, and that bind us together as Americans." It is through this lens that we reflect on the history of land conservation in the Willistown countryside.
The history of conservation under the auspices of Willistown Conservation Trust spans the past 40 years, but really, it's based in a conservation ethic that goes back many years prior. It is a story of generations of people caring deeply for the land, with a passion for protecting it, not just to save open space, but to preserve the rich natural resources of our woodlands, rolling fields and stream valleys to benefit wildlife – and to share a deep connection to nature with people of all ages and backgrounds. It is a story that could not have happened without the loyal support – both moral and financial, of so many – for which all of us at the Trust are immensely grateful.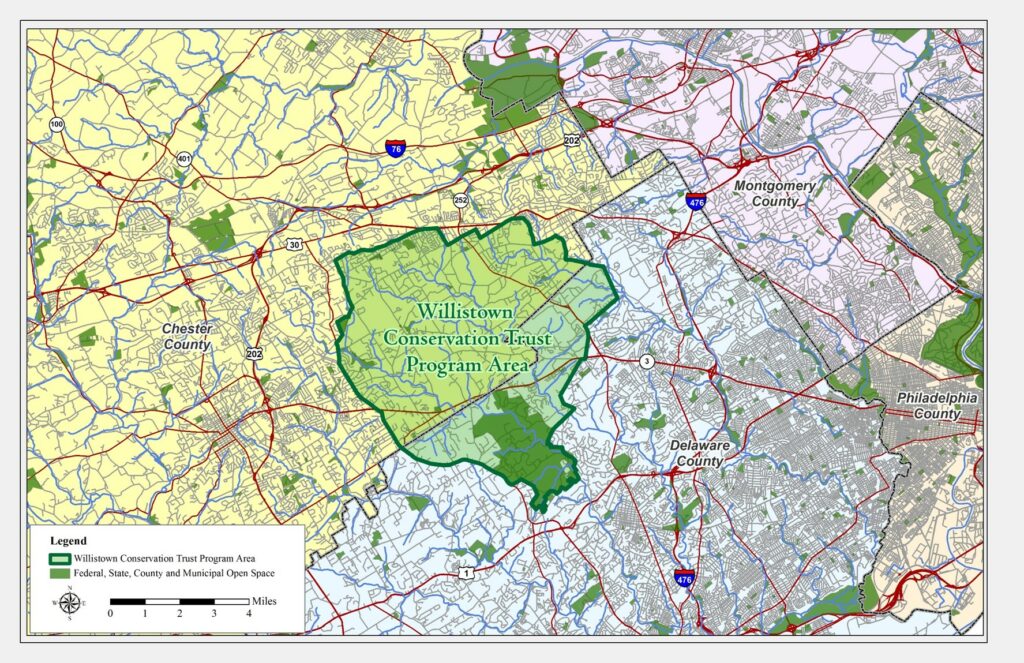 Our program area consists of an oasis of interconnected open spaces, once referred to as Radnor Hunt country. Today it is defined by the headwaters of the Ridley, Crum and Darby creeks. It encompasses all of Willistown Township and parts of East Goshen, and Eastown Townships in Chester County, and portions of Newtown and Edgemont Townships in Delaware County. In its entirety, it comprises an area totaling approximately 28,000 acres, or almost 44 square miles.
Our 40-year history can be viewed in four important segments: the first being the early years under the umbrella of the Brandywine Conservancy in the 1980s; second, the establishment of Willistown Conservation Trust as its own independent organization; third, a period of growth that saw the expansion of land protection efforts resulting in hundreds of acres of preserved lands; and fourth, the emergence of our outreach and research programs.
In the beginning, it was the vision of our current executive director Bonnie Van Alen, along with her colleague and friend Kathe McCoy, to apply the principles of land conservation that were being used at the Brandywine Conservancy to lands in the Willistown countryside that were under threat of development. At that time, Brandywine Conservancy was being led by iconic conservationist Frolic Weymouth, whose legacy of land protection has inspired legions of conservationists to preserve the natural and cultural resources that make our area unique.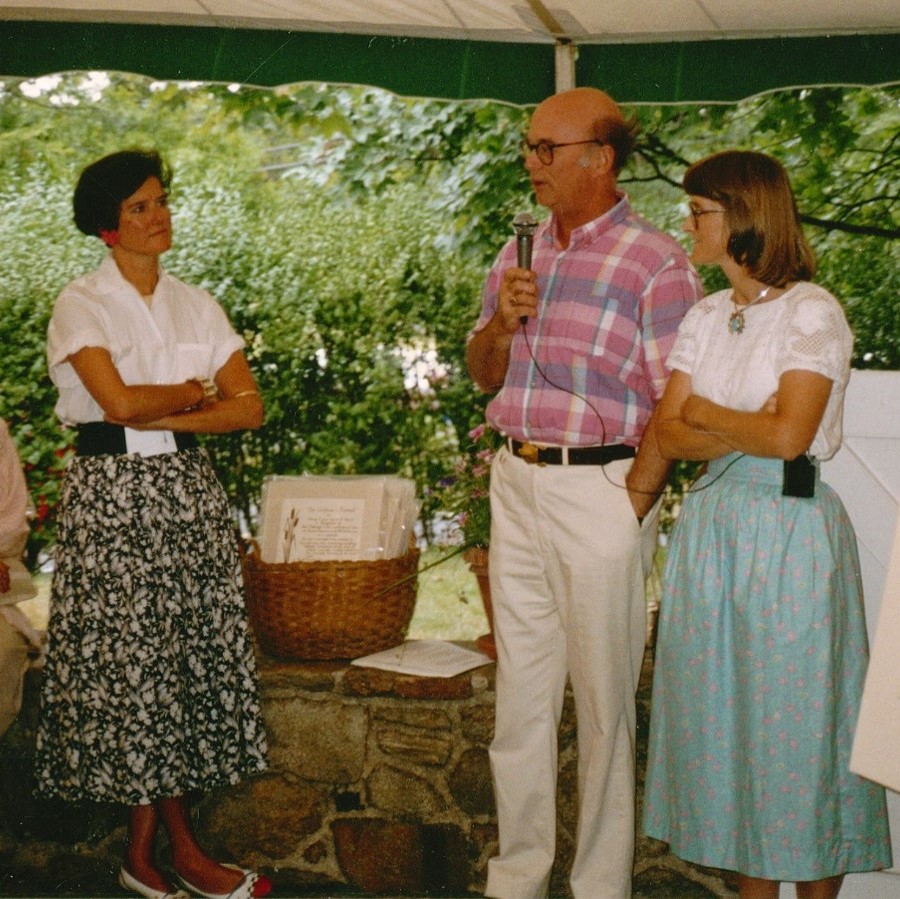 Alice Hausmann joined the effort in 1985 and has been integral to the success of our organization ever since. It was in these early years that the Willistown Area Conservation Program was established, introducing the conservation projects that would eventually result in the creation of the Willistown Conservation Trust as we know it today.
The second segment of our organization's history is marked by the "official" formation of the Willistown Conservation Trust as its own independent entity in 1996, with the blessing and encouragement of the Brandywine Conservancy.
In the early years, WCT occupied the "Blacksmith Shop" at White Horse Corner. We then moved across the street to the "Saddle Shop" before moving to our current office location in the farmhouse at 925 Providence Road, just south of White Horse Corner.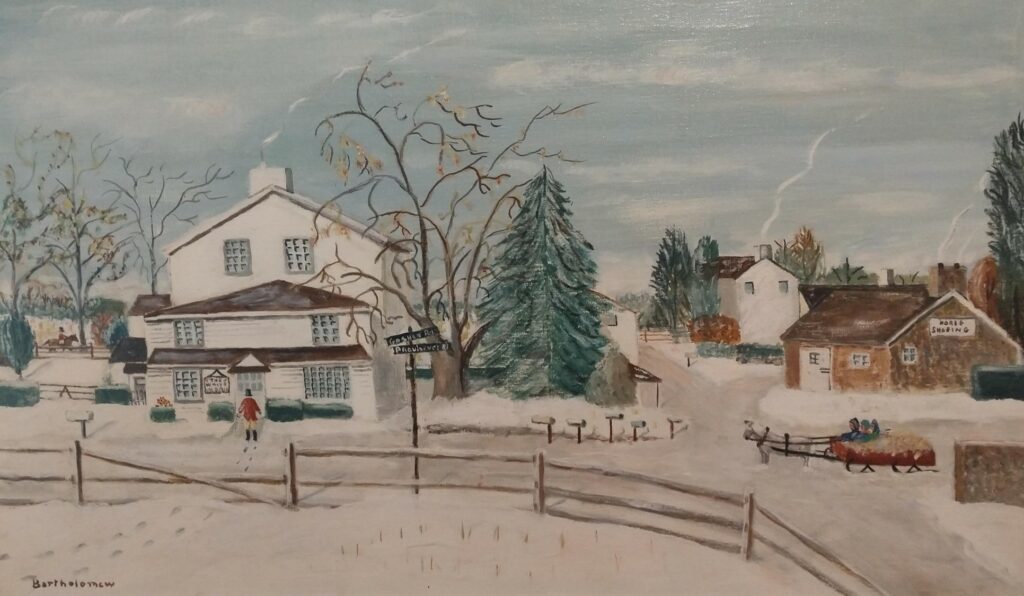 This brings us to the third segment of our history, which was a period of vigorous growth in our land protection efforts through the early 2000s. We added land protection and stewardship staff, along with other positions to support our growing organization.
At this time, we were still primarily focused on land protection, i.e., getting private properties under easement. It was also during this time that we were acquiring lands that would eventually become our preserves at Ashbridge, Rushton Woods and Kirkwood.
This solid foundation of protected lands set the stage for the fourth and current era in the history of the Trust. During this time, we saw the emergence and evolution of our robust outreach and research programs, starting with the creation of Rushton Farm in 2008.
Rushton Farm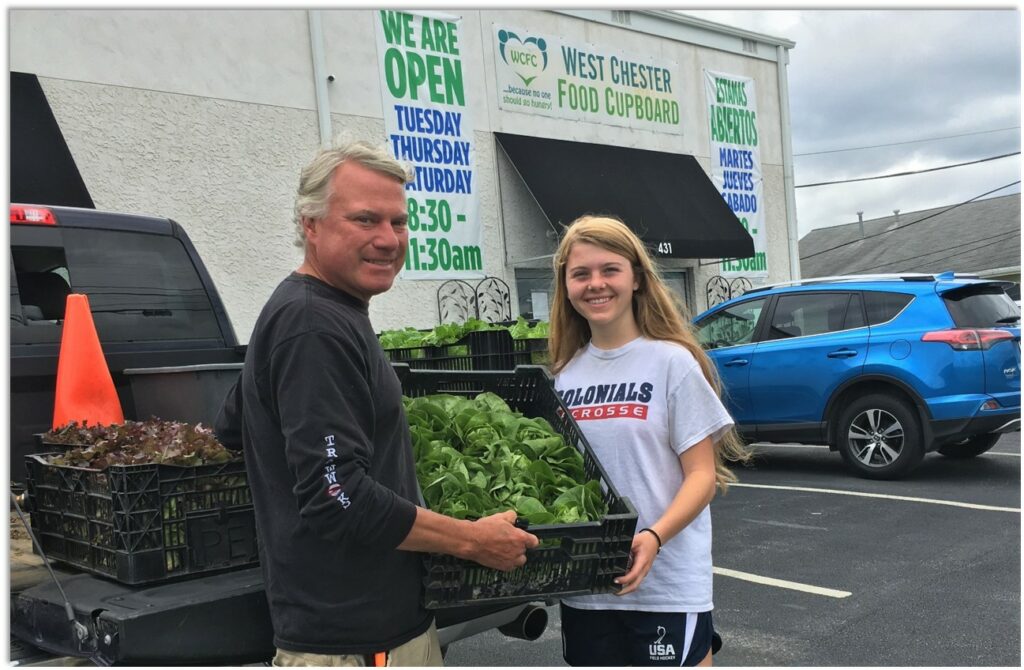 Under the direction of Fred DeLong, the farm occupies six acres of tillable land at the Rushton Woods Preserve. Rushton Farm is a community magnet, with a Community Supported Agricultural (CSA) operation at its core. The food grown at Rushton is enjoyed by CSA members who support the operation financially. Many also volunteer at the farm.
In addition, every week, in season, Fred takes a truckload of food to the West Chester Food Cupboard. Underpinning all of this, the farm is an agroecology laboratory and a demonstration platform for innovating and testing sustainable agricultural practices.
Bird Program
Lisa Kiziuk leads our Bird Program, which began as a banding station that has evolved into a full-blown research operation. The program is recognized internationally for sharing its valuable data about bird health, migration patterns and the importance of habitat preservation.
Watershed Program
Watershed Program Director Lauren McGrath studies the health of the watersheds in our program area (Ridley, Crum and Darby Creeks). Information gathered on the flora, fauna and hydrologic conditions of the creeks is sent to shared regional databases to help paint a bigger picture about the health of our waterways, which are an important source of drinking water for our region.
Education Programs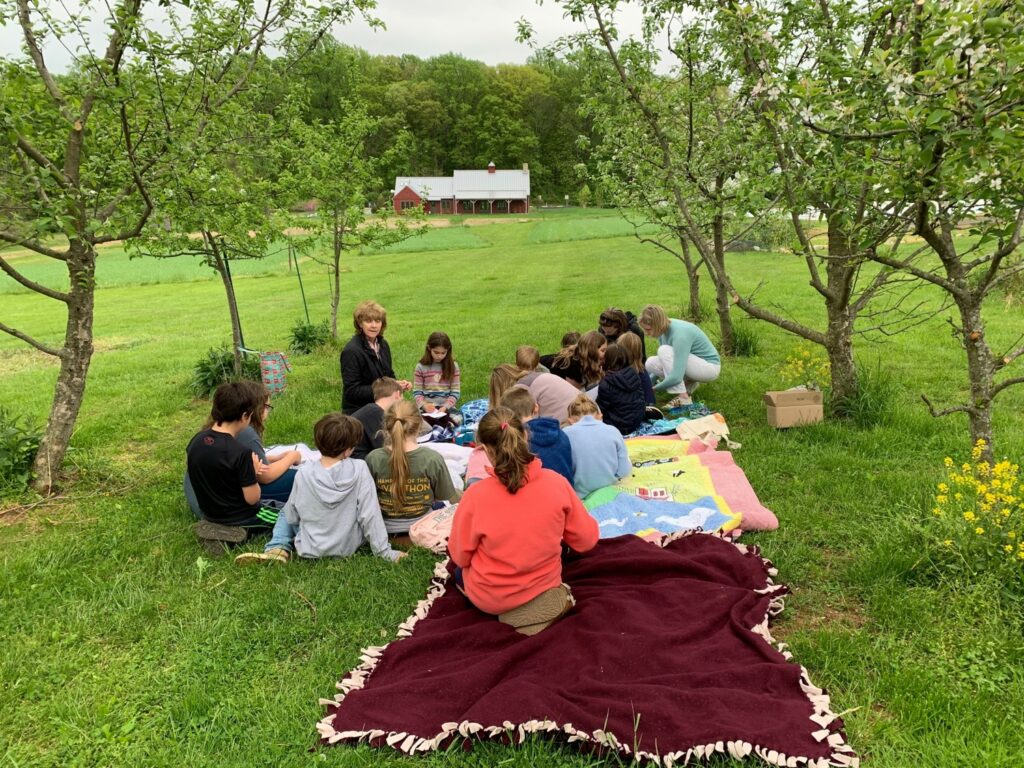 Willistown's protected lands are unique experiential learning places that make the study of science, ecology and agriculture come alive for students of all ages. Under the leadership of Education Programs Manager Blake Goll, these conserved open spaces are used to explore the connections among land, farm, birds, habitat and water. People come here to study our practices and model solutions for healthy food systems, bird conservation, habitat restoration and improved water quality. They are drawn to this special place to learn, become inspired and leave with a deeper commitment to save land and serve as stewards of our natural world. Over 1,000 children and adults participate in the Trust's education programs annually.
Rushton Conservation Center
Our newest program is the Rushton Conservation Center, which extends our community reach even further. This building is a new addition to the Rushton Woods Preserve. It was finished in 2018 and is designed to host educational events, seminars, community gatherings and farm-to-table dinners, centered on themes connected to our mission. Lindsay Carlson is the program director at the RCC.
Where Do We Go From Here?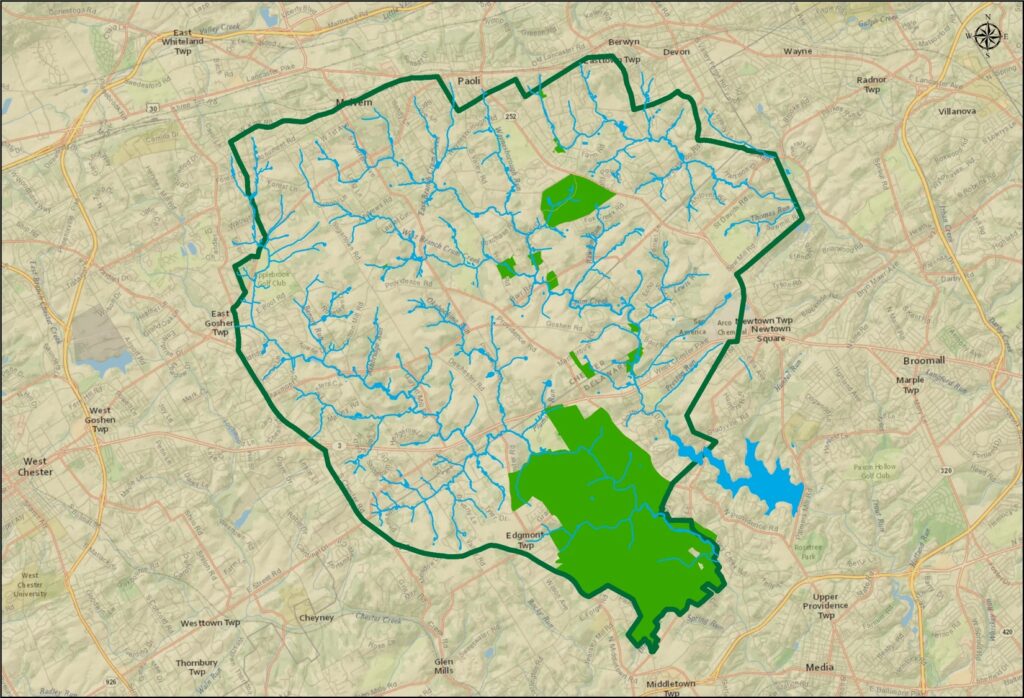 The growth of our organization and expansion of our special programs has not changed our core mission of Land Protection and Stewardship, currently under the direction of Erik Hetzel and Andrew Kirkpatrick, respectively. As committed as we have been to conservation over the last 40 years, we remain ever vigilant in our land preservation efforts and are inspired and energized by the "30×30" goal. While conservation happens locally, it has far reaching national and global impacts that we are only now beginning to understand. We look forward to the next chapter in our history as we strive to help achieve the ambitious vision of 30×30, and continue to devote ourselves to conservation for many years to come.