The flutelike song of the wood thrush is emblematic of summer mornings at Rushton Woods Preserve. Unfortunately, both the wood thrush population and places like Rushton, with over 50 acres of deciduous forest, are rapidly disappearing. The loss is so dramatic that wood thrush are one of eight species of conservation concern identified for study by a recent Competitive State Wildlife Grant awarded to the Willistown Conservation Trust.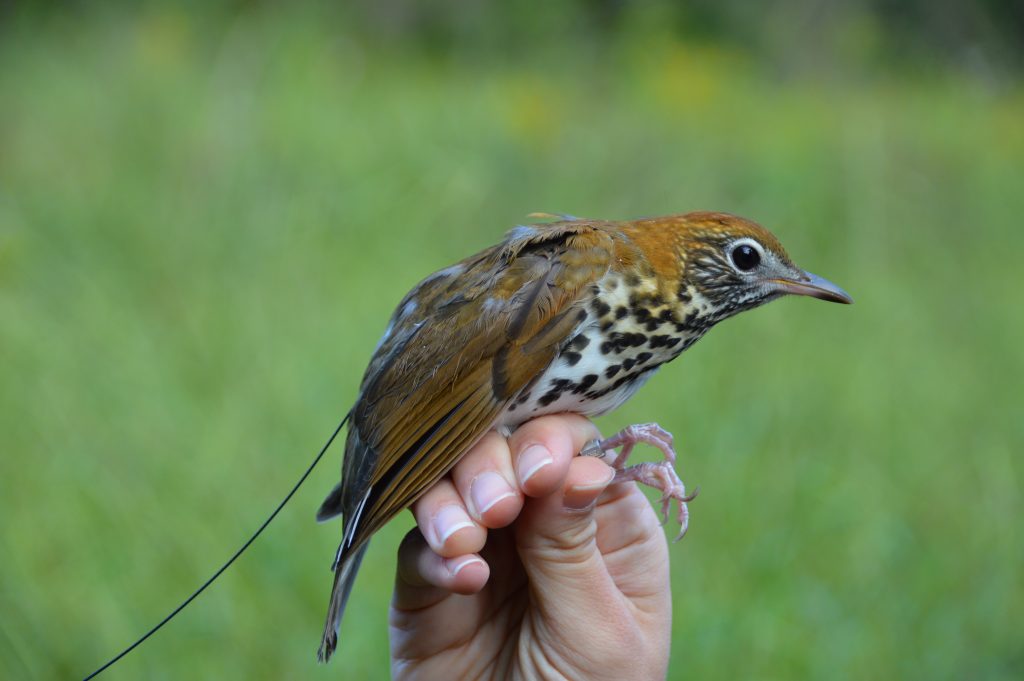 Under the direction of Lisa Kiziuk, the Trust's Director of Bird Conservation, University of Pennsylvania graduate student Amanda Bebel is conducting research on wood thrush as her capstone project. Amanda's work is contributing additional scientific information about the wood thrush's complete life cycle. The focus of her research is to learn precisely where they go during the breeding season. Since they nest in Rushton Woods Preserve, it is an ideal place to conduct the study. And the newly expanding Motus network, which electronically tracks birds' movement, is an ideal research tool.
By attaching tiny nanotags (small radio transmitters) to six adults and three juveniles at Rushton Woods Preserve in Willistown and several more at Bucktoe Creek Preserve in Kennett Square, Amanda followed these birds during their breeding cycle with incredible geospatial precision. Throughout the summer, she used a hand-held tracking device to zero in on the birds to their physical location while general detections were consistently picked up by the local Motus automated receiver stations at both Rushton and Bucktoe. As the birds migrate south this fall, the broader Motus network that extends to South America will pick them up.
This work contributes more information to conservationists about how to better protect and manage wood thrush habitat. Pennsylvania plays a critical role in the conservation of the wood thrush as it supports a significant portion (approximately 8.5%) of the entire nesting population of the species.
What type of plants do they need for survival? How far do they go after they fledge? How much contiguous forest do they need? Where do they stop to rest and refuel on their migration path? We hope to learn more about these questions when Amanda completes her research in spring 2020. Stay tuned!