Welcome to the second in a series of 3 blog posts to help you plant native trees and shrubs in a riparian buffer (the land that borders streams and other waterways). Most of the tips provided in these posts also apply to planting trees or shrubs in other locations on your property.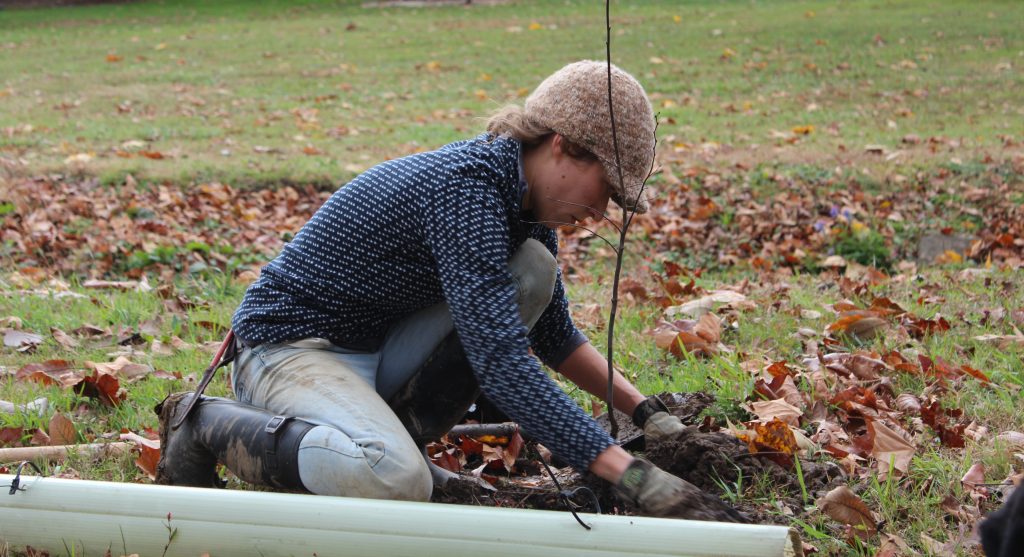 Spacing your trees and shrubs approximately 12 – 15′ from each other, you may plant in rows or in more naturalistic groupings to better echo the more organic patterns found in nature – or a combination of both. Get creative!
Many of your trees and shrubs will likely arrive in pots. Dig the holes as deep as the pot and twice as wide. Remove the plant from the pot and loosen the roots, especially if they are tightly bound. Adjust your plant in the hole, adding or removing soil as needed so the root flare (where the roots start to spread from the trunk – see photo below) is just above ground level. Take care not to bury the plant too deep or cover the trunk with soil, while making sure your plant isn't sitting too high, with its top roots exposed. Tamp the soil around the root ball as you fill the hole to ensure that the plant is firmly planted.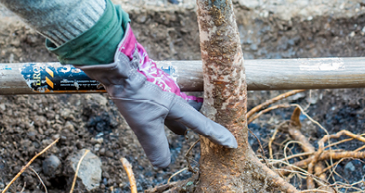 See our post about the importance of riparian buffers and our first post about preparing to plant.
You can gain some practical planting experience by joining us for a one or more of our native tree planting days – May 29, 30 & 31 – at Ashbridge Preserve. More information and volunteer sign up for these upcoming plantings available soon!