STRATEGIC PLAN | 2023-2025
Saving, Studying, and Sharing Land, Water, and Habitat

WHERE HAVE WE BEEN?
Land conservation efforts have been underway in the Willistown area for over 40 years. A satellite program of Brandywine Conservancy, formed in 1979, was known as the Willistown Area Conservation Program. With the encouragement of the community and key local conservation leaders, Willistown Conservation Trust (WCT) became an independent, community based land trust in 1996 with a committed and active Board of Trustees.
Using the Crum, Ridley, and Darby Creek watersheds as a boundary guide, WCT's traditional program area encompasses 28,000 acres in Chester County and portions of Delaware County, and is located approximately 20 miles west of Philadelphia. Despite tremendous growth pressures that have converted many neighboring communities into vast tracts of sprawl development, the WCT program area still remains largely an oasis of green space.
Successful land conservation and stewardship paved the way for major growth within the organization. Since its founding, WCT has grown to include a suite of activities focused on science, stewardship, education, and community engagement. In addition to Land Conservation and Land Stewardship, these core activities include Bird Conservation, Community Farm, Watershed Protection, and Outreach and Education. This holistic approach to conservation explores the connections among land, birds, habitat, agriculture, and water, and educates the public on these connections.
Our land protection and stewardship efforts have been focused on the Willistown area; however, our work has a regional and national impact on conservation.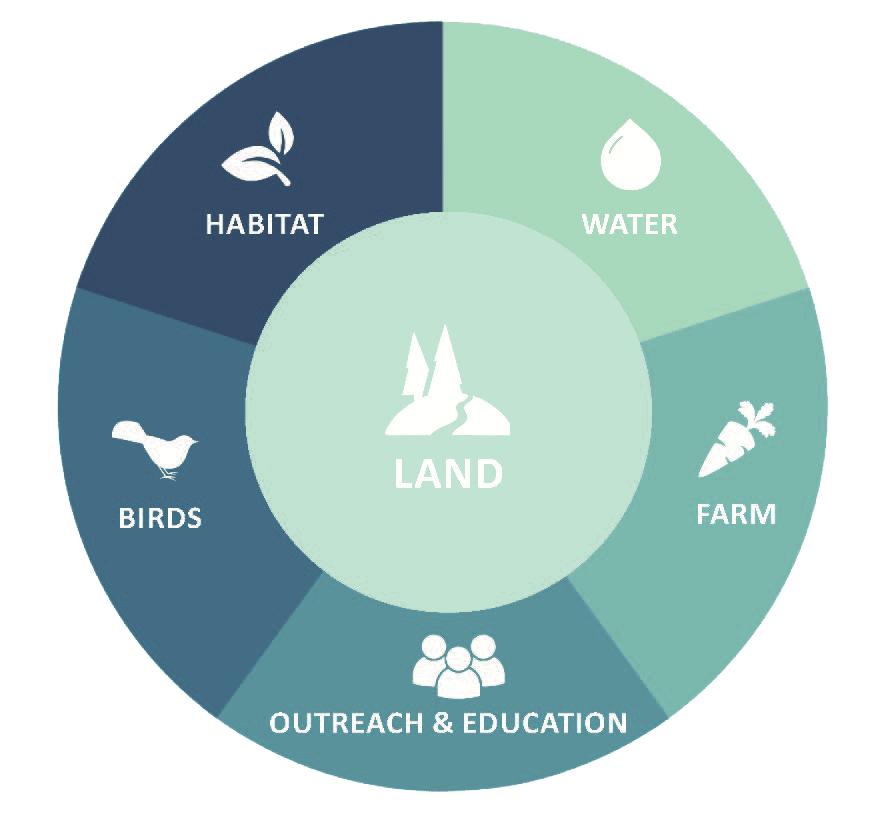 WHERE ARE WE GOING?
Over the next three years, as our land protection efforts thrive and new opportunities in our traditional program area diminish, we anticipate a growing emphasis on habitat conservation and restoration, education and community outreach. Within these conserved lands, we will use our growing body of research in bird, water, and agro-ecology to inform best practices and engage with the community to educate and inspire an ethos of conservation and care of our land, waters, and habitat where wildlife thrives. In addition, we will identify and consider land protection and conservation opportunities outside of our traditional program area that fulfill service gaps in surrounding communities and meet vital conservation needs, as we interact and collaborate with new communities and organizations.
We will continue to be a robust organization that is well established, broadly supported, and attracts leaders at the forefront of the conservation field. Our science-based programs will contribute research to inform conservation priorities and best practices on a regional, national and international scale. We will attract a diverse group of staff, Trustees, and volunteers who are deeply committed to the mission of WCT and bring a variety of perspectives, skills, and experiences to our work. We will offer robust community and educational programs that attract a wide swath of participants. We will use our established expertise and connections for the conservation benefit of communities outside our traditional area of focus.
To read our Strategic Plan in full, click the cover below: