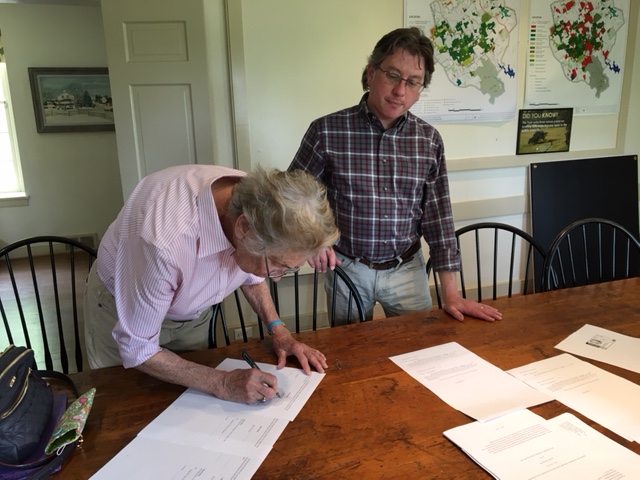 This May, Jean Preston signed an official Legacy Conservation Easement at the Trust's office, protecting 5.6 acres of land. Her scenic property, off of Dutton Mill Road, features a wooded area and pond that drains to the Ridley Creek. The easement protects the land from further development and limits the property to one primary residence.
A Legacy Conservation Easement is designed for properties less than 8 acres located within the Trust's 28,000-acre focal area. This type of easement is a simple method to preserve the Willistown landscape by protecting the beauty of the land. Donors of legacy easements are invited to join the Legacy Society – conservation supporters who have made the Trust a giving priority.
The easement additionally recognizes Mrs. Preston's land as a riparian buffer area and woodland. Riparian buffer areas are crucial to the preservation and improvement of water quality. The trees and vegetation on her property protect the Ridley Creek by shading and filtering water that feeds directly to the creek. The designation of a riparian buffer area recognizes the impact of the land on the Ridley Creek. Mrs. Preston's easement forever protects not only the land, but also the Ridley Creek.
As with all conservation easements, the protection granted in the easement will remain in perpetuity, even if the land is sold. As part of the work of the Trust, the land will be visited annually by the stewardship staff to monitor the condition of the property.