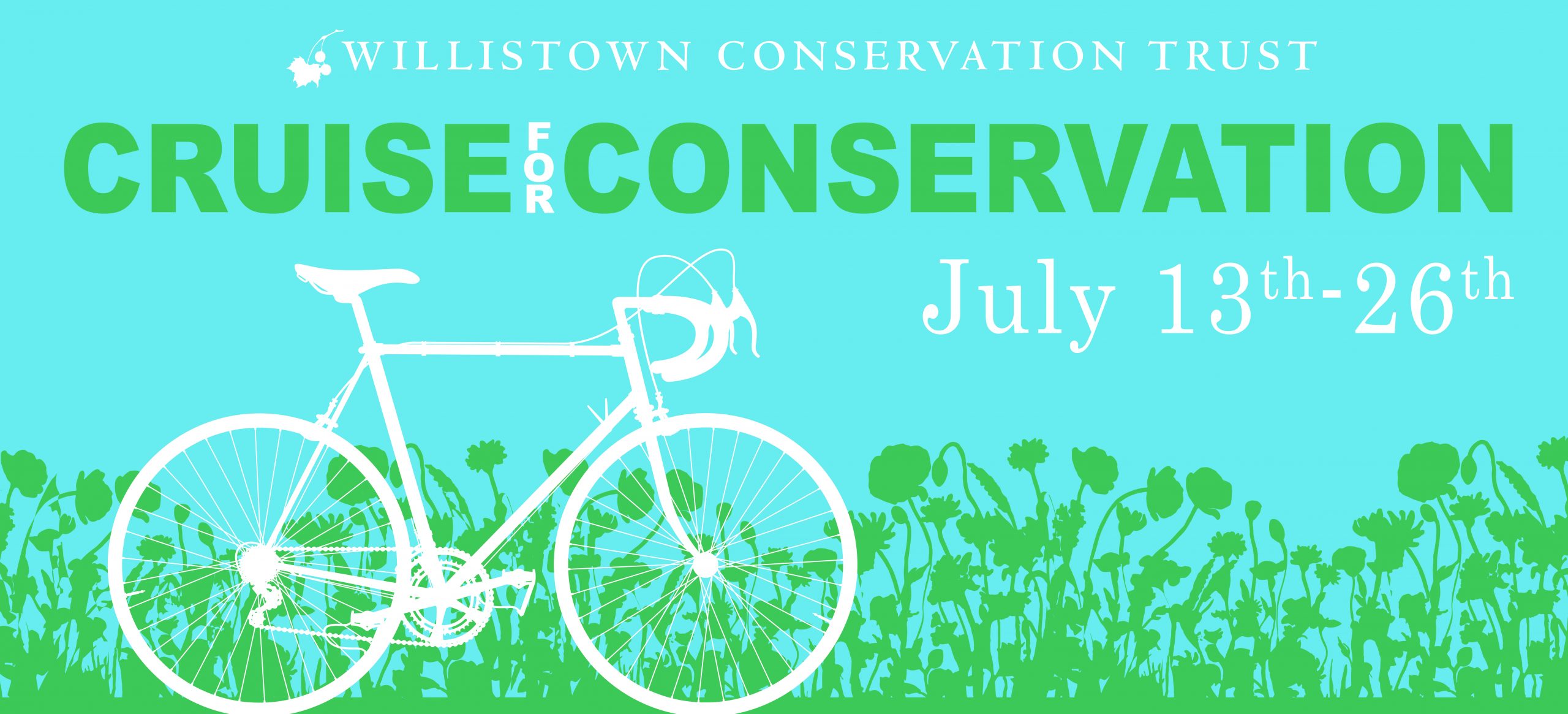 CRUISE FOR CONSERVATION  | 

JULY 13th-26th
Land conservation efforts have been underway in the Willistown area for nearly 40 years. Despite tremendous growth pressures that have converted many neighboring communities into vast tracts of sprawl development, the Willistown Conservation Trust program area remains largely an oasis of green space with

7500 acres of preserved land.

With the leadership of the Trust, the community conservation ethic has evolved and strengthened over the years. Using the Crum, Ridley, and Darby Creek watersheds as an organizing principle, the Trust program focal area encompasses 28,000 acres in Chester County and portions of Delaware County. 
We invite you to take a quiet adventure and support open space by participating in our first annual

Cruise for Conservation

. Due to safety restrictions associated with the Covid-19 pandemic, this will be a

virtual and unsupported bike race held from July 13th - July 26th. Riders will have the opportunity to track times and submit them anytime during the open race period. 
This is our first year hosting this event, so please help us make it a great success and spread the word to your cycling community!
TICKETS
$40 per rider (21 years old and over)
includes FREE 32 oz Crowler of draft beer from our friends at La Cabra in Berwyn! (must be redeemed by August 9, 2020)
$35 per rider (under 21 years old)
This Race does require the use of STRAVA Mobile or Device App.
After you register via Bikereg.com you will receive all information needed to connect to the

Cruise for Conservation event via STRAVA.
*Instructions for parking options (groups larger than 15 vehicles please contact

cmh@wctrust.org

to coordinate a parking location with parking).



COURSE DESCRIPTIONS

 
10 MILE: Coasters Course
This course will be a cruise packed with the bucolic vistas Willistown is famous for! This is the perfect course for beginners, or those just getting back into cycling. Riders will have the opportunity to pass all three of the Trust's preserves (Ashbridge Preserve, Kirkwood Preserve, and Rushton Woods Preserve and Farm) and the flowering meadows along the way. Gather your friends and family and enjoy the ride! Elevation: 821 ft.
28 MILE: Flyers Course
This intermediate level course (28.2 miles) will challenge mid to advanced level riders with tough climbs, but the reward for these steep hills will be coasting through the breathtaking winding creek roads, protected watershed areas, and meadows bursting with native wildflowers. Take a pit stop if needed at one of our three preserves on the route (Ashbridge Preserve, Kirkwood Preserve, and Rushton Woods Preserve and Farm). Elevation: 2,516 ft.

NOTE: There will be no gravel roads on this course.

Keep an eye out for these green diamonds, posted on utility poles, identifying property under conservation easement. You'll be happy to see how many you pass on the course!
PRIZES
The Female and Male cyclist with the fastest 28 mile Flyers Course time will receive a bundle of prizes donated by our sponsors: Keswick Cycle Paoli, La Cabra Brewing, and Out There Outfitters.

Last but not least! The cyclist with the slowest 28 mile course time will be honored with a special prize!

RULES OF THE ROAD
Always obey traffic laws.

Wear your helmet at all times.

There will be no route signage, rest stops, or other support along this route. Please pack water, food, and anything else you will need!

Have your ID, medical card, and charged phone with you.

Practice social distancing and bring a mask in case you need to stop.

Enjoy your quiet adventure through rolling hills, flowering meadows, and land preserved forever by you and our community of conservationists!
SHARE YOUR PHOTOS
Please post your pictures and tag @wctrust on Instagram and Willistown Conservation Trust on Facebook, along the way with #cruiseforconservation.
o