Dr. Ruth Patrick was one of the most important scientists to study freshwater systems. She was a pioneer when it came to discussing pollution and emphasized the importance of connecting science to governmental policy and helped to pave the way for future female scientists.
Born in Topeka, Kansas, Patrick was interested in science from a very young age. Her father first gave a microscope when she was 7 years old, and her interest in the microscopic world grew from there. Patrick attended Coker University in South Carolina where she studied Botany, after which she went on to earn her PhD in Botany from the University of Virginia.
Ruth Patrick continued her career in our very own backyard. She began working at the Academy of Natural Sciences of Philadelphia in 1933 as an assistant curator of microscopy – an unpaid position. It was not until eight years later that she finally was put on as a paid scientist. Patrick focused her studies on freshwater streams and used her role at the Academy to pursue research looking at diatoms. In 1947 she established the limnology department – now called the Patrick Center for Environmental Research. In 1973 her career at the Academy reached new heights as she became the first woman to chair the Board of Trustees at the Academy.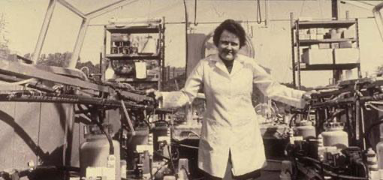 In one of her most famous studies, Patrick went to Conestoga Creek in Lancaster County, Pennsylvania with a team of environmental scientists. They set out to identify all the pollutants present in the stream. From there they also identified the animals and plants in the system. This combination of data allowed Patrick to develop what later became known as the Patrick Principle. She analyzed the data to look for patterns in diatom presence/absence in relationship to types of pollution. She discovered clear trends in environmental preferences of diatom species. From this she was able to work in reverse. By looking at a microscope slide from a stream site, she could diagnose the type of pollution based on the diatom community present.
Outside of her work for the Academy, Ruth Patrick was a huge advocate against water pollution and made a lot of progress in communicating with stakeholders. She played a large role in the creation of the Clean Water Act, she advised President Johnson on issues concerning water pollution, and later advised President Reagan on acid rain.
In 1970 she was the 12th woman to be elected to the National Academy of Science. In 1975 she became the first woman (and first environmentalist) on the Board of Directors for DuPont where she helped to steer decisions towards reducing chemical pollution. Two of the most notable awards Patrick received were the John and Alice Tyler Prize for Environmental Achievement in 1975 and the National Medal of Science which she was awarded by President Clinton in 1996.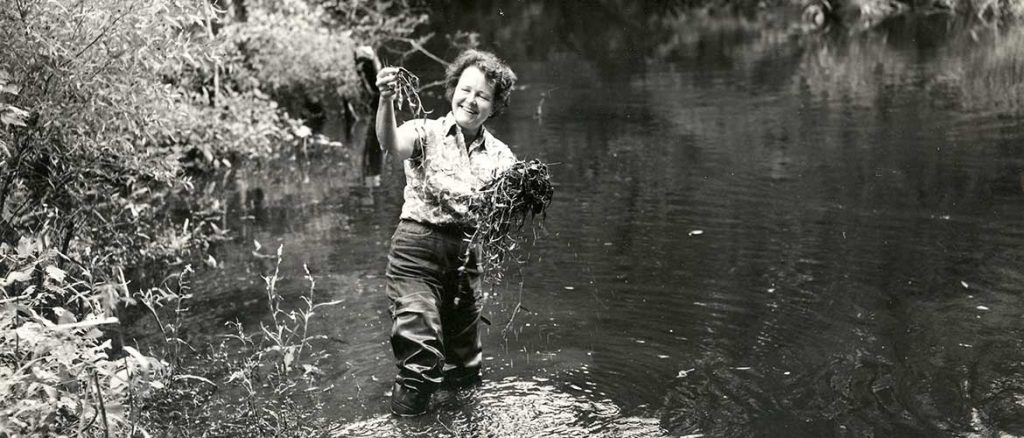 Patrick made a huge impact on the field of environmentalism, but her accomplishments are even more impressive in the context of her time frame. Female scientists in the 1930s were unheard of, but Patrick helped to change the story. She showed the world that women can make monumental impacts in the scientific community, and her work continues to frame the environmental movement to this day.
Dr. Ruth Patrick continues to inspire the work of the Watershed Protection Program at Willistown Conservation Trust. Her work paved the way for current researchers to better understand the world beneath the water, how our actions on land make an impact on our aquatic community and how passionate individuals can make the world a better place.
Dicke, W. (2013). Ruth Patrick, a Pioneer in Science and Pollution Control Efforts, Is Dead at 105. The New York Times. https://www.nytimes.com/2013/09/24/us/ruth-patrick-a-pioneer-in-pollution-control-dies-at-105.html
Story 85: "Celebrating a Pioneer." (2011). 200 years 200 stories. The Academy of Natural Sciences of Drexel University. https://ansp.org/exhibits/online-exhibits/stories/celebrating-a-pioneer/
Morrison, J. (2013). Ruth Myrtle Patrick, 105, expert on water pollution. The Philadelphia Inquirer. https://www.inquirer.com/philly/obituaries/20130924_Ruth_Myrtle_Patrick__105__expert_on_water_pollution.html