Celebrating Women in Conservation: Past, Present, and Future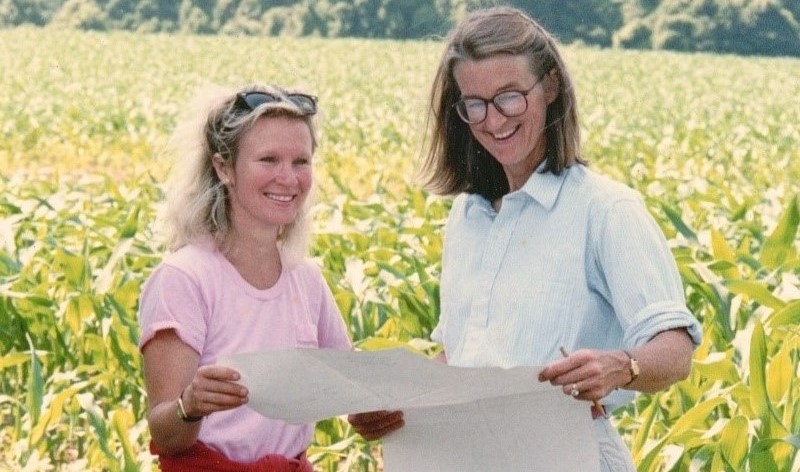 This March Willistown Conservation Trust is proud to celebrate the amazing women who helped shape the conservation movement. Women have played a critical role in the protection of our nation's land, wildlife, and natural resources. Join us all month long as we honor those women who have come before us, the women leaders who founded the Trust, and the women who are paving the way for the environment's future!
Here are just some of the many women leaders who have shaped the history of conservation and environmentalism.
Rosalie Edge (1877 – 1962)

Rosalie was an environmental advocate, suffragist, and amateur birdwatcher. In 1929 she established the Emergency Conservation Committee, which shifted the idea of focusing conservation on only rare species to ALL species of birds and animals. In 1934, in response to hawk and eagle slaughter, she purchased a large tract of land in Pennsylvania, establishing the sanctuary now known as Hawk Mountain.
"The time to save a species is when it is still common." – Rosalie Edge
To read more about Rosalie Edge visit: https://www.audubon.org/news/getting-over-rosalie and https://wednesdayswomen.com/rosalie-edge-champion-of-womens-suffrage-and-environmental-activism/.
Margaret "Mardy" Murie (1902-2003)

Often referred to as the "grandmother of the conservation movement", Mardy Murie was a naturalist, conservationist, and writer who was a central contributor in efforts to establish the Arctic National Wildlife Refuge in Alaska.
"A wilderness, in contrast with those areas where man and his own works dominate the landscape, is hereby recognized as an area where the earth and its community of life are untrammeled by man, where man himself is a visitor who does not remain." – Margaret Murie
To learn more about Mardy Murie visit: https://www.britannica.com/biography/Margaret-Murie.
Rachel Carson (1907-1964)
Best known for her groundbreaking work, Silent Spring, on the detrimental effects of pesticides like DDT on environmental and public health, Rachel's writing inspired grassroots movements that led to the establishment of the Environmental Protection Agency.
"The more clearly we can focus our attention on the wonders and realities of the universe, the less taste we shall have for destruction." – Rachel Carson
To learn more about Rachel Carson visit: http://www.rachelcarson.org/Default.aspx
Mollie Beattie (1947 – 1996)
Mollie sought to conserve endangered species by managing landscapes and ecosystems, focusing on habitat and the protection of natural resources. She was the first woman to head the U.S. Fish & Wildlife Service, with accomplishments including 15 new national wildlife refuges, more than 100 habitat conservation plans signed with private landowners, and the gray wolf was reintroduced into the northern Rocky Mountains.
"When Americans are asked what the most pressing environmental issues are, they cite pollution issues such as toxic wastes and clean water. Problems like loss of biodiversity, rapid depletion of natural resources, and the international problems of population explosion are way down the list. And yet these are the issues that are of greatest importance to the long-term health of our world." – Mollie Beattie
To learn more about Mollie Beattie visit: https://www.fws.gov/refuges/about/conservationheroes/Mollie%20Beattie_07182012.html.
Winona LaDuke (1959-)
Winona works nationally and internationally on the issues of climate change, renewable energy, and environmental justice with Indigenous communities. In her own community, she is the founder of the White Earth Land Recovery Project, one of the largest reservation based non-profit organizations in the country and a leader in the issues of culturally based sustainable development strategies, renewable energy, and food systems.
"Power is in the earth, it is in your relationship to the earth." – Winona LaDuke
To learn more about Winona LaDuke visit: https://www.humansandnature.org/winona-laduke.
Women Leaders Were Integral to the Trust's Foundations
With an eye on increasing land development pressures, Willistown Conservation Trust co-founders Bonnie Van Alen and Alice Hausmann initially formed a satellite program in 1979, the Willistown Area Conservation Program, under the umbrella of Brandywine Conservancy. With the encouragement of the community and key local conservation leaders, the Willistown Conservation Trust became an independent, community based land trust in 1996 with a committed and active Board of Trustees. Thanks to the foresight and tenacity of these women, protecting open space has remained a priority in Willistown and surrounding communities resulting in the protection of 7,500 acres.
Over the past 25 years, the organization has evolved to include programs like Community Farm, Bird Conservation, and Watershed Protection as well as Education and Outreach programs aimed at inspiring our community to become better stewards of our precious land and natural resources. Bonnie continues to lead the Trust as President and Executive Director and Alice remains a dedicated Trustee and volunteer.
Listen to Alice and Bonnie share stories about the founding of the Trust and the lasting impact of land conservation in our region: Legacy of the Land.
Women continue to play an essential role at Willistown Conservation Trust at all levels of the organization. We work with women leaders, scientists, farmers, educators, researchers, interns, and students who are all working to advance our mission of land conservation, habitat restoration, bird conservation, watershed protection, and agroecology.

The Women of Willistown Conservation Trust:
Bonnie Van Alen – President and Executive Director
Kate Etherington – Associate Executive Director
Mary Armstrong – Executive Assistant
Sue Costello – GIS Coordinator
Michelle Eshleman – Motus Avian Research Coordinator
Alison Fetterman – Bird Conservation Associate & Pennsylvania Motus Project Manager
Blake Goll – Education Programs Manager
Eliza Gowen – Community Farm Outreach Coordinator
Chelsea Heck – Director of Annual Fund and Outreach
Sarah Hutchin – Garden and Landscape Coordinator
Lisa Kiziuk – Director of Bird Conservation Program
Kelsey Lingle – Associate Director of Communications and Marketing
Lindsay Martin-Carlson – Director of Rushton Conservation Center
Lauren McGrath – Director of Watershed Protection Program
Molly Clark Tracy – Rushton Farm Production Manager
Caitlin Welsh – Bird Conservation and Community Farm Specialist