While the sun is still below the horizon, the Eastern Meadowlark's lilting song floats over the field, seeooaa seeadoo, slowly rising in the mist. Soon the Bobolink jubilantly joins the meadowlark sending it's plink plink Bobolink bubbling up through the dim light. As the sun breaks the horizon, the Grasshopper Sparrow's soft buzzing tik tik tikeeeez adds to the chorus, hardly distinguishable from the harmonizing insects. It's another enchanting morning as grassland inhabitants shake off the night to announce a new day.
In the last half-century, the number of fields awakened by these birds has declined dramatically due to changes in farming practices and increased land development. Consequently, grassland birds are experiencing the greatest declines of any habitat group. Fortunately, we live in an area of Chester County where there is hope for these birds. Several species of grassland birds have adopted the hayfields in southern Chester County as their breeding grounds.
To ensure this important grassland habitat remains productive for farmers and the breeding birds that depend on it, Willistown Conservation Trust (WCT) launched the Grassland Bird Collaboration (GBC) in 2022. In early 2023, the Cornell Land Trust Bird Conservation Initiative awarded a $25,000 grant to WCT in partnership with Natural Lands to support the GBC's goal of creating a grassland bird conservation area made up of working landscapes and existing preserves in southern Chester County area.

In its inaugural year, the GBC has been working with landowners and farmers to conserve and augment grassland bird populations through conservation land management practices, research, education, and community engagement. The goal is to create a focal area where partners can work together to address issues affecting grassland birds while maximizing conservation and minimizing disruption to agricultural production.
One of the most vital land management practices is leaving the hayfields standing during the breeding season. Mowing before birds complete their nesting cycle removes available habitat and can reduce breeding success if birds have already begun breeding. Implementing a "no-mow" period allows young birds to develop in a safe environment before the nesting grounds are disturbed.
This past summer, WCT's Bird Conservation Program enrolled ten private properties in southern Chester County area —totaling nearly 1,000 acres—in a delayed mow program in which farmers and landowners agreed to mow after July 1. The field team then monitored the fields throughout the breeding season to determine how focal grassland species—Eastern Meadowlark, Bobolink, and Grasshopper Sparrow—were using the habitat. The findings were encouraging. Almost all of the fields had breeding populations of at least one focal species, and a number of fields had two or more.
The project also included a Motus Wildlife Tracking research component to gain insights into how Bobolinks use the landscape from summer breeding through fall migration. Since 2021, WCT has been placing nanotag transmitters on Bobolinks to track their movements using a multi-national automated radio telemetry network, which is locally managed by the Northeast Motus Collaboration.
This year, 14 birds were tagged in two GBC fields. Local transmitter data showed they regularly move between their breeding grounds and other fields. This collection of data reveals these birds' reliance on habitat connectivity and the importance of southern Chester County area, which weaves individual properties into a larger grassland landscape. Though this was the GBC's first official year, members of WCT's bird team have been working with several landowners on grassland bird conservation for a number of years. In those fields, Bobolink and Eastern Meadowlark populations have increased since delayed mow management began. These encouraging trends may indicate that when more baby birds are fledged from a field before mowing occurs, it can increase breeding bird density in succeeding years if delayed mow management continues.
As its first year comes to an end, the GBC's program area is becoming a bright spot on the grassland bird conservation map, and there is great potential to build on these early successes. Chester County is well positioned to support this conservation effort because local mushroom farms rely on mulch hay—later-season hay that has been left to mature and dry in the fields—to cultivate their tasty crop. Having access to this unique local agricultural market means there is less disruption to farming practices and to the grassland birds that rely on these fields.

For the GBC, working with the farmers and landowners is an opportunity to increase the value of conserved land. Through this work, the land becomes more than open space or a scenic agricultural landscape—it serves as a core conservation area that can help reverse the precipitous decline of grassland birds.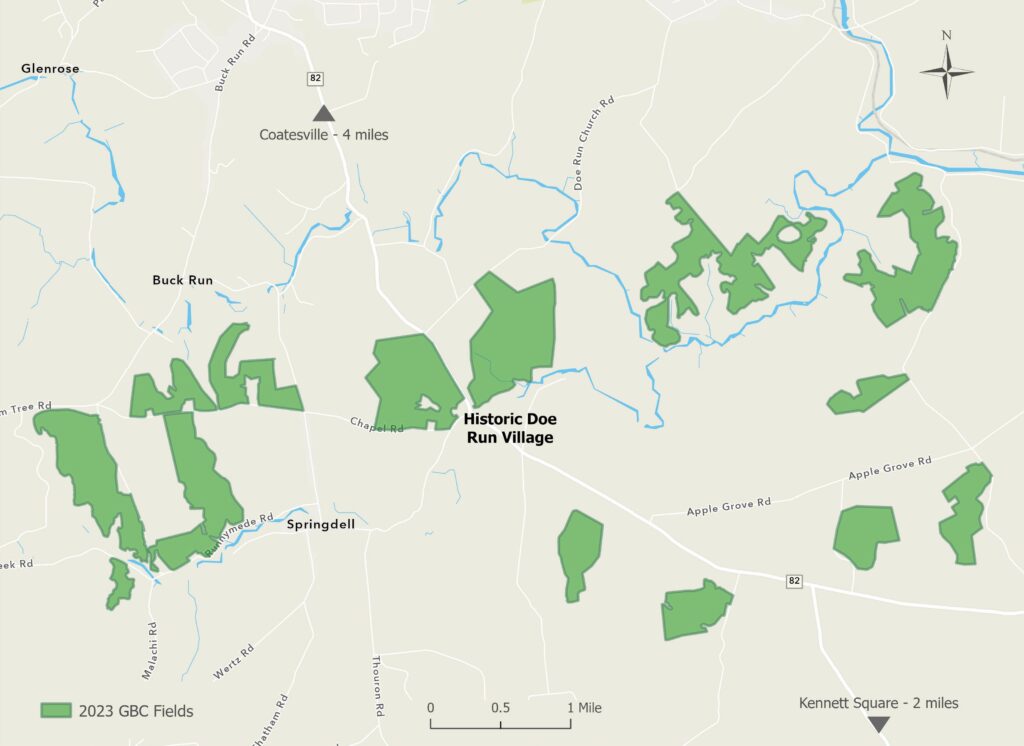 Zoë Warner | Zoë's research focuses on land use impacts on avian productivity. She received her Ph.D. from the University of Pennsylvania in 2019. For her dissertation, Influence of Landscape Spatial Patterns and Land Use Planning on Grassland Bird Habitat Occupancy in Chester County, Pennsylvania, she developed models to predict grassland birds' habitat preferences in Chester County's agricultural belt. Since 2020, Zoë has been conducting research into best practices for grassland bird conservation in southern Chester County. Through these research projects, Zoë has established working relationships with landowners and farmers who have expressed interest in managing their land to meet grassland bird conservation goals.