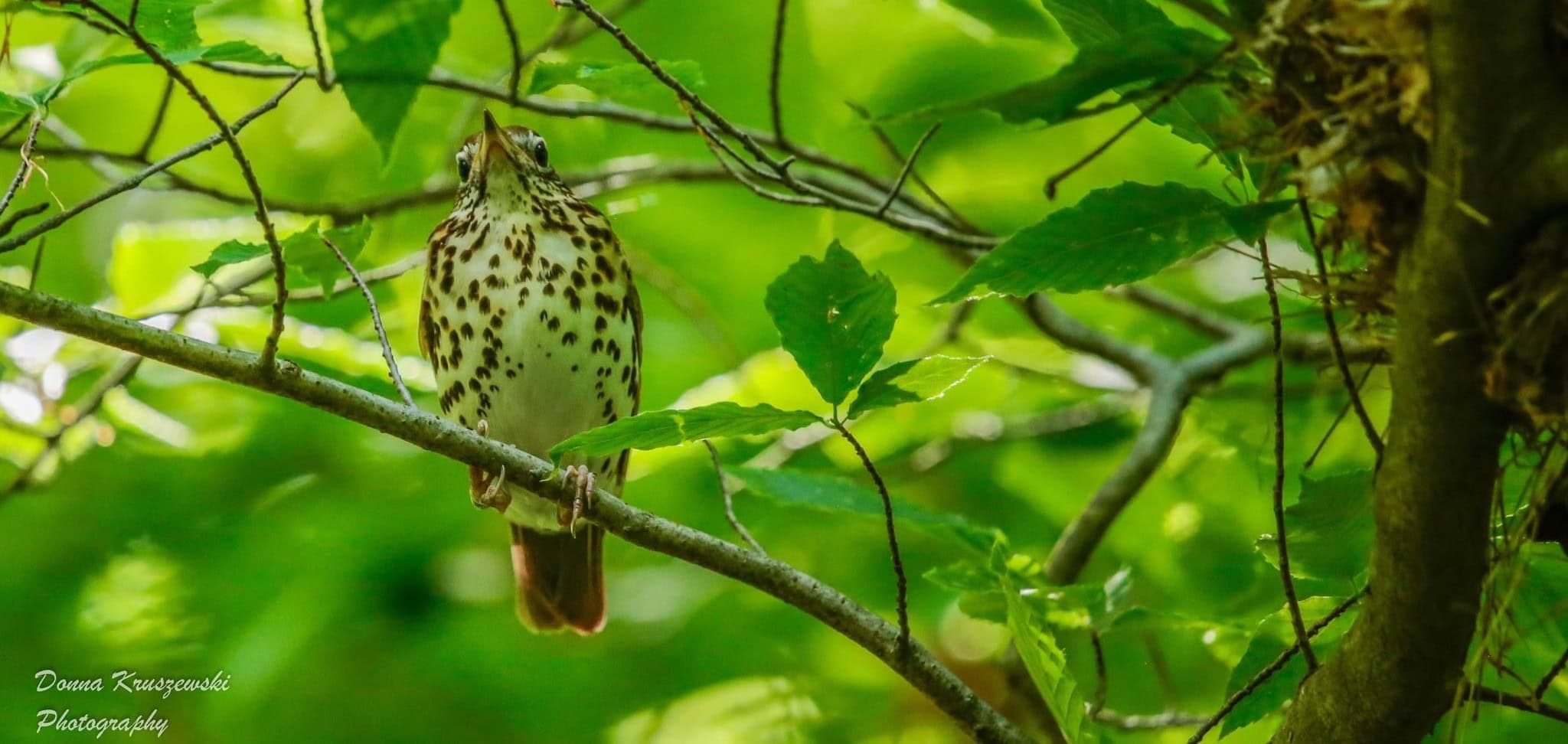 You can help us bring birds back from the brink by
being conscientious of the coffee you drink! 
Birds bring joy to our lives and life to the world. The migratory songbirds that enliven our region in the spring and summer depend not only on our woodlands and natural areas but also on the wooded habitats in Central and South America during the winter.  These forest habitats are declining at an alarming rate in part due to clear-cutting for sun-grown coffee plantations.
We are working with local roasters and merchants to provide Smithsonian Bird Friendly® certified coffee to consumers.  This coffee comes from sustainable family farms that preserve critical bird habitat by growing coffee organically in the shade of biodiverse tropical rainforests, the way nature intended.
Read on to learn more about Bird Friendly® certified coffee or click here to learn about the Trust's other bird conservation initiatives: https://wctrust.org/programs/birds/.
THE PROBLEM
Since 1970, bird populations in the U.S. and Canada have declined by 29%, or almost 3 billion birds, signaling a widespread ecological crisis. The largest factor driving these declines is likely the widespread loss and degradation of habitat, especially due to agricultural intensification and urbanization.
Coffee is cultivated across 27 million acres, mostly at the expense of tropical forests.  Traditionally a shade-loving tree grown in tropical uplands, a sun-tolerant variety was introduced in 1972 to allow for increased production.  Now three-quarters of the world's coffee farms destroy rainforest habitats to grow coffee in the sun and often use harmful pesticides and fertilizers that poison the environment.
When forests disappear, so do migratory songbirds. One third of North American bird species are in urgent need of conservation action to avoid extinction. Many of our beautiful migrants like the Baltimore Oriole, Cape May Warbler, and Wood Thrush seek shade coffee farms in Central and South America for overwintering habitat…if they can find them.
"It's imperative to address immediate and ongoing threats, both because the domino effects can lead to the decay of ecosystems that humans depend on for our own health and livelihoods — and because people all over the world cherish birds in their own right. Can you imagine a world without birdsong?" - Pete Marra
THE SOLUTION
Protect critical bird habitat by choosing Bird Friendly® coffee. "When you drink Bird Friendly® certified coffee, you brew a more biodiverse, sustainable world."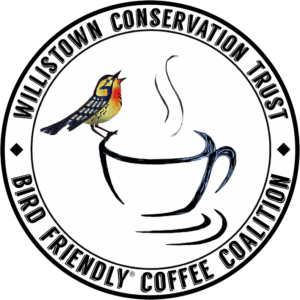 WHERE TO BUY: Our Participating Partners
RESOURCES FOR COFFEE DRINKERS
RESOURCES FOR ROASTERS & MERCHANTS
Are you a roaster or merchant interested in joining our Bird Friendly® Coffee Coalition?
Are you a roaster or merchant interested in joining our Bird Friendly® Coffee Coalition? Contact Blake Goll at bhg@wctrust.org.
WHAT IS BIRD FRIENDLY®?

It's made in the shade.
In addition to being organic, Smithsonian Bird Friendly® coffee is grown under a shade canopy of native trees, shrubs, and other plants that provide critical refuge for migratory and local birds as well as the diverse flora and fauna of the tropical forest.
Simply being grown in the shade is not enough. To qualify as Smithsonian Bird Friendly®, at least 60% of shade trees on a coffee or cocoa farm must be native.  Native trees support a greater abundance and diversity of insects than non-native trees, ensuring migratory birds can fuel up on quality nutrients before migration.
Over 240 species of birds are found on shade-grown coffee fields — more than three times the number found on partial shade or sun fields.
What's more, Smithsonian Bird Friendly® certification is the environmental gold standard in sustainable food production. When you purchase Bird Friendly® coffee or cacao you are not only supporting bird conservation but also fighting climate change, protecting biodiversity, and supporting farmers committed to sustainability.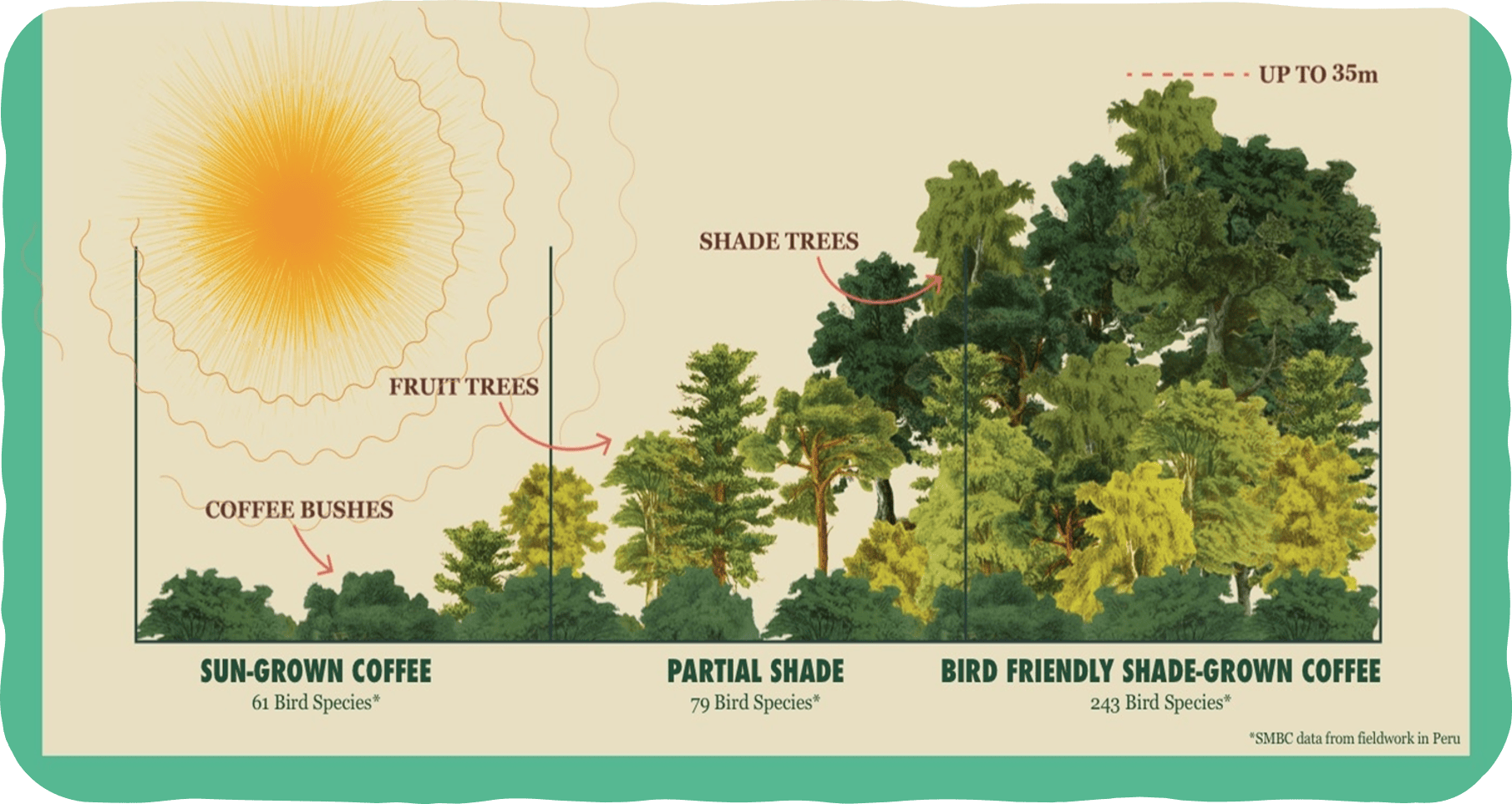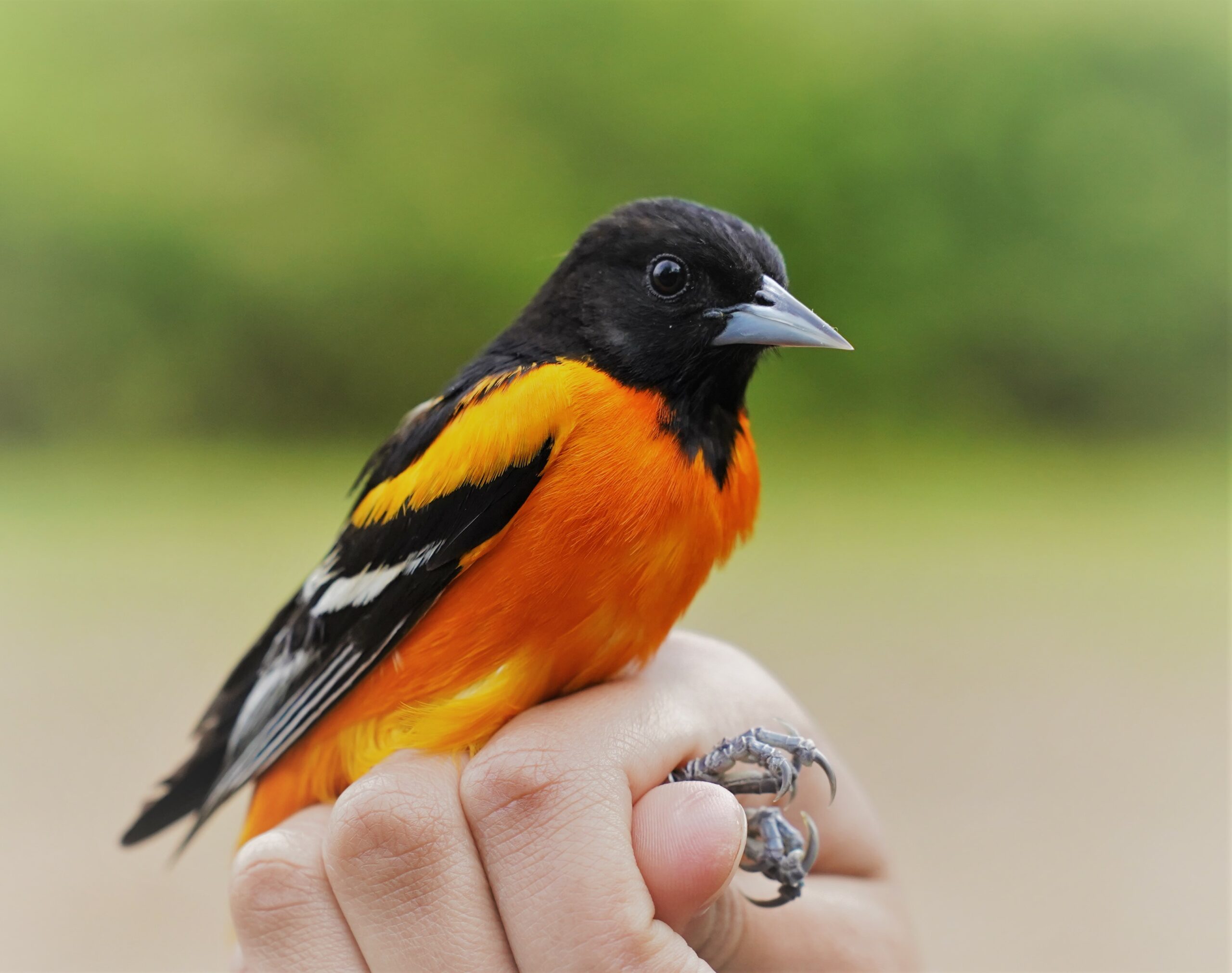 WILLISTOWN CONSERVATION TRUST BIRD FRIENDLY® COFFEE COALITION
OUR MISSION | We strive to conserve and regenerate tropical bird habitats by increasing awareness and demand for Bird Friendly® coffee and cacao through educating and encouraging roasters, merchants, and the public.
ABOUT WILLISTOWN CONSERVATION TRUST | Found 20 miles west of Philadelphia, Willistown Conservation Trust (WCT) saves, studies, and shares land, water, and habitat within the watersheds of Ridley, Crum, and Darby creeks of Chester and Delaware counties. Since 2010, Willistown Conservation Trust's bird conservation program has been dedicated to advancing avian research, educating the public, and protecting bird habitats. Learn more: https://wctrust.org/programs/birds/.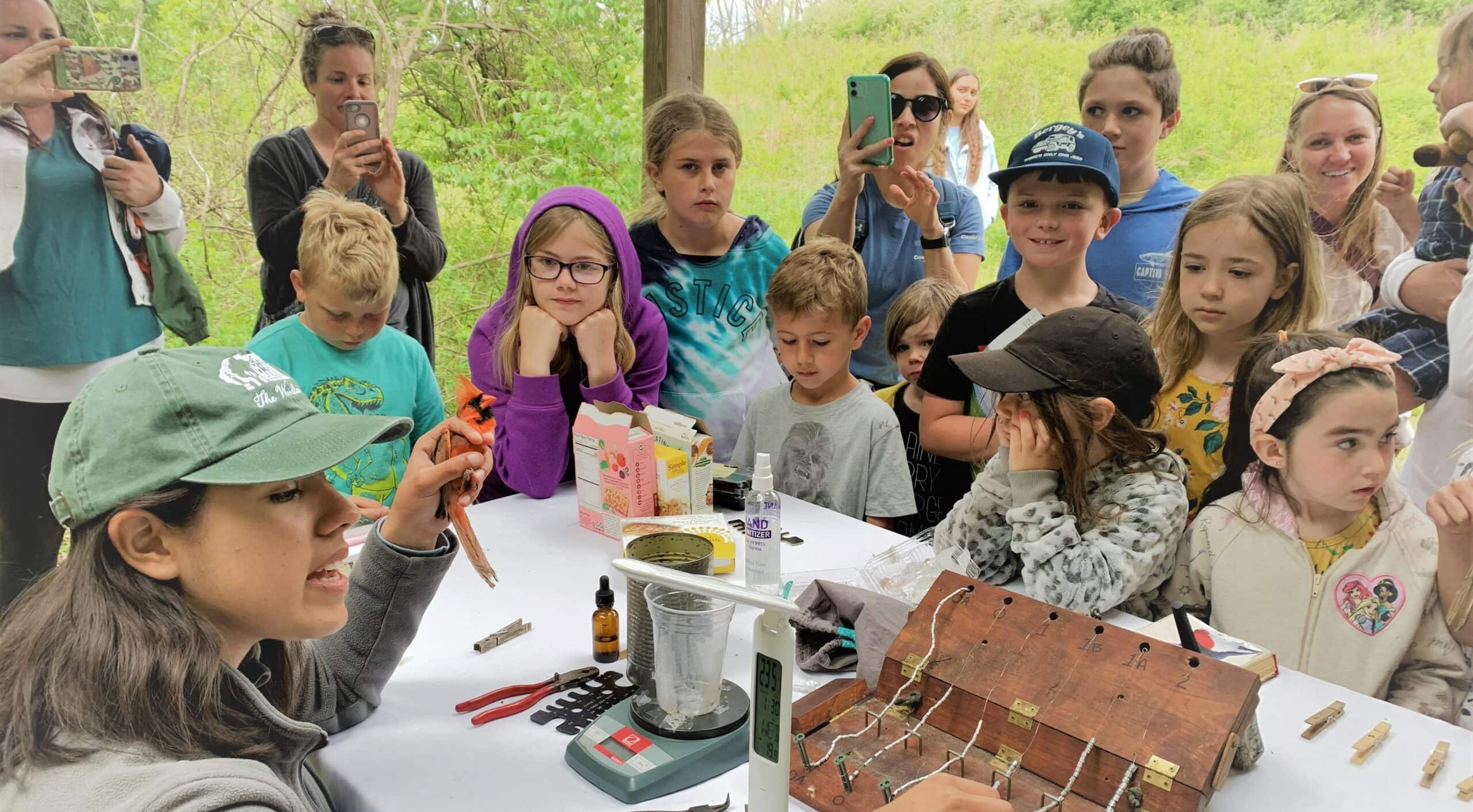 FAQs                  
Is it true that only Smithsonian Bird Friendly® certification can be trusted to be bird friendly?
This is true. Smithsonian Migratory Bird Center requires compliance on a stringent list of criteria that essentially amounts to dense shade canopy having been conserved or regenerated to the extent that there is enough biodiversity and complexity to provide quality habitat that rivals undisturbed forests. A third party Bird Friendly® certification agency actually inspects the farms for these criteria.  Other certifications are not as strict.  For example, "Rainforest Alliance Certified" only requires 40 % of the farm to be under canopy cover and allows the farmers to use chemicals like pesticides.
Bird Friendly® coffee is the only option on the market that guarantees 100% of coffee beans roasted and sold are grown in a way that protects the habitat.
How does Bird Friendly® Coffee relate to climate change?
According to a report from the International Center for Tropical Agriculture, under current climate predictions, about half of the world's coffee producing land will be unsuitable for growing coffee by 2050. The forested habitat found on Bird Friendly® certified farms makes them more resilient to climate emergencies, like erosion from storms and damage from insect pests. In preserving trees and forests, Bird Friendly® farms also help combat climate change by sequestering carbon.
Does Bird Friendly® coffee taste better than conventional coffee?
Coffee experts say Bird Friendly® coffees taste better because the beans ripen slower than coffee grown in the full sun, resulting in a richer, more complex flavor. The beans grown in the shade of other plants also develop more natural sugars and lower acidity, resulting in a healthier cup for your body.