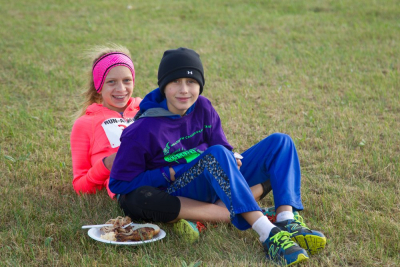 On June 16, 2016, David and Therese Rawson donated a conservation easement to the Trust which protects their entire 25-acre property.  Located along the southeast border of Willistown Township, the property abuts hundreds of conserved acres, extending the contiguous area of protected lands near the Trust's 83-acre Kirkwood Preserve.
The beautiful Rawson property consists of a variety of undisturbed natural features and habitats, including gently rolling grasslands, mixed woodlands of oak, hickory, tulip poplar and beech trees, and  1,000 feet of Rawson Run (shown in the above two photos), an important tributary of the Crum Creek.
The easement restricts future subdivision and building on the property to just one additional secondary residence. Scenic views of the land and ecologically sensitive areas are protected by the easement, as it restricts the location of landscaping and secondary structures.
As with all of the Trust's conservation easements, this easement is attached to the land in perpetuity, so even if the land is sold, future owners must follow its restrictions.
Under the Rawson family's careful stewardship for 50 years, their conservation easement donation is the ultimate gesture of love for the land. With it, future generations can be assured that the land will be here essentially in its present state for all to enjoy forever.
Thanks to David and Therese Rawson, heroes of the countryside!