Advancing the Trust's Research and Education Activities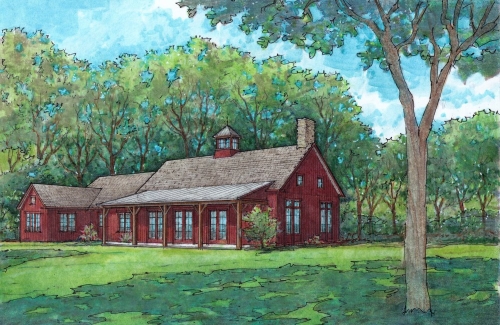 With ground-breaking in early 2018, the Rushton Conservation Center at Rushton Woods Preserve will enhance the Trust's research and education programs and provide important meeting space for students, researchers, and members of the Willistown community. A teaching kitchen will complement the work of our Community Farm program, and our Bird Conservation and Habitat Restoration teams will have a dedicated indoor space where they can carry out a variety of programmatic initiatives.
Fundraising for the Rushton Conservation Center is well under way and several naming opportunities for the Center are available for leadership gifts to the campaign. Contact Laura de Ramel at 610.353.2562 ext. 21 or land@wctrust.org to find out how you can get involved.
The Rushton Conservation Center will provide:
A dedicated indoor space to showcase the Trust's Community Farm, Bird Conservation, Habitat Restoration and Educational programs and to promote and demonstrate the underlying importance of preserving open space.
A resource for the community and a destination for those beyond our community to gather and connect with each other and to gain a deeper understanding of the natural world through Trust events and educational programs.
A functional indoor classroom to further the Trust's Educational, Research and Internship programs in Agroecology, Bird Conservation, Land Stewardship and Habitat Restoration on a year-round schedule. The classroom will enhance our ability to educate interns and attract students throughout the school year regardless of weather.
A health department approved demonstration kitchen for teaching, demonstration cooking, processing and preserving, cooking for events, and farm-to-table dinners. The demonstration kitchen will be used to teach children and adults from all backgrounds about the connection between land and food, nutrition, healthy eating,  and how to prepare it using fresh produce harvested directly from Rushton Farm.
A timber frame style meeting room providing year-round space for gatherings, lectures, conferences, and workshops for Bird Conservation, Community Farm and Habitat Restoration programs, as well as community outreach, meetings and events. The meeting room will contain audio visual equipment and will have table seating for approximately forty people—or seating for approximately 110 people when arranged auditorium style.
Facilities for Saw-whet Owl banding and other cold weather research, programs and events.  Easy access to computers will allow banding staff and others to enter data as it is collected, improving both efficiency and accuracy.
A small library and research room for staff, graduate students, interns and other collaborators conducting research at Rushton Farm and Rushton Woods Preserve. The room will have computer access, house the Trust research library, and provide storage for bird banding, educational materials and bird and wildlife specimens.
A venue for like-minded organizations and individuals to collaborate, innovate and problem solve regarding pressing conservation issues - particularly in research, education, outreach and policy. Examples could include: other land trusts; bird conservation organizations; sustainable agriculture organizations; public and private funders, foundations, and other thought leaders.
A field station that would allow the Trust to engage other organizations wishing to use our rich reservoir of preserved open space and natural resources for regular scientific study and research. Examples will include: Academy of Natural Sciences of Drexel University, University of Pennsylvania, Temple University, West Chester University, Villanova University, University of Delaware, and others.
A demonstration of our commitment to environmental sustainability by employing green building elements in the design, construction and operation of the RCC. It is anticipated that these features will include sustainable water usage, energy efficiency, locally sourced or recycled materials, and native landscaping. Signage will be created to demonstrate the benefits of each of the "green elements" employed at the RCC.
Heightened visibility for Trust programs that will attract new and increased interest in our mission. The new physical space will accommodate displays, exhibits, audio-visuals, maps and year-round events that will highlight the impact of the Trust's programming and research.
If you'd like to help with the creation of the Rushton Conservation Center, contact Laura de Ramel at 610.353.2562 ext. 21 or land@wctrust.org to find out how you can get involved.