Internships are an integral part of Willistown Conservation Trust's (WCT) work. Each year hardworking students join our team and bring with them a wealth of experience and enthusiasm. They provide essential duties during our busy seasons working on the farm, banding birds, maintaining trails, planting trees, taking water samples, mapping, interacting with volunteers, teaching our young Rushton Nature Keepers, and more. Further, their innovative projects add to the growing body of knowledge the Trust works to compile about our protected spaces. It's our hope that these interns leave the Trust with a greater understanding of land preservation and the stewardship practices that lead to healthy ecosystems for people, wildlife, and the land itself. These students represent the future of the conservation movement, and we are proud to play a role in educating and inspiring these future leaders!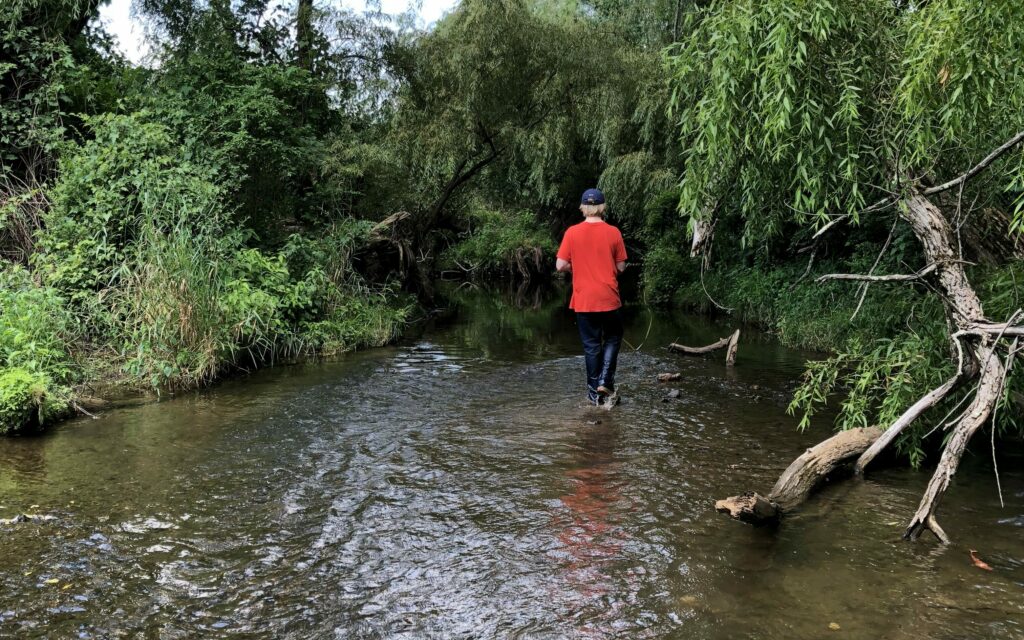 STEWARDSHIP
Chase Foster, Drexel University
Chase (they/their) is currently working towards their B.S. in Environmental Science at Drexel University. They join us as part of the Drexel Co-Op program in the Stewardship Department. Chase has previous experience working as a Land Stewardship Assistant at the Schuylkill Center for Environmental Education as well as a Curatorial Assistant at the Academy of Natural Science. Of their experience at the Schuylkill Center, Chase says, "Those six months exposed me to new experiences I was not shown during field work; tending to plant nurseries and greenhouses, getting my hand's dirty replotting seedlings, being able to walk daily on the beautiful trails that I helped maintain—this showed me there is more to environmental careers than those involving field research. My love for conservation stemmed from here and has evolved into seriously considering Landscape Architecture as a future career."

This position is generously funded by the McIsaac Family.

Niya Juanita Moss, Villanova University
Niya (she/her) is a junior at Villanova University working towards her B.S. in Chemical Engineering. She has a particular interest in disaster prevention and the impact of chemical disasters on the environment and people. In addition to her coursework, Niya participated in the Villanova Engineering, Science and Technology Enrichment and Development (VESTED) program which introduces these fields to students in under-resourced communities and schools and inspires those students who have the potential to expand our region's and nation's pool of future engineers. As a STEM student, Niya hopes to broaden her experience in the fields of research and conservation during her internship with the Trust.

This position is generously funded by the McIsaac Family.
WATERSHED
Gloria Avila, Drexel University
Gloria (she/her) is a third year Environmental Science student at Drexel University. As a first generation Ecuadorian and the first person in her family to attend university, she is especially passionate about community outreach in the form of fostering an early love for science in children. Gloria hopes to one day have a career that can combine her love for field research and public engagement in a fulfilling way.
Catherine Quinn, Drexel University
Catherine (she/her) is in her pre-junior year at Drexel. She is majoring in environmental science with a minor in global studies, and her academic and career interests mainly include aquatic ecosystems, climate change, and environmental and climate justice. She is also really into civic engagement, and volunteers with Drexel's Climate & Sustainability Working Group! In her free time, she loves crocheting, reading, yoga, traveling (when there isn't a pandemic), and doing anything where she can be outside. Catherine is splitting time between the Trust's Watershed Protection Program and the Academy of Natural Science's Nutrient Lab!
Zack Smith, Drexel University
Zack (he/him) is a 4th year junior at Drexel University studying Environmental Science. In the past, he has had experience working with Dr. Dane Ward in Cuba studying Melipona beecheii honeybees. In addition to this, he has previously co-oped with the Philadelphia Water Department and most recently the watershed team at Willistown Conservation Trust. He is excited to be returning to build on his experience from last year.  When not in class or working, you can find Zack going on long distance bike rides, brewing too much coffee & reading, or connecting with friends (while remaining socially distant of course!).
Anna Willig, Middlebury College
Anna (she/her) grew up outside of Phoenixville and spent much of her childhood exploring the fields and forests around her home. She pursued her interest in the environment at Middlebury College, where she graduated with a degree in Conservation Biology in 2020. Having worked as a summer intern for the Watershed Protection Program in 2018, Anna is excited to return to WCT and continue studying and protecting local lands and waters.
These positions are generously funded by the William Penn Foundation.
BIRD CONSERVATION & NORTHEAST MOTUS COLLABORATION
Zoe Korpi, St. Joseph's University
Zoe (she/her) graduated from Penn State Berks in 2019 with a B.A. in Biology. She is currently working towards her M.S. in Secondary Education. She joins the bird team with experience as both a Substitute Teacher and a Resident Migratory Owl Bander at the Petit Manan Point banding station in Maine. She will be working in a variety of roles with the Trust blending her banding and educator experience including a Motus technician, bird bander, field technician for the bobolink project, and a Motus education assistant.
RUSHTON FARM
Noa Dijstelbloem, Strath Haven High School
Noa (she/her) is a senior at Strath Haven High School who after visiting Rushton Farm with her AP science program became a dedicated volunteer and will be an official intern for the 2021 season. She will be attending Cornell University as an agriculture major this fall.

Amanda Dunbar, University of Pennsylvania
Amanda (she/her) joins the trust with over 10 years of experience in various aspects of conservation work including research and public policy. She has a degree in wildlife conservation from the University of Delaware and a Master's of Environmental Studies from the University of Pennsylvania. It was while she was working towards her master's in 2014 that she began volunteering at the Rushton bird banding station for migration, MAPS, and Project Owlnet. She is excited to join the Rushton Farm Staff as Agroecology Project Coordinator where part of her work will focus on the connections between organic agriculture and the birds visiting Rushton.
Heather Kostick, Drexel University
Heather (she/her) has a BS in Wildlife Conservation and a MES from the University of Pennsylvania in Ecology & Resource Management. Heather conducted bioblitzes from 2015-2017 at Rushton Woods, and hopes to have those return to Rushton when it's safe to do so. She is currently a doctoral graduate student and teaching assistant at Drexel University, and works at the farm in her spare time. Heather's interest in agriculture and farming started with Delaware County 4-H where she raised chickens, turkeys, and pigs. One of Heather's turkeys even got a blue ribbon at the PA Farm Show one year. She also attended the PA Governor's School Agricultural Sciences Program at Penn State in 2007 where she learned even more about agriculture, environmental science, and food science. Heather has been volunteering at the Trust since 2012 first starting at the bird banding station and has been volunteering at the Trust in some capacity since then. Heather loves being at Rushton Farm and looks forward to working the land with the Rushton Farm staff this year.
Madison Lin, Strath Haven High School
Madison (she/her) is a senior at Strath Haven High School who is working with Rushton Farm as part of our educational programming with the AP environmental science class at Strath Haven. Madison will continue her education this summer as a full time intern. She will be attending Colby College as an environmental science major this fall.

Abby Oswald, Great Valley High School
Abby (she/her) is a senior at Great Valley High School and will be graduating in June 2021. In 2020, Abby became the youngest full-time intern at Rushton Farm in its 13-year history. Abby joins Rushton Farm this season as a seasoned intern with a passion for agriculture. Abby plans to pursue a career in agriculture and will be attending college to study agroecology.