By Anna Willig, Watershed Conservation Associate and Lauren McGrath, Director of Watershed Protection Program
Since 2018, the Watershed Protection Program has monitored 10 sample sites in the headwaters of the Darby, Crum, and Ridley Creeks (see map). Through visits every four weeks, the Watershed Protection Team has learned that the headwaters are negatively impacted by human activity on the surrounding landscape. All of the sample sites surveyed had periods of stressful conditions, harming stream life. Stressors included very warm temperatures in the summer, road salts in the winter, and fertilizers throughout the year. However, sample sites with the most open space in their watersheds had the best water quality, indicating that open space preservation is one of the most effective ways to protect and improve water quality in our area.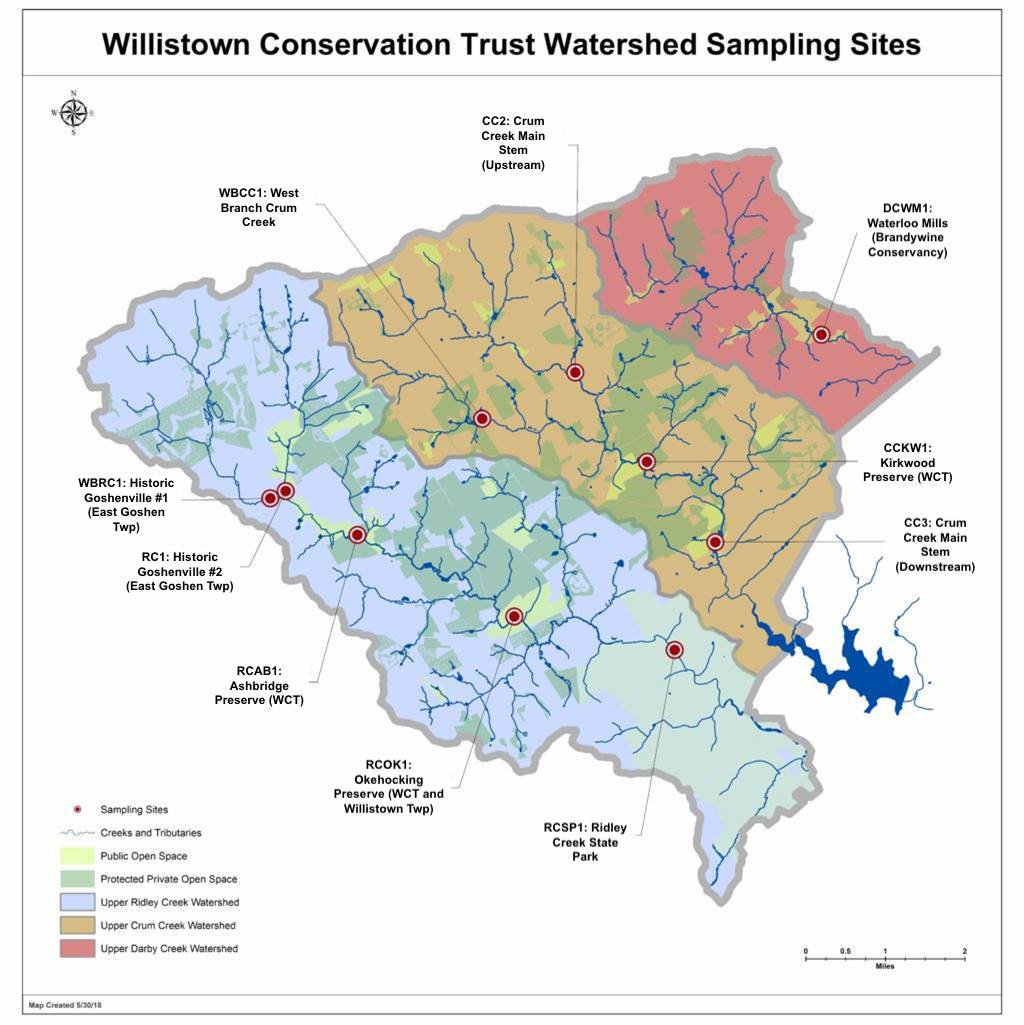 Water temperature is a critical factor for understanding water quality within a stream system. In Pennsylvania, water temperatures are evaluated based on how they affect trout, which are sensitive to temperature and will not breed or survive if streams are too warm. Water temperature and oxygen levels are tightly linked; cold water can hold the high concentrations of dissolved oxygen needed to support sensitive species, but as water warms, that amount decreases. Figure 1 shows the required temperatures to be considered a Cold Water Fishery — a stream that supports the survival and reproduction of trout — are exceeded at all sites year-round, indicating that streams are too warm to support breeding trout and similarly sensitive organisms and can even reach the point where conditions are stressful for stocked trout during summer heatwaves. These elevated temperatures limit biodiversity at sample sites; only species that tolerate high temperatures can survive and reproduce.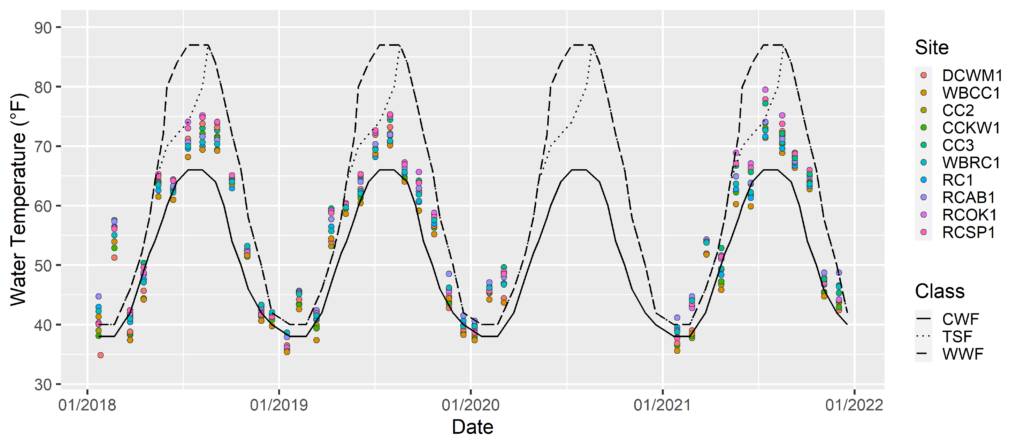 In addition to monitoring water temperatures, the Watershed Protection Team also analyzed specific conductivity, which is a general measurement of water quality that provides insight into how disturbance on the landscape impacts a waterway. Increases in conductivity occur when road salts, fertilizers, or other pollutants wash from the landscape into the stream. A common cause of increased conductivity in winter months is salt washing off of impervious surfaces — roads, sidewalks parking lots — into waterways. The more impervious surfaces within a watershed, the more opportunity for these contaminants to wash into the streams and increase conductivity.
The Trust's ongoing study has found that there is a relationship between conductivity and the amount of impervious surface cover in the surrounding watershed. Sample sites in watersheds with the highest percentage of impervious surfaces tend to have the lowest water quality, as indicated by elevated conductivity, while sample sites in watersheds with more open space are the least impaired. Figure 2 shows the relationship between higher conductivity and the amount of impervious surfaces in the watershed. Developing a better understanding of this relationship is critical, as it helps to identify how we can make smart changes in the way we interact with the land to better support the health of the wetlands, streams, and rivers in our region.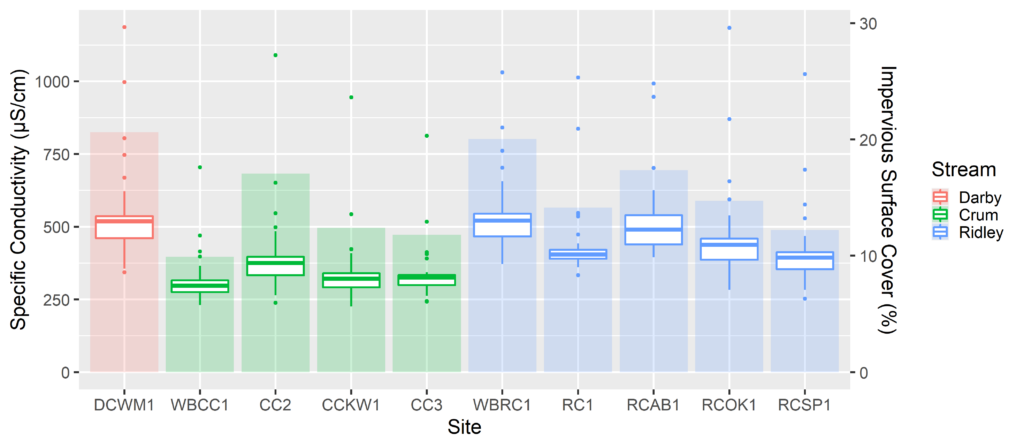 What can be done to improve water quality in Darby, Crum, and Ridley Creeks?
Based on three years of data, we believe it is important to reduce water temperature and conductivity in local streams to improve habitat and increase biodiversity. One of the most effective ways to accomplish this goal is by planting native plants along streams in riparian areas, the land that borders waterways. Streamside trees and shrubs provide shade, reducing water temperature and increasing dissolved oxygen. Native plants slow and absorb runoff, limiting the amount of pollutants like nutrients and salts that reach the stream, which reduces conductivity. While large scale plantings are important, you do not need to have acres of property to benefit local streams and rivers! Adding native plants to lawns, fields, and gardens goes a long way to improve water quality, even if you do not live alongside
a stream.
Overall, the best tool for protecting and improving the health of our streams is preserving open space, especially in critical habitats like wetlands and riparian areas. Each covered in pavement and will not need road salt or fertilizer applications. Without impervious surfaces, water can infiltrate into the soil and flow through the ground rather than over it, meaning that when it enters the stream, it is cooler and cleaner than if it had run off from a parking lot or road. As a result, water temperatures and conductivity stay down, making streams more hospitable for all types of life.
Not only does protecting open space keep waterways clean for the organisms they house, it also keeps water clean for water sources, and all three creeks — Darby, Crum, and Ridley Creeks — flow into the Delaware River, which provides drinking water for millions of residents. By protecting open space and water quality in the headwaters, we are ensuring that we do not place the burden of cleaning up our pollution on the downstream communities that drink from these waters.
The research conducted by the Watershed Protection Team is ongoing, and a full report will be available this summer.