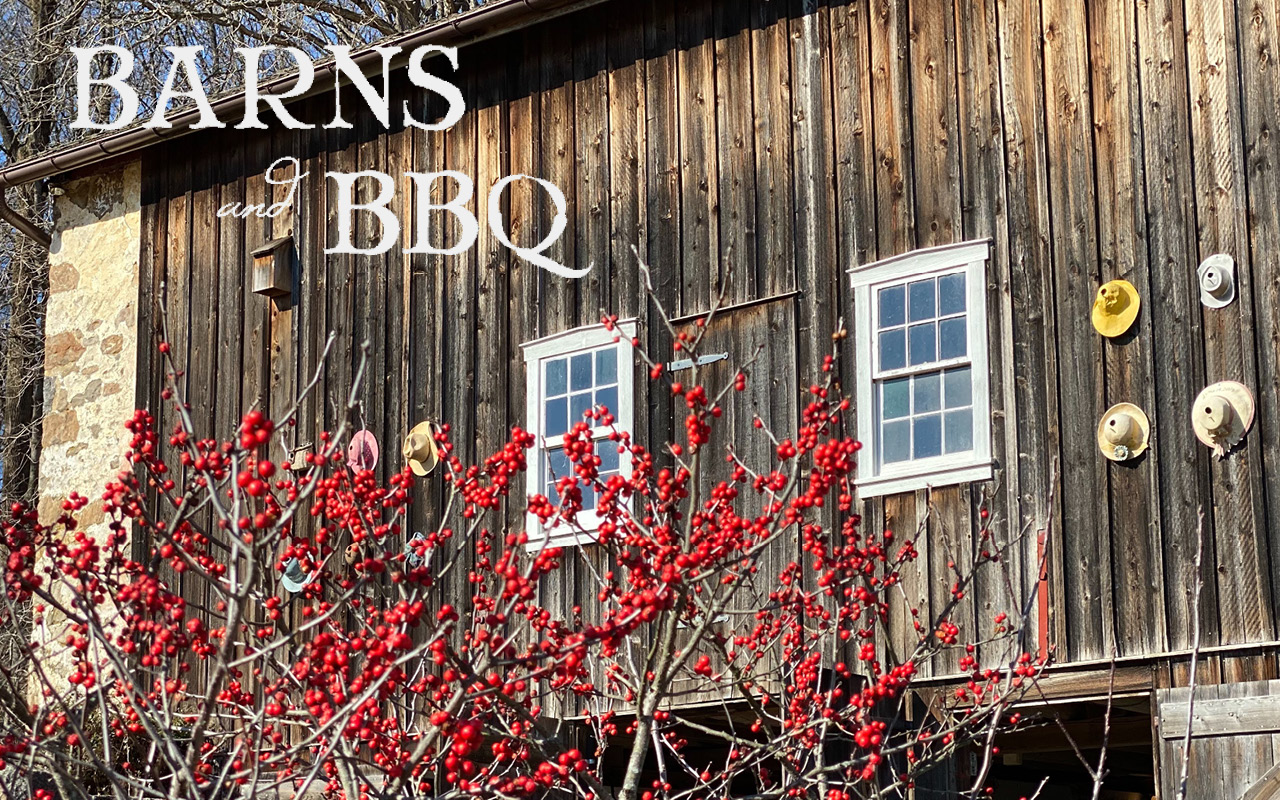 NOTE NEW DATE!
BARNS & BBQ  |  October 3, 2020


A TOUR FEATURING FOUR OF WILLISTOWN'S BEAUTIFUL BARNS  followed by a  BOUNTIFUL BBQ SUPPER
Discover some of the Willistown area's most beautiful barns and farms, where the preservation of open space has enabled a true working landscape.
A BOUNTIFUL BBQ LIKE NO OTHER . . .
Enjoy a modern interpretation of American BBQ by Peachtree Catering and Events.
Hors D'oeuvres will feature local cheeses from Chester County Cheese Artisans.
SCHEDULE
3:00     Tour barns, in any order.
5:00     Final barn opens for cocktails and hors d' oeuvres followed by dinner and live auction.
6:30     Bountiful BBQ is served by Peachtree Catering and Events.
TICKETS
$300.00 per person
There will be no online ticket sales this year. All reservations must be received by mail. Invitations will be mailed in early August. Please RSVP as soon as possible; tickets are limited and this event sells out quickly. To receive an invitation contact cmh@wctrust.org.

LAND ART EVENTS is a nonprofit organization which helps to promote public engagement in both conservation and the arts. The Trust is collaborating with Land Art Events on their Farm-to-Table Plein Air Project, which culminates in a juried art show on October 23, 2020. Fifteen percent of painting sales from the show will be donated to the Trust. Artists will be painting at many of the Trust's scheduled events, including Barns & BBQ.
---

SPONSORSHIP OPPORTUNITIES
Business sponsorships are available, including promotional pages in the full color Barns & BBQ program book. For more information about sponsorship opportunities, click here (PDF) or contact land@wctrust.org.
---

Special thanks to our Presenting Sponsors,
Co-Chairs, Committee, and Patrons:

BARNS & BBQ CO-PRESENTING SPONSORS
John Milner Architects  |  PINEMAR, Inc.

BARNS & BBQ CO-CHAIRS
 Donna & Rob Corrato  |  Tracey & Jon Costello
Linda & Anthony DiValerio  |  Lori & Ryan Heenan
BARNS & BBQ COMMITTEE
Rachel Coxe Shoemaker & Erich Barchi
Joanne Berwind
Maripeg Bruder
Cynthia & Tom Caruso
Molly Love & Adrian Castelli
Sonia & Morgan Churchman
Kate & Ben Etherington
Kate & Luke Etherington
Tracey & Sam Freeman
Stephanie Fuller
Kimberly & Russ Galligher
Jodi Spragins & Brook Gardner
Kat & Steve Gord
Joy & John Grady
Christina & Steve Graham
Renée & Larry Granger
Shaina & Nat Hamilton
Erika & Azeez Hayne
Nancy & Dick Klavans
Sally & Joe Layden
Leanne & Rob McMenamin
Janice & Britt Murdoch
Margaret Anne & Jim Nolen
Leigh & Steve Oblack
Frank Pension
Tracy & Joe Przybylowski
Don Red
Amanda & Kevin Ryan
Tara & Jeff Shanahan
Holly & John Stoviak
Jackie & Jerry Sweeney
Bonnie & Jim Van Alen
Kathy & Rick Warden
Penny & Tom Watkins
Effie Wister
Kathy & Joe Zoll
PHOTOGRAPHY POLICY:
Attendance throughout the programs and events with Willistown Conservation Trust gives consent to be photographed for use in print and electronic media. Please notify Willistown Conservation Trust staff if you would prefer that your photo not be used for various multimedia or publications. Contact land@wctrust.org.