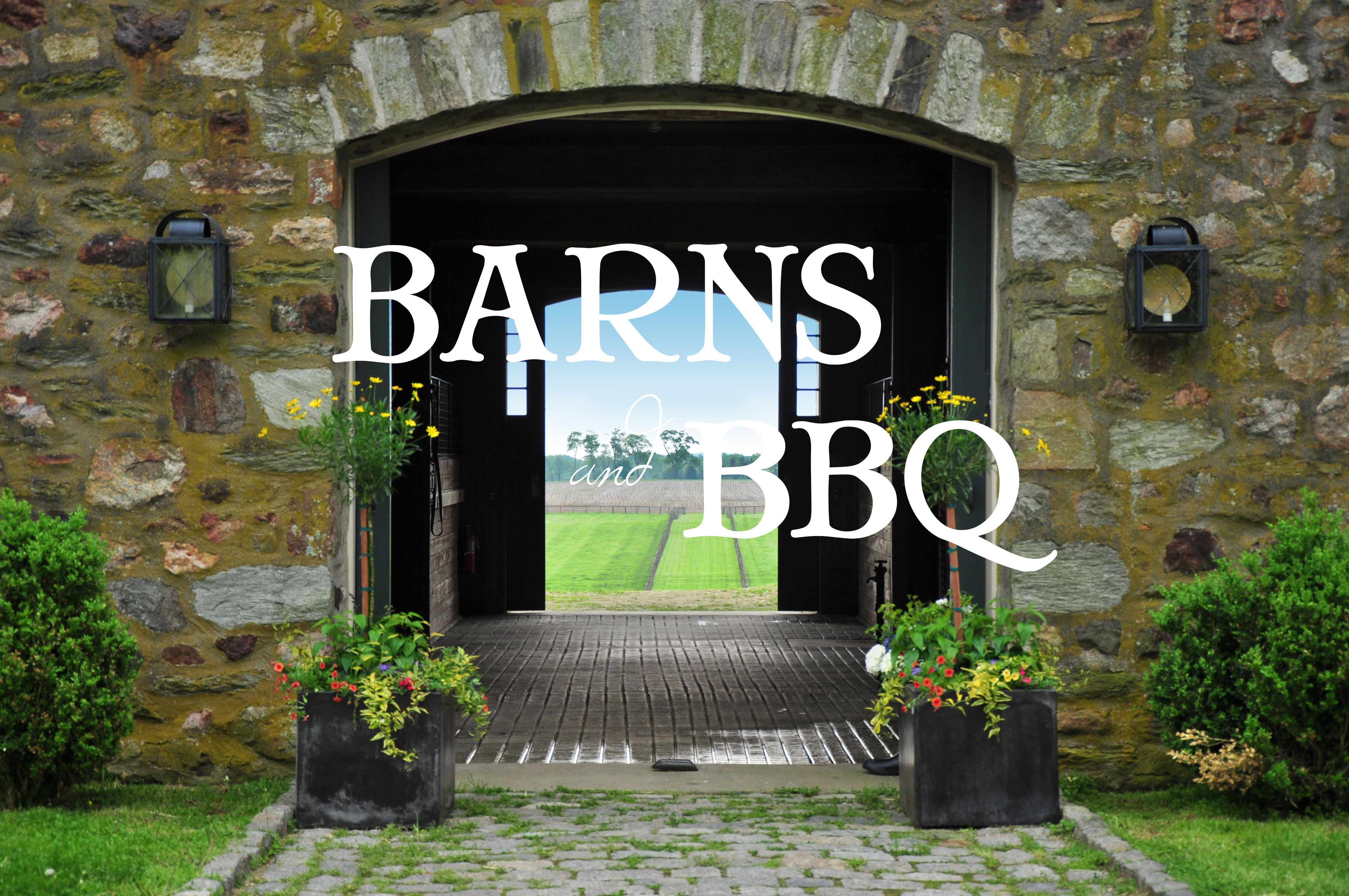 May 5, 2018
A TOUR FEATURING SIX OF WILLISTOWN'S BEAUTIFUL BARNS  followed by a  BOUNTIFUL BBQ SUPPER
Discover some of the Willistown area's most beautiful barns and farms, where the preservation of open space has enabled a true working landscape.
A BOUNTIFUL BBQ LIKE NO OTHER . . .

Enjoy a modern interpretation of American BBQ by Peachtree Catering and Events. Hors D'oeuvres will feature local cheeses from Chester County Cheese Artisans.
A SAMPLING OF THE BARNS

An historic stone bank barn housing a herd of Belted Galloway cows.
A classic Chester County bank barn located on a farm with a breeding flock of Tunis cross sheep and an assortment of chickens.
A reproduction bank barn located on acres of conserved land.
TICKETS
$300.00 per person
For registration and more information please email Laura at lkd@wctrust.org.
SCHEDULE
3:00     Tour barns one through five in any order.
5:00     Barn six opens for touring, cocktails and hors d' oeuvres.
6:30     Bountiful BBQ is served by Peachtree Catering and Events.
To view LIVE AUCTION ITEMS click here.

There will be no online ticket sales this year. All reservations must be received by mail. Invitations will be mailed March 30. Please RSVP as soon as possible, tickets are limited and this event sells out quickly.  To receive an invitation contact land@wctrust.org.

Business sponsorships are available, including promotional pages in the full color Barns & BBQ program book. For more info about sponsorship opportunities, contact land@wctrust.org.
---

Many thanks to our Co-Presenting Sponsors, Co-Chairs, and Committee:
BARNS & BBQ CO-CHAIRS
 Tracey & Jon Costello  |  Kate & Ben Etherington  |  Kat & Steve Gord
BARNS & BBQ COMMITTEE
Rachel Coxe Shoemaker & Erich Barchi
Maripeg Bruder
Alice & Christian Bullitt
Sonia & Morgan Churchman
Tracey & Sam Freeman
Stephanie Fuller
Kimberley & Russ Galligher
Jodi Spragins & Brook Gardner
Christina & Steve Graham
Shaina & Nat Hamilton
Alice & Peter Hausmann
Erika & Azeez Hayne
Lori & Ryan Heenan
Sally & Joe Layden
Lindsay & Ted Leisenring
Leanne & Rob McMenamin
Janice & Britt Murdoch
Margaret Anne & Jim Nolen
Rachel & Ned Owen
Susie & Tom Paul
Amanda & Kevin Ryan
Holly & John Stoviak
Jackie & Jerry Sweeney
Francie Ingersoll & Matt Taylor
Karen & Randy Thurman
Bonnie & Jim Van Alen
Kathy & Rick Warden
Effie Wister
Liz & Scott Zelov
---
Many thanks to our Patrons

Weathervane
Rob & Donna Corrato
Conrad & Amanda Radcliffe

Hayloft

Francis Jennings & Terri Cappelli
Mr. Stephen Sordoni
Ethel Benson Wister
Barn Door

Fred Bissinger
Jayme & Bryan Colket
Jeff & Laurie Collins
Gary & Claire Daniels
Margaret & Bob Duprey
Melissa & Steve Eldredge
Kate & Ben Etherington
Russell & Kimberley Galligher
Esther & Paul Gansky
Kat & Steve Gord
Lynn & Tony Hitschler
Beth & David Hucker
Mark & Ann Ledger
Leanne & Rob McMenamin
Nia & Collin McNeil
Jim & Joan Moore
Joe & Tracy Przybylowski
Claudia & Marc Rash
Peter & Liz Strawbridge
Stuart & Jane Taylor
Bob & Carolyn Turner
Jim & Bonnie Van Alen
Penny & Thomas Watkins
Alex & Janine Zozaya
Forget-me-Not
Laura Jane Favela
Charles & Heather French
Marybeth Hurley
Anne & Gary Murphy
Rick & Elise Torpey
---
SPONSORSHIP OPPORTUNITIES
Contact Laura de Ramel at 610-353-2562, Ext. 21 for Sponsorship Opportunities.
PHOTOGRAPHY POLICY:
Attendance throughout the programs and events with Willistown Conservation Trust gives consent to be photographed for use in print and electronic media. Please notify Willistown Conservation Trust staff if you would prefer that your photo not be used for various multimedia or publications. Contact land@wctrust.org.