Within the ever growing area of Chester County lies a hidden swath of land that sits in stark contrast to the noisy highways and developments that surround it. Here, the rolling hills dotted with an abundance of wildlife, luscious pastures, and scenic woodlands offer a quiet reprieve to passersby, one that has remained nearly untouched since the early settlers first arrived. Today, this special place is known as Willistown, and its rural charm and 7,500 acres of protected open space would not exist if it weren't for Bonnie Van Alen.
Born in Chester Springs, Bonnie Van Alen (née Bartholomew), grew up on her family farm, where she spent her time working and riding her pony across the countryside. She describes her childhood as "free range," one without boundaries aor constraints that afforded her a deep connection with nature and the great outdoors. "I loved every aspect of it: the animals, the wildlife, and the freedom," she says. Following her education at Agnes Irwin School and later at Penn State University, Bonnie returned to Chester County with her sweetheart, Jim Van Alen. The two married and settled in Jim's childhood home of Willistown in 1969 where they lived next door to Jim's family on Delchester Road. It was there that they raised their three boys — Jimmy, Alex and Rob — who spent their younger years exploring creeks and woodlands around the farm.
During this period in the 1980's, the Van Alens and their neighbors grew concerned over development pressures threatening to disrupt the important habitat and rural characteristic of this area. Bonnie took it upon herself to explore a new tool that the Brandywine Conservancy had been using to restrict uncontrolled development: conservation easements. Leaving her work with the Academy of Natural Sciences of Philadelphia, Bonnie launched a satellite program under the Brandywine Conservancy with the purpose of conserving Willistown properties with conservation easements that would be held by Brandywine.
After a crash course in conservation easement law and easement drafting, Bonnie and her conservation partner Kathe McCoy got to work drawing a map by hand to identify their focus area within the headwaters of the Crum, Ridley, and Darby Creeks: about 28,000 acres. After systematically identifying strategic properties and their owners, the duo began approaching landowners with this new concept of conservation, and they found that many were thrilled to contribute to this greater cause. As Bonnie explains, "These first landowners who donated easements took a risk and a leap of faith. And as the years went on, this land ethic grew and developed to build a true community of conservation."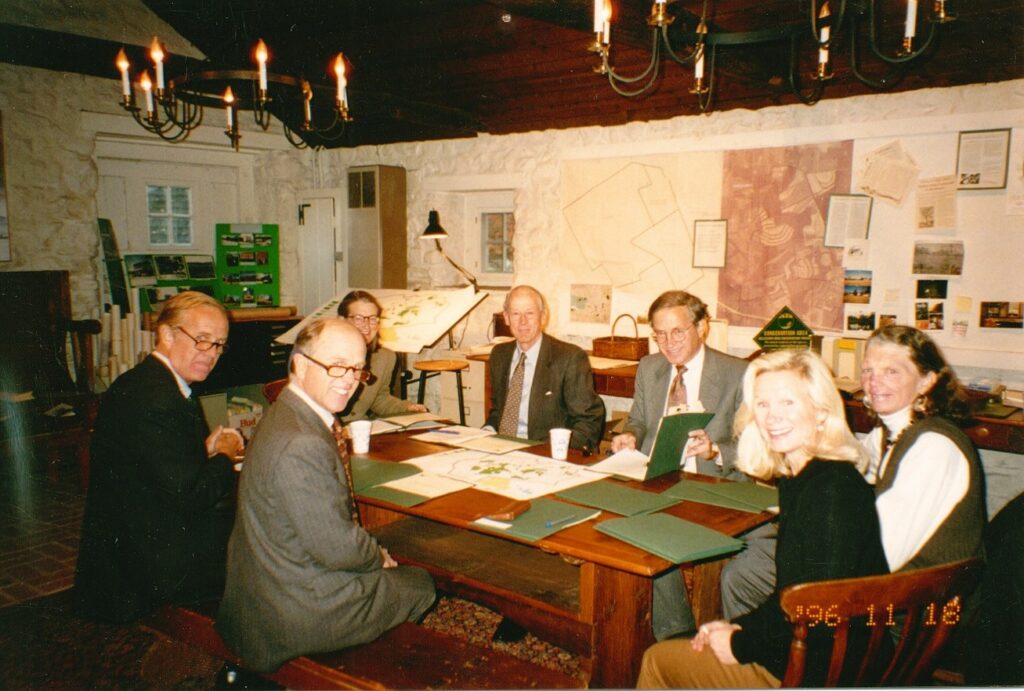 Of course, not every neighbor was moved to permanently protect their land. In 1995, a 200-acre, centrally located farm went on the market, and the owner submitted a plan to the township to construct 80 houses on it, along with the necessary infrastructure to support these homes. Gathering their neighbors, Bonnie and Kathe, guided by local attorney, Peter Somers, formed a community partnership of investors to acquire the property for resale to conservation minded buyers. This became the model for the nonprofit Delchester Group, Inc., which, under the leadership of Bonnie, Peter and Alice Hausmann, and others has since been used to create community partnerships to acquire and save 17 properties comprising over 2,000 acres that would have otherwise been bulldozed and developed within Willistown.
After completing 90 conservation easements with the Brandywine Conservancy, in 1996 Bonnie and Alice took the next steps to turn their satellite organization into its own independent 501(c)(3) charity with the support of the community and the blessing of friend and Brandywine Conservancy President, Frolic Weymouth. Called Willistown Conservation Trust, the organization soon began preserving public trail easements and three public nature preserves — Ashbridge Preserve, Kirkwood Preserve, and Rushton Woods Preserve — in addition to completing many more conservation easements with local landowners. Under Bonnie's leadership, the Trust expanded to over 25 employees, 22 Trustees and hundreds of volunteers, and today it offers six nationally renowned programs for public engagement and research, including the Bird Conservation, Community Farm, Education and Outreach, Land Protection, Stewardship, and Watershed Programs.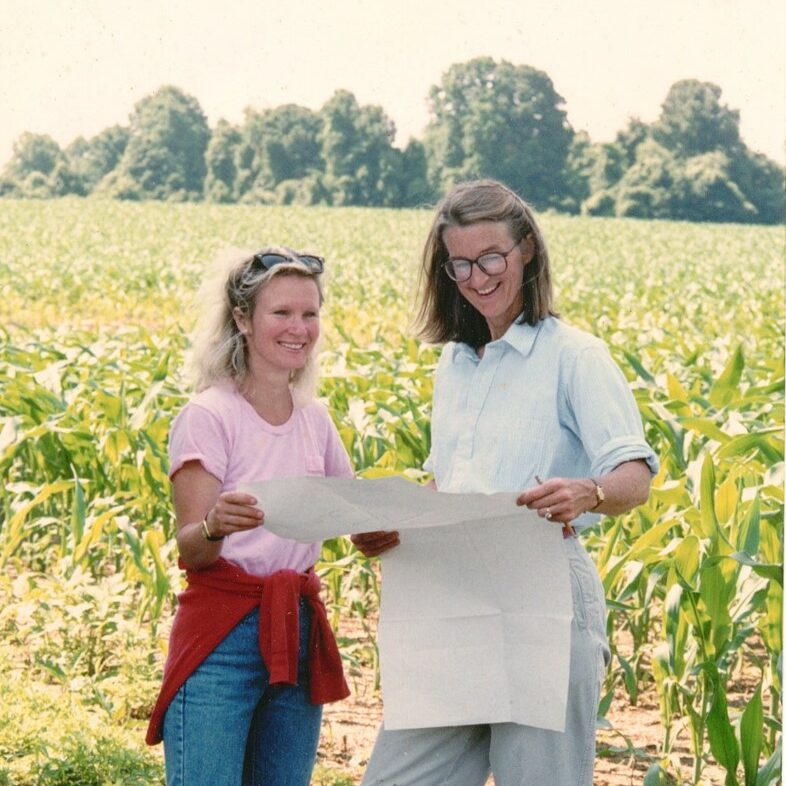 Looking back on her many accomplishments, Bonnie declares, "I think the thing that I love the most about this organization is interacting with our remarkable staff, our wonderful board of trustees and our many volunteers and supporters. Our staff is above and beyond incredible. They are experts in their field and completely devoted to what they do, and I'm regularly inspired by their passion."
Kate Etherington is one of the newer staff members at the Trust, though she has been engaged with the organization for many years, first as a volunteer getting her hands dirty at Rushton Farm, and later serving on the Board of Trustees. In 2020 Bonnie, inspired by Kate's dedication and skills, invited her to join the staff as Associate Executive Director. Kate brought to the role a Master's degree in Nonprofit Leadership from the University of Pennsylvania and a breadth of management experience within the nonprofit sector. Like Bonnie, Kate grew up in the Chester County area where she spent her time as an avid horseback rider and member of the Radnor Hunt Pony Club. Her parents instilled in her a love of nature and appreciation for open space, where she spent many hours exploring the local woods, trails, streams, and fields. Today, Kate lives on a small farm in Easttown Township with her husband Ben and their three daughters, Lucy, Maggie, and Alice.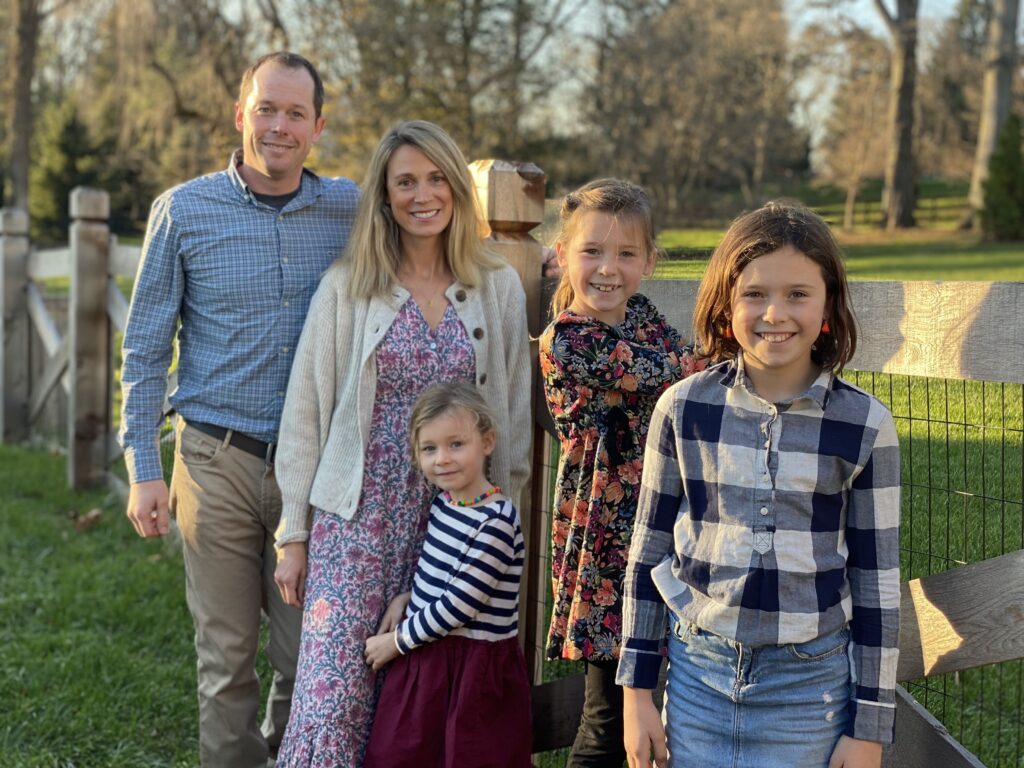 "The landscape of Willistown would look completely different had it not been for Bonnie's foresight, hard work and determination," says Kate. "Her capacity to grow a small land trust into the organization it is today, with thriving programs and community events, is amazing. It is inspiring to see and learn from another woman's leadership in our community."
As Executive Director, Kate plans to continue focusing on land conservation and the critical properties in the Willistown area, as well as the smaller parcels that contribute to larger greenways. She hopes to further the Trust's many robust environmental programs and to grow education and outreach efforts at the Rushton Conservation Center to reach a broader and more diverse group of people in the region and beyond.
In her transition, Bonnie will remain dedicated to the organization as President Emerita and by serving on the Trust's Board of Trustees, assisting Kate with critical land conservation acquisition projects and fundraising endeavors to help the Trust reach its goal of conserving 4,000 more acres. She will also continue her work with The Delchester Group Inc., saving plenty of time for Jim and their beloved extended family, including six wonderful grandchildren.