By Watershed Protection Program Co-Op Sarah Busby
With their flashy colors, compound eyes, and two sets of wings, dragonflies can be found in abundance, flying around wetlands in the summer months. But hidden behind this charismatic insect lies one of nature's most successful predators. While hunting prey, dragonflies have a catch rate of 95%, higher than any other animal observed. The secret to their success lies in the many unique adaptations they have accumulated throughout their evolution, including aspects of their eyesight and flight. However, their journey as predators begins well before their aerial emergence at the bottom of our streams. It is here where the dragonfly spends most of its life in its larval, or nymph stage.
Dragonfly nymphs develop in the water anywhere from 2 or 3 months to 1 or 2 years, depending on the species. During this time, nymphs will prey on anything they can catch. Other insect larvae, worms, crustaceans, snails, tadpoles, and even small fish are all fair game for the dragonfly. To catch their prey, dragonfly nymphs have evolved a unique, extendable hinged jaw, or labium, that can shoot out faster than most prey can react. In fact, this creepy arm-like projection is credited as part of the inspiration for H. R. Giger's Xenomorph design from the movie Alien.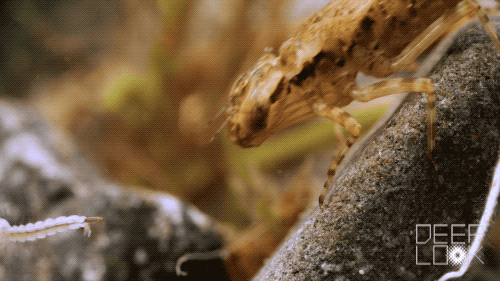 In order to keep up with its prey and avoid predation itself, the dragonfly nymph uses a unique mode of transportation called jet propulsion. No other insect uses such a strategy for locomotion. Nymphs will intake water from their anal valve, extract oxygen from it to breathe, and sharply expel the water back out the anal valve to propel themselves forward. This tri-leaflet valve is surprisingly similar in structure to the human tricuspid heart valve and has even been studied as inspiration for prosthetic heart valve designs.
As they develop, dragonfly nymphs will molt 5 to 14 times until fully grown. As they approach their final larval molt, nymphs will sit in shallow water to prepare, transitioning from breathing water to air. They then emerge from the water, climbing up tall vegetation in the stream or nearby the bank, searching for a nice vantage point to begin their transformation. Here, they will pump and redistribute their body fluids, slowly pushing themselves out of their larval skin. Once emerged, they leave behind an empty cast of this larval skin, or exuvial.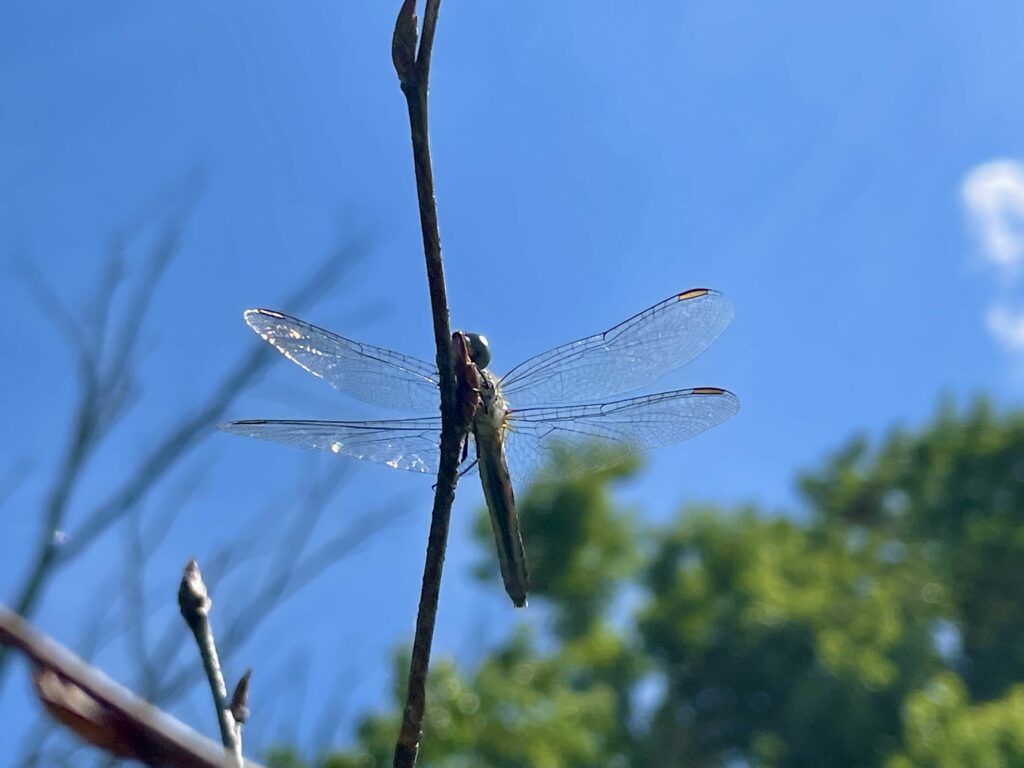 After their extravagant emergence, dragonflies will take off on their maiden flight. A dragonfly's first flight is typically weak and short lived, making them particularly vulnerable to other predators currently. But as their body and wings harden overtime, they reach their peak predator performance. Once fully developed, dragonflies are ready to take to the skies as masters of flight. With independent control of its fore and hind wings, the highly maneuverable insect can hover and fly in any direction, including backwards.
In addition to their flying skills, dragonflies are equipped with a nervous system working just as fast. They have the ability to fixate on their prey and predict its future location. In this manner, they can intercept prey midair with extreme accuracy. This ability is complemented by their impressive eyesight. Each eye is made up of thousands of units called ommatidia that span across most of the insect's head. As a result, they have nearly 360-degree vision, with the exception of a small blind spot directly behind them. Their unique vision also serves as a model that multiple researchers are looking to mimic in developing artificial eyes.
The muse of both science fiction and medical invention, these precise predators demonstrate just one of the many treasures our wetlands house. By preserving our wetlands, we ensure that dragonflies can continue to inspire awe and innovation for generations to come.
— By Watershed Protection Program Co-Op Sarah Busby
Sources:
Douglas, E. (2014, July 14). There are aliens among us. The Guardian. Retrieved May 31, 2022, from https://www.theguardian.com/environment/the-northerner/2014/jul/14/burbage-south-yorkshire-aliens-among-us
Evolution, paleontology, and classification. (n.d.). Retrieved June 2, 2022, from https://www.britannica.com/animal/Odonata/Evolution-paleontology-and-classification
Gonzalez-Bellido, P. T., Peng, H., Yang, J., Georgopoulos, A. P., & Olberg, R. M. (2012). Eight pairs of descending visual neurons in the dragonfly give wing motor centers accurate population vector of prey direction. Proceedings of the National Academy of Sciences, 110(2), 696-701. doi:10.1073/pnas.1210489109
Life cycle and biology. British Dragonfly Society. (2022, April 29). Retrieved May 31, 2022, from https://british-dragonflies.org.uk/odonata/life-cycle-and-biology/
Pannett, R. (2015, October 06). Scientists tap dragonfly vision to build a better bionic eye. Retrieved June 2, 2022, from https://www.wsj.com/articles/scientists-tap-dragonfly-vision-to-build-a-better-bionic-eye-1444055235
Perkins, R. (2018, July 17). Dragonfly larvae inspire new designs for prosthetic heart valves. Caltech. Retrieved May 31, 2022, from https://www.caltech.edu/about/news/dragonfly-larvae-inspire-new-designs-prosthetic-heart-valves-82858