Thank You for Celebrating with Us! 
 Below are the highlights from September's Conservation Celebration a week of celebrating the many groups that support the important work at the Trust.
We can't do this without the help of all of you! 
FIFTEEN MORE ACRES PROTECTED FOREVER!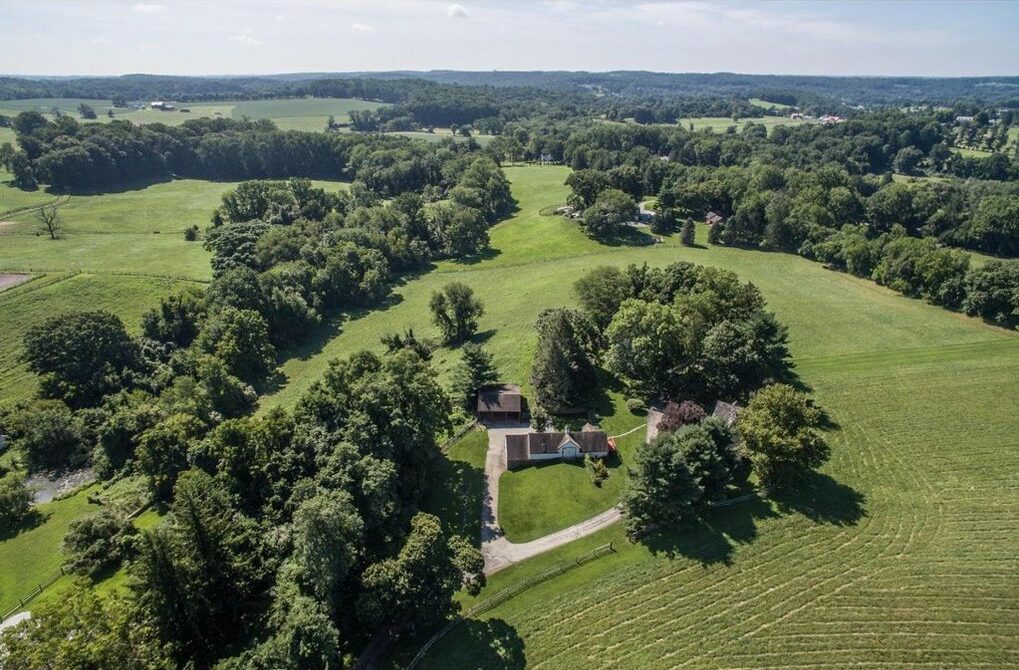 The final conservation chapter to the 15-acre Stonehedge Farm at Plumsock and Goshen Roads in Willistown has finally concluded. The land is now protected from additional development forever. Read The Full Article HERE
_________________________________________________________
Legacy of the Land: A History of Land Conservation in Willistown
Trust's Executive Director and co-founder Bonnie Van Alen, co-founder Alice Hausmann, and Director of Land Protection Erik Hetzel, for a virtual conversation about the history of land protection in our region. Bonnie, Alice, and Erik will explore the history of our land and early days of conservation, including the founding of Willistown Conservation Trust. You will also learn more about conservation easements that have helped lead to the protection of more than 7,500 acres in the Willistown region, and ways you can contribute to land conservation in your own backyard.
___________________________________________________________________
Thank You To Our Volunteers!
RUSHTON FARM | HENRY'S GARDEN
There is a very special garden at Rushton Farm called Henry's Garden, named in honor of the late Dr. Henry Jordan.
Alice Hausmann, Trustee and dear friend of Henry Jordan, shares the story of Rushton Farm's demonstration garden.
BIRD CONSERVATION | A YOUNG CONSERVATIONIST
Catherine Oblack (12 years old) started with the Jr.Birding Club when she was just 7 years old. She began visiting the bird banding station frequently before school and participated in Rushton Nature Keepers in 2018-2019, achieving her Rushton Jr. Naturalist certification. She has been officially volunteering at the bird banding station for the past 3 years.
Photo: Catherine Oblack in 2016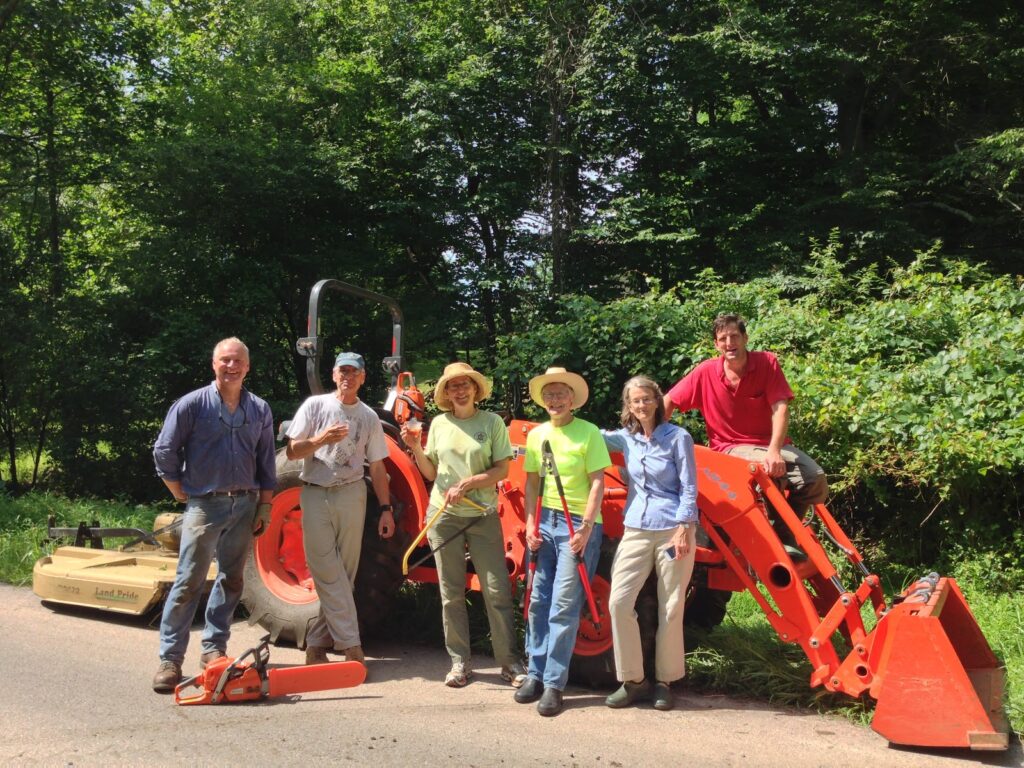 LAND PROTECTION & STEWARDSHIP | TRAILS TEAM
The WCT Trails Team is a reincarnation of the Willistown Area Trails Association (WATA) a longstanding organization that maintained equestrian trails in our countryside. The Trust took it over in 2012 as we were able to provide staff assistance and resources. Click Here to read the full article.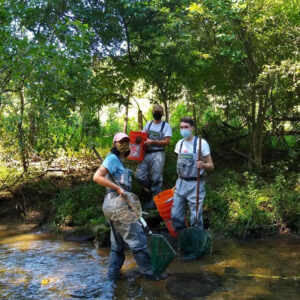 WATERSHED PROTECTION PROGRAM |
CO-OP STUDENTS
Each year from April to September, two co-op students from Drexel University join our team. This year of course was unlike any other. Read about the special experiences these students had in their own words as valued members of our Watershed Protection Team. Click Here to read more...
________________________________________________________________________________________
A huge thank you to our local business partners and sponsors
Through both financial and in-kind support, these businesses have provided critical funding and resources to both programs and events at Willistown Conservation Trust.
We are especially thankful for our Barns & BBQ 2020 
sponsors
 for their unwavering support during a very uncertain year.
Co-Presenting Land Conservation Sponsors
Please take the time to browse the Program Book, visit our sponsors' websites, and support our local business community by clicking the image below:
_________________________________________________________________________________________________--
BARNS & BBQ CO-CHAIRS
 Donna & Rob Corrato  |  Tracey & Jon Costello
Linda & Anthony DiValerio  |  Lori & Ryan Heenan
Run-A-Muck CO-CHAIRS
Susan Kokat  |  Jamie & Tim Stapf
Carolyn & Justin Thompson  |  Kathy & Rick Warden
BARNS & BBQ COMMITTEE
Rachel Coxe Shoemaker & Erich Barchi
Joanne Berwind
Maripeg Bruder
Cynthia & Tom Caruso
Molly Love & Adrian Castelli
Sonia & Morgan Churchman
Kate & Ben Etherington
Kate & Luke Etherington
Tracey & Sam Freeman
Stephanie Fuller
Kimberly & Russ Galligher
Jodi Spragins & Brook Gardner
Kat & Steve Gord
Joy & John Grady
Christina & Steve Graham
Renée & Larry Granger
Shaina & Nat Hamilton
Erika & Azeez Hayne
Nancy & Dick Klavans
Sally & Joe Layden
Leanne & Rob McMenamin
Janice & Britt Murdoch
Margaret Anne & Jim Nolen
Leigh & Steve Oblack
Frank Pension
Tracy & Joe Przybylowski
Don Red
Amanda & Kevin Ryan
Tara & Jeff Shanahan
Holly & John Stoviak
Jackie & Jerry Sweeney
Bonnie & Jim Van Alen
Kathy & Rick Warden
Penny & Tom Watkins
Effie Wister
Kathy & Joe Zoll
2019 Run-A-Muck Committee
Lindsay Barrow
Barb & Clarke Blynn
Katie & Jonnie Charlson
Warren Claytor
Jayme & Bryan Colket
Bethann Coradino
Catharine & Gary Cox
Shannon & Chase Davis
Laura Dolan
Christine & Tom Foga
Shaina & Nat Hamilton
Erika & Azeez Hayne
Erin & Frank Herz
Olga & Fred Jackson
Brad Johnson
Kari & Fred Jackson
Kari & Tony Keane
Denis & Andy Kerns
Sally & Joe Layden
Gina & Chris McHugh
Pam & Peter Nagy
Karen & Skip Petrauskas
Christine & Fritz Seving
Genevieve & Eric Snyder
Jodi Spragins & Brook Gardner
Doris & Art Strawbridge
Liz & Peter Strawbridge
Jeanne & Doug Swope
Debi & Lance Taylor
Rick Thompson
Lindsey & David Turner
Colby & Rob Van Alen
Jody & Dale Vandegrift
Barbara & Jeff Vincent
Effie Wister
Vicki & Chuck Wooters