By Blake Goll, Education Programs Manager and Erik Hetzel, Director of Land Protection
Photos by Blake Goll
Meandering along the cool wood chip paths beneath the varied canopy of beech, oak, and cherry trees, your eyes dance with the dappled light around the myriad understory shrubs­—first settling on this glossy leaved plant, then darting upwards to those feathered shadows that flit and call among the boughs above—and you almost forget that this dynamic nature escape is someone's backyard.
There are an estimated 40-50 million acres of manicured lawn in the United States today (including residential, roadsides, and golf courses); this represents a significant loss in plant and habitat diversity that is necessary to support wildlife in these spaces. While we historically might have been able to justify this simplified approach to our green spaces, many of us now feel compelled to do more. Unsustainable human population growth coupled with harrowing reports of the planet having lost 30% of all birds since 1970 are a call to action. Fortunately, as Marianne Price's property proves, with the right planning, the average American yard can easily contribute significantly to insect and bird populations.
It all starts with selecting native plant species to support a healthy food web (i.e., insects!). A keystone species like a native oak tree, for example, is a major driver of Pennsylvania food webs; 511 species of our native caterpillars use oak trees as their host plant! When you consider that the majority of our songbirds raise their chicks on caterpillars, the value of native plants is clear. By contrast, a nonnative gingko tree supports only about 5 caterpillar species.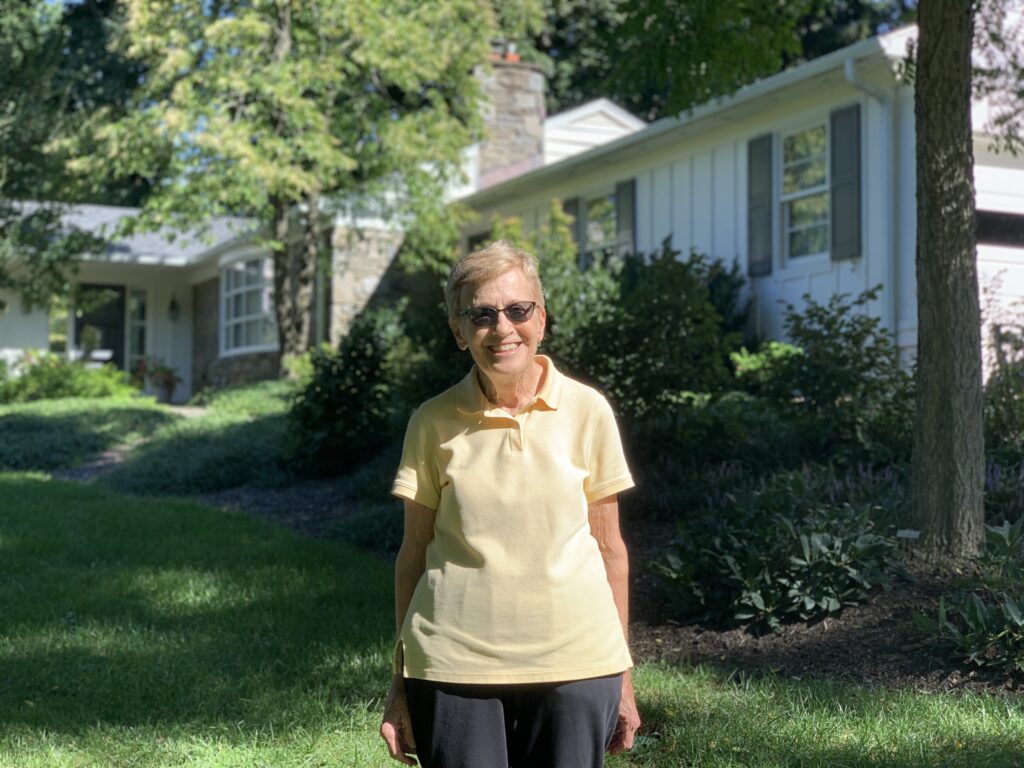 "My husband Karl and I bought this place in 1972 after the previous owner passed away," Marianne explains. "He wanted the buyer to be someone who would take care of the property for the wild birds he loved so much. He's the one who began stewarding this yard with native trees. I kept nurturing the trees and planting more, because I wanted to keep my word, and I've done just that. Here I am almost at the 50 year anniversary!" she gleams. Marianne has continued to care for this one-acre ecosystem, single-handedly taking on the responsibilities after Karl passed in 2007.
Marianne's devotion to stewarding the property now extends well into the future, thanks to her commitment to conserving the land with Willistown Conservation Trust. Using a Legacy Easement, which is specifically designed for smaller properties like hers, Marianne approached the Trust's Land Protection Program earlier this year. Director of Land Protection Erik Hetzel recalls, "I visited her property on a sunny October morning and was greeted by an oasis of nature in a suburban neighborhood. The place was buzzing with pollinators and birds."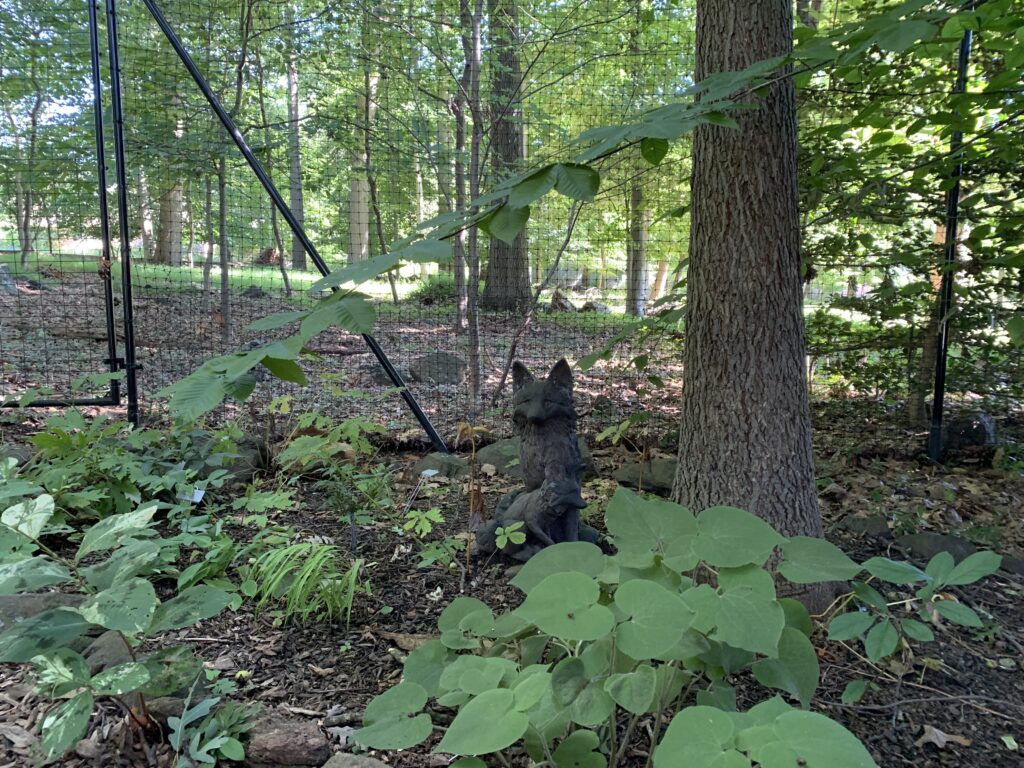 The terms of Marianne's easements are relatively simple, focusing on the preservation of native tree species, including vital species like the native oak that supports a myriad of caterpillar and bird species. The Trust's Legacy Easement program uses a simplified easement model to conserve lands that might not be effectively protected by other means, such as through deed restrictions or covenants between neighboring property owners. This unique program opens the door for landowners with smaller properties to become conservationists in a new way, one that is more accessible. And Marianne's easement will ensure the lasting stewardship of the habitat that she has nurtured over the last 50 years.
Like legacy easements, part of the reason why Marianne's little sanctuary is so inspiring is that emulating it is doable. She is a plant enthusiast and has fun experimenting with different species and cultivars that are not all native. Experts say that even if you strive for 70% native plant biomass and allow the other 30% to be other (noninvasive) plants of interest, you can still contribute to the growth of suburban bird populations like chickadees. It does not have to be an all or nothing effort. The average American lawn can easily attract at least 50 kinds of beautiful and interesting birds with the right planning!
With a keen eye for sustainability, Marianne even strives to make her watering practices environmentally friendly. Although her diverse landscape of hardy perennials, shrubs, and deep-rooted trees requires less water that a typical Kentucky bluegrass lawn, she still needs to water during dry spells. She cleverly collects the used "gray water" from her air conditioning unit, de-humidifier, and even her laundry washing machine! She pumps this reusable water into covered storage barrels tucked around her property for watering.
Finally, when you consider that each hour of lawn mowing generates as much pollution as driving a car nearly 100 miles, it also becomes apparent how a property like Marianne's demonstrates a more carbon neutral solution to an all-lawn landscape. From saving water and reducing carbon emissions to contributing to biodiversity, Marianne is truly an inspiration to us all — proving that an average-sized suburban landscape can be transformed from a uniform green patch to an alluring conservation oasis.
Blake Goll | she/her | Education Programs Manager | Blake plays a big role in the Trust's Bird Conservation Program, as well as the outreach and educational initiatives as the coordinator for Rushton Nature Keepers program.
Erik Hetzel | he/him | Director of Land Protection and Public Grants | As part of our Land Protection Program, Erik handles the acquisition of private conservation easements and public lands to add to our nature preserves.
—-
Legacy Easements open the door for landowners with smaller properties to become conservationists in a new way. To learn more about how you can be a part of the conservation movement with a Legacy Easement on your property, contact Erik Hetzel at ewh@wctrust.org.