Born from the Junior Birding Club and Carrot Club, Rushton Nature Keepers is the Willistown Conservation Trust's all-encompassing youth program welcoming children ages 7-12 to not only explore the land and its wildlife but to also understand their connection to the natural world.  The goal of Rushton Nature Keepers (RNK) is to provide youth with abundant opportunities to develop a meaningful relationship with the earth.  Our philosophy is that frequent connections with nature are the only way to instill in the next generation a passion for nature, which is the fuel for a lifelong desire to safeguard the environment.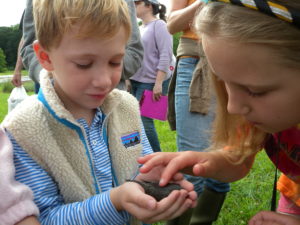 Rushton Nature Keepers offers engaging lessons taught by experts in the field throughout the year, with monthly events covering three programmatic themes including:
Birds and wildlife
Birds are the global heartbeat, connecting people across continents with their awe-inspiring migrations and providing the charismatic face that compels people to protect habitat. Wildlife as a whole, including bird populations, has declined by over 50% in the past four decades. Our Rushton Woods Preserve is a hub of bird conservation, boasting the region's premier bird banding station that attracts leaders in ornithology.
Sustainable Farming
Sustainable farming is the way of the future and quite possibly the answer to feeding the world's growing population. By taking care of soils first and minimizing overall impact on the land, organic methods have proven to be just as productive if not more than conventional methods. Rushton Farm is a leading model of farming methods that create and enhance habitat for native wildlife and pollinators while growing food for the community.
Watersheds
Watersheds are vital to all life and must be safeguarded through land conservation and sound environmental practices. Our partnership with Drexel University and the Academy of Natural Sciences provides us with the tools we need to monitor the three watersheds we protect including Ridley, Crum and Darby Creek. We study all aspects of stream health including underwater insects that serve as indicators of water quality.
Children are encouraged to attend a variety of programs within the three themes of Birds, Farm and Water, which are indicated by symbols of a bird, carrot and water drop on our annual program schedule.
Studies have shown that regular experience with nature makes kids healthier, happier, and significantly improves their performance in all school subjects.  Therefore, the more committed your child is to Rushton Nature Keepers, the more he/she will gain.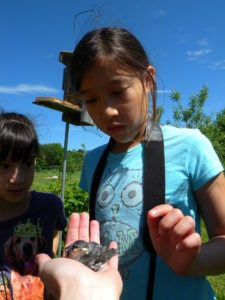 A Rushton Junior Naturalist badge will be awarded to Rushton Nature Keepers who attend a total of two Bird programs, two Farm programs, two Water programs and one of their choice in one calendar year (for a total of 7 programs).  They will also be invited to attend the Rushton Junior Naturalist Celebration in November in which prizes will be awarded.  Each program will allow time for reflection in a journal in which children will receive stamps for attending programs.
Kids over 12 years old who have attained their Rushton Junior Naturalist badge may be awarded the Rushton Youth Conservationist Certificate.  This can be achieved through service at the farm, working at the bird banding station, helping with watershed study activities, participating in bird counts and stream cleanups, or other projects agreed upon with Willistown Conservation Trust staff.  To arrange, contact Blake Goll (bhg@wctrust.org).
RNK Membership is $50/family for the year and includes all children in the family.  Non-members pay on a per-program basis ($10 per child).  Membership gets you free registration to any program, a t-shirt per child and a nature journal per child. All programs are appropriate for kids ages 7-12, but most are adaptable for younger or older kids as well; just ask me if you are concerned about the age appropriateness of a program.
The RNK Mission is to develop a culture of caring for the natural world by providing meaningful, thought-provoking experiences with nature.
Our Objectives for Your Child:
Connect personally to nature in order to foster a lasting love of the natural world.
Nurture a spirit of discovery and wonder.
Refine birding abilities and cultivate a wholesome lifelong hobby.
Develop science skills and understanding of the scope of science.
Create a conservation ethic by demonstrating the importance of preserving open space.
Recognize the interconnectedness of birds and wildlife, sustainable farming and watersheds.
Understand the origins of the food we eat, the rewards that come from a season on the farm, and how nature and agriculture can flourish side by side.
Ensure an ultimate understanding of the positive role humans can play in the natural world.
Nature Education Coordinator:  For more information, please contact Blake Goll at 610-353-2562, ext.20 or bhg@wctrust.org.